I've been remiss in posting Lion pictures (as well as a whole bunch of other stuff) here. Ah well, life gets busy sometimes.
BUT!!! I have a packet of lion pictures,
and a poem about lions
. I've been saving them up for the day when I felt like taking the time to post them, and
today is that day.
Yippee!!
The only problem is . . . now that it's been so long, I can't remember where some of the shots were taken. So if you see this, and you know, feel free to chime in in the comments. ALSO, if you sent me a lion via text message on or around August 12, will you tell me? I have a note to myself dated August 12 that says "get lion pic off of phone", but I've looked through my phone and I can't find it, and I'm just OCD enough that it's bugging me, not to mention I feel ungrateful for not taking advantage of the opportunity to have yet another lion. (Sorry about that--lion text-er)
But, enough about my idiosyncrasies, on to the lions!
First off--a poem about stone lions.
Harmony brought this poem to my attention. It was read by the author, a Utah-based poet named Katharine Coles, as part of an interview she did with Doug Fabrizio on KUER (the Salt Lake City public radio station). The entire interview (which is fascinating) can be found here:
http://radiowest.kuer.org/post/conversation-katharine-coles
But, for now, we'll just post the poem--which is also kind of fascinating, and in some ways (albeit in much more eloquent language than my own) speaks to
my thoughts and impressions
which led me to start "collecting" stone lions in the first place.
Thirty Years With These Lions
by Katharine Coles


I have seen them in Taipei guarding museum steps,
In Kamakura temples guarding their own myth,
Winged and guarding time's passage at San Marco,
Excavated in Istanbul's galleries
They become inscrutable the further they erode.
Once we took our lions literally.
They stalked our caves and dogged our steps
Before we posed them.
We knew, if we lay down just what we were doing,
What it meant to invite them in.
I don't know why we set them in stone.
Take my neighbor, her tiny bungalow,
Her husband dead, she placed these lions
To flank her abbreviated walkway,
A gate between them, though she has no fence.
Their heads, curled locks flowing European-style,
Almost reach her eaves,
As if they might protect her just by looming.
In their calm they keep confusion at bay,
The local toughs, his ghost.
Look at that paw, its delicate lift,
Claws retracted for the long moment.
Ninety last summer, sharp, still ready,
She moves off the porch to draw me through the gate.
Next--and also by way of Harmony, here is a lion. Would that I could remember where it is found, but alas, that memory has escaped me. Harmony? Any hints?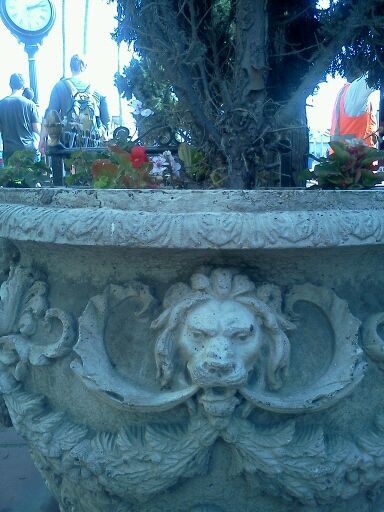 This next one is from Ryan and Becca, my brother-in-law and sister. They took a trip to San Francisco last year, and sent me this shot, daring me to guess where it was taken. Alas, I could not.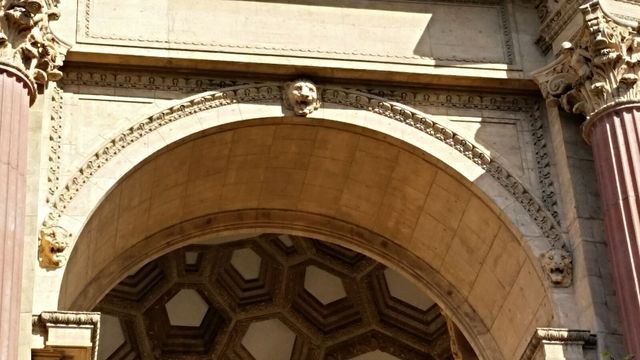 So, then they sent me this one. A ha!! Golden Gate Park! Of course!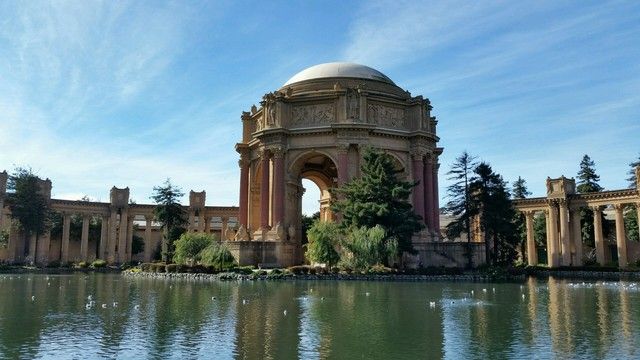 And now we have lions from NEW lion share-rs. (Always fun to pull more people into the silliness, wouldn't you agree?)
This from
my friend Kristi
(formerly known as Katerina here on the old blog)
. Kristi taught me the joys of Cross-Country skiing. Although I had been on short trips before with my family (one particularly interesting time in Bryce Canyon comes to mind), it wasn't until I moved to Logan and went with Kristi that I found just how fun it could be to spend a few hours on Cross-Country skis in frigid temperatures.
But I digress, and Kristi's picture has nothing to do with Cross-Country skiing. But look at it! It's pink!! Talk about quirky! And what a nice head-garland! That's definitely not something you see every day, right? Right!!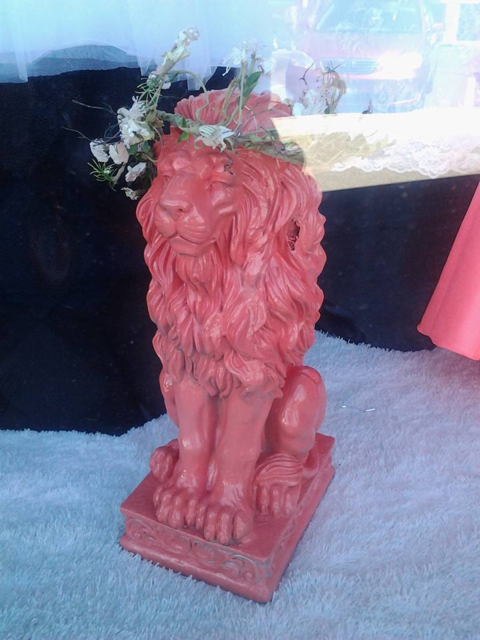 Finally, here's --a lion from another NEW lion share-r, my dad's cousin (which would make her my first cousin once removed), Becky.
She found this lion in Jacksonville last Christmas. It was dark, and she had to take it from a moving car, so the quality of the photo isn't great, but how fun is that to see them all decorated with Christmas ribbons and tinsel?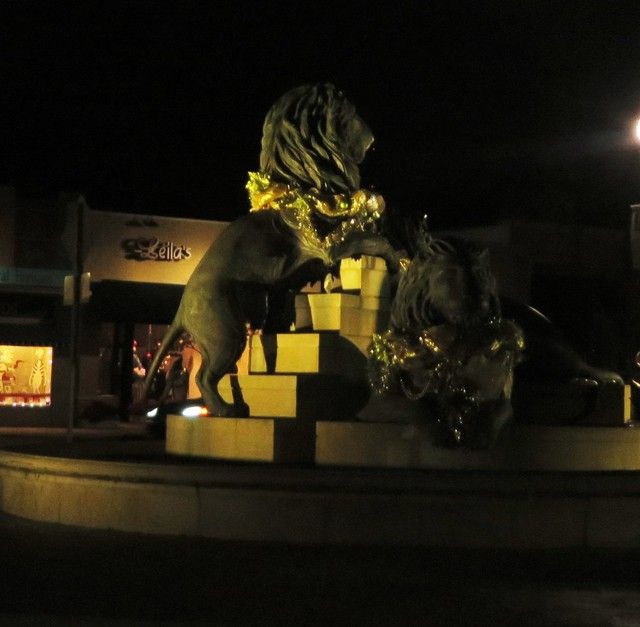 I'll tell you how fun it is. WAY FUN.
And that's what I have for now. Maybe this will be the post that starts me into regular blogging again.
Or maybe not. You just never can tell, can you?