Last Halloween, my friend Candace invited us to her house for a pre-trick-or-treating meal, and asked me to make a "spooky" dessert for the festivities.
I thought a bit, wanting something that was spooky, but not gross, and remembered a pudding cake that I had tried many years ago called "dirt and sand", some kind of pudding combined with oreo and vanilla wafer crumbs, topped with plastic flowers. Thinking that something like that could easily be adapted to a spooky theme, and thinking that in this "Age of Pinterest", someone had surely already adapted it and put step-by-step instructions online, I did a little google searching, and found . . .
This post at teachingwithtlc.com !!
I modified the decor a little bit according to my whim, and took it to the party, where it was a massive hit.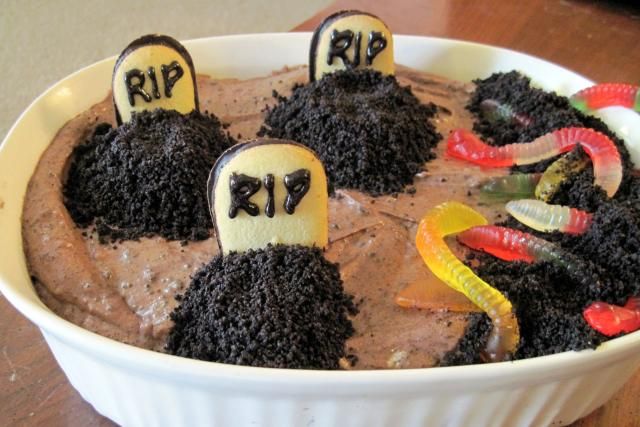 So friends, in keeping with the spreading the love vibe that I received from doing my own search, here is the recipe, complete with my own helpful hints for Halloween Graveyard Dirt Dessert:
Halloween Graveyard Dirt Dessert
1 pkg Oreos
8 oz cream cheese (lower fat is fine)
1 cup powdered sugar
3 1/2 cups milk
2 small chocolate instant pudding boxes
1 small container Cool Whip
3-5 gummy worms
3-5 Pepperidge Farm Milano Cookies
Wilton Sparkle Gel in Black
Mix the cream cheese and powdered sugar together. In a separate bowl, blend pudding and milk together. Fold the Cool Whip into the pudding mixture, then blend in the cream cheese mixture.
Chop up the Oreos in a food processor or blender. Add half of the Oreo crumbs to the pudding mixture, and spread the mixture into your serving dish. Now you can either sprinkle the other half of the crumbs over the pudding mixture to make a layer of dirt, or you can mound it up in little graves. I chose to do half and half, making three graves on one side and a worm garden on the other. To make your headstones, write "RIP" or whatever you want in sparkel gel on your cookies, and stick them into your pudding graves.
Refrigerate until ready to serve.