I feel like our 2015 garden was a real success. I tried a few new things this year, and most of them worked out really well, though we did have a few unexpected snafus here and there.
We had an unseasonably warm winter this year, and while that made for some really balmy days, it also made it so that our cat didn't want to use the litter box nearly as much as she wanted to use the big dirt box (a/k/a the square foot garden box) outside. It was
heaven
from an emptying-the-litter-box point of view, but when I went out to find my square foot garden spot full of cat poop (sorry for the graphic mental image there), heaven isn't exactly the word that came to mind.
Not wanting to plant vegetables or things that we would actually eat in dirt that had been thus fertilized all winter, and having recently watched a documentary on the value of pollinators, I determined that we would transition our square foot garden into a pollinator garden. We planted flowers (they are supposed to be perennials, so I guess we'll see if they pop up again next year), and waited patiently for them to bloom.
By the end of July we were awash in flowers, and were seeing bees and butterflies as frequent visitors to our backyard. In short, our pollinator garden was a glorious success!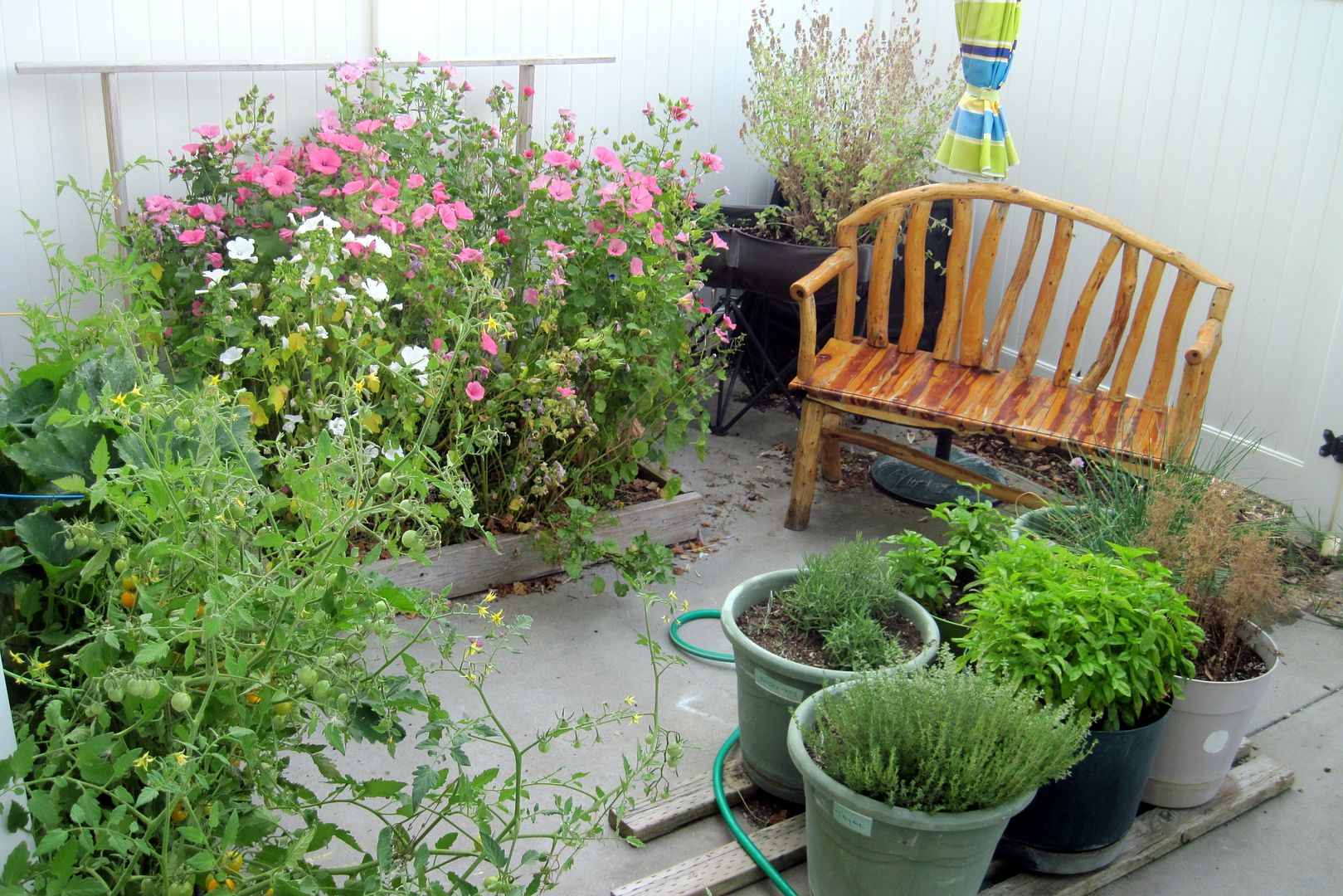 As for tomatoes (which, along with fresh basil, is really the only reason I even
have
a garden), I think I finally got the right configuration--all of them along the side of the house where the sun is best and the dirt is deeper and the water is plentiful. I put the small tomatoes (Sweet 100s and SunGold) along the sides of the area, and put the full-size (Early Girls) in the middle. Next year I think I'll skip the Sweet 100s. In my opinion, nothing compares to SunGolds, so why bother with two varieties?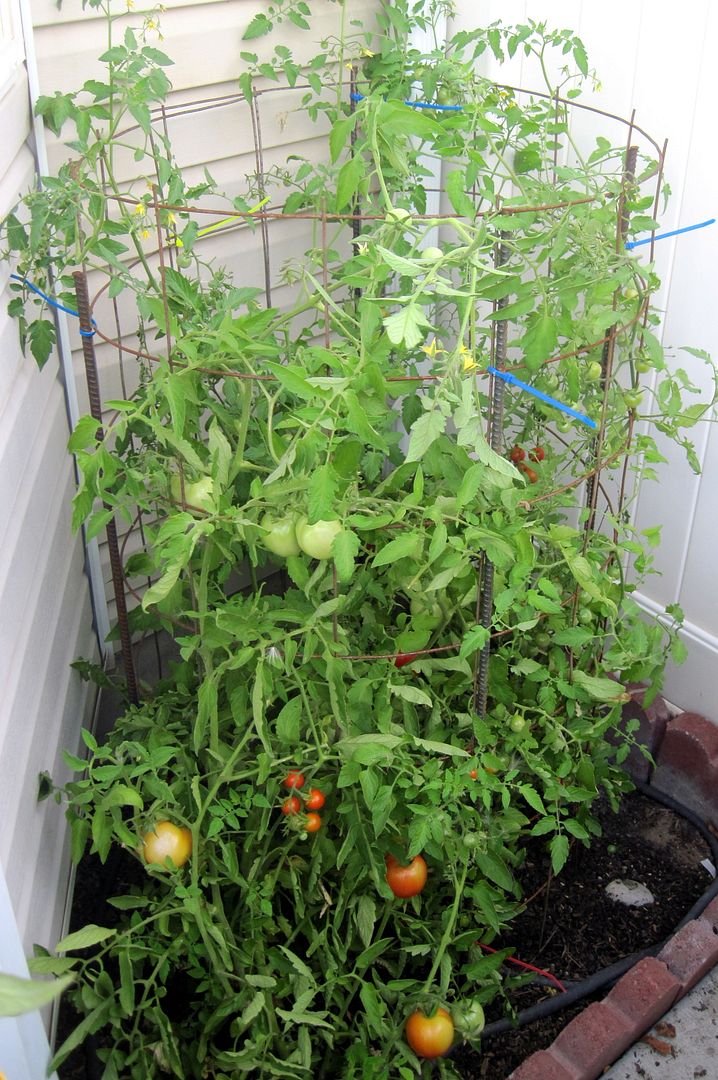 I also ventured out to Home Depot (or was it Lowe's?) and following
these instructions
, I made a
serious
tomato cage as an experiment, assuming that if it worked out well, I would make more in future years.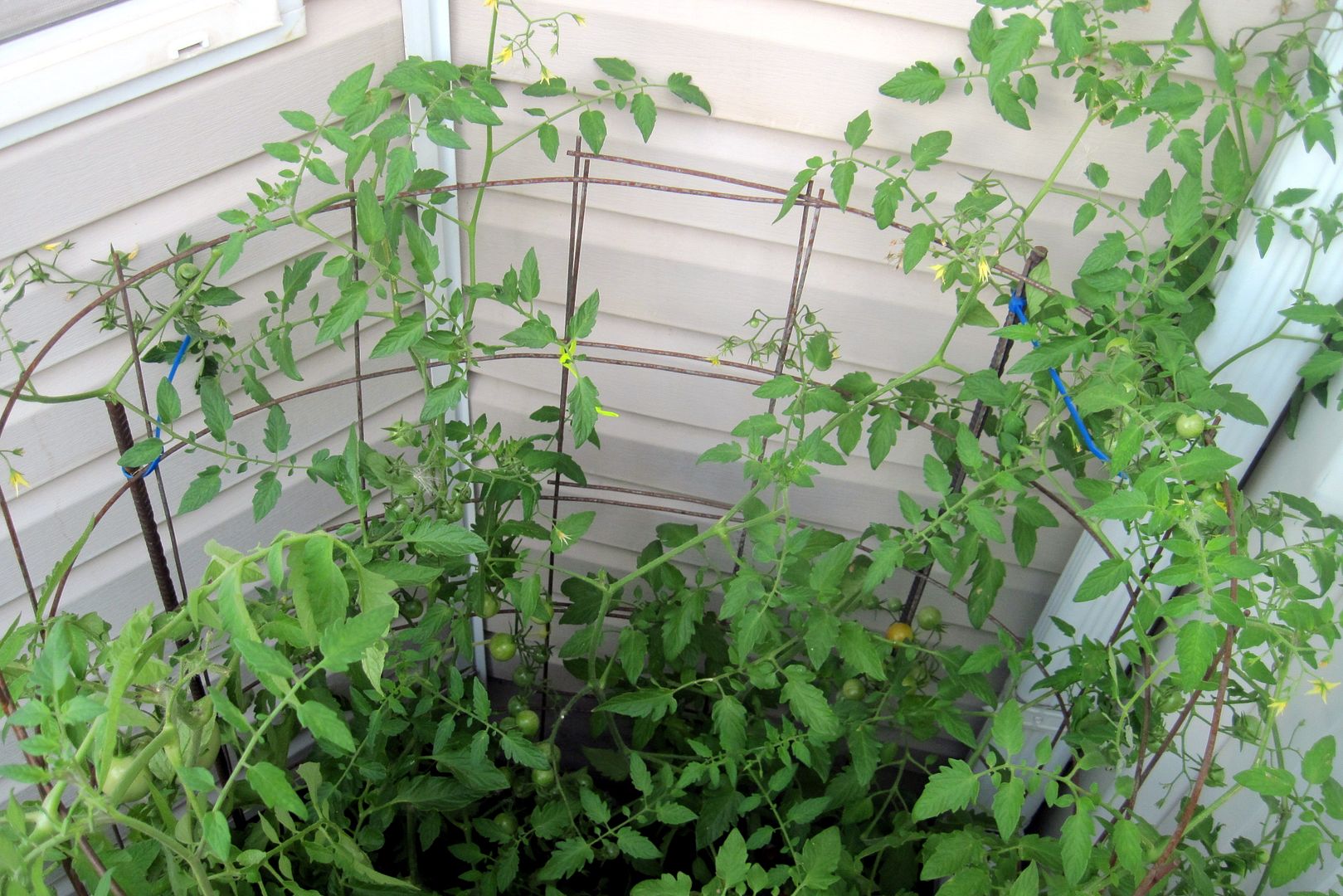 It
did
work out well, actually astoundingly so, but I won't be making more, because I found that I don't really have room for cages that are any bigger than what I've already got. But, I did go ahead and using stakes and zip-ties, shored up my remaining semi-inferior cages, and I found that this little adjustment helped with the stability of my plants.
For herbs, we planted basil, cilantro, sage, rosemary, thyme and spearmint. Also, the chives from last year flourished in their same old area, and so I let them do their thing, using them throughout the summer in the place of green onions in many of my recipes.
I finally got the hang of
pinching my basil
this year, and so rather than having tall weedy stalks with few leaves, I ended up with actual bush-like clumps of basil.
It was marvelous
. I made pesto, we had basil in our salads and pasta dishes, and between the basil and the fresh tomatoes, we practically lived on baguettes topped with fresh mozzarella, sliced tomatoes and basil, broiled in the oven for 2-3 minutes. Possibly my very favorite meal, and well-loved by our whole family.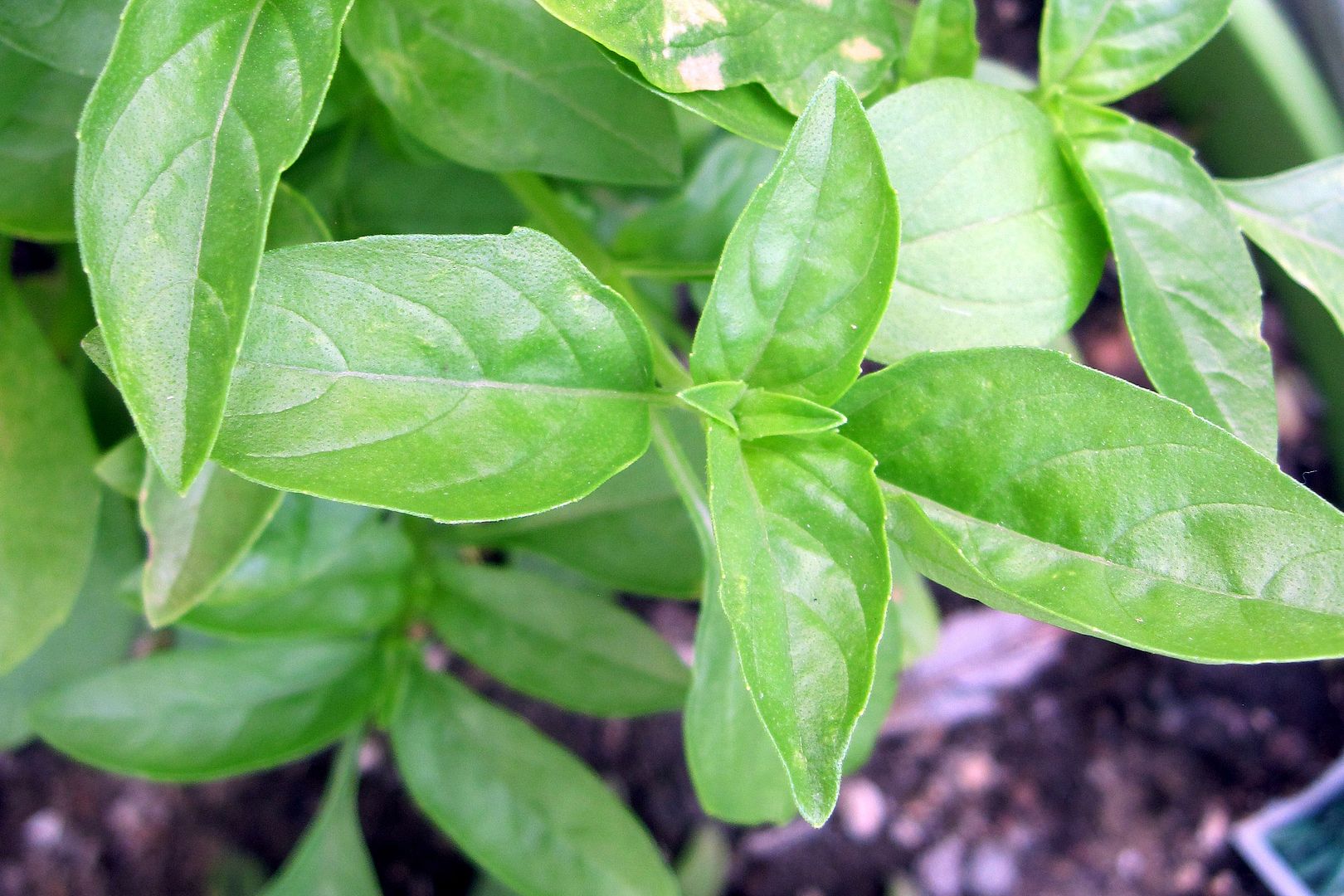 And now for a little snafu. See that plant on the right down there? That's Catnip, regrown from plants of last year. I mistakenly thought it was spearmint, and offered it to friends, neighbors, and co-workers for use in recipes and drinks. The opera contingent were particularly grateful, and it was only when one of them mentioned to me that this particular mint had a different flavor than any she'd had before that I got looking at the plants closely and found my error. No big deal, Catnip
is
a member of the mint family after all, but still, I doubt I would have gotten as many takers if I would have "sold" it under its real name. Ah well, live and learn.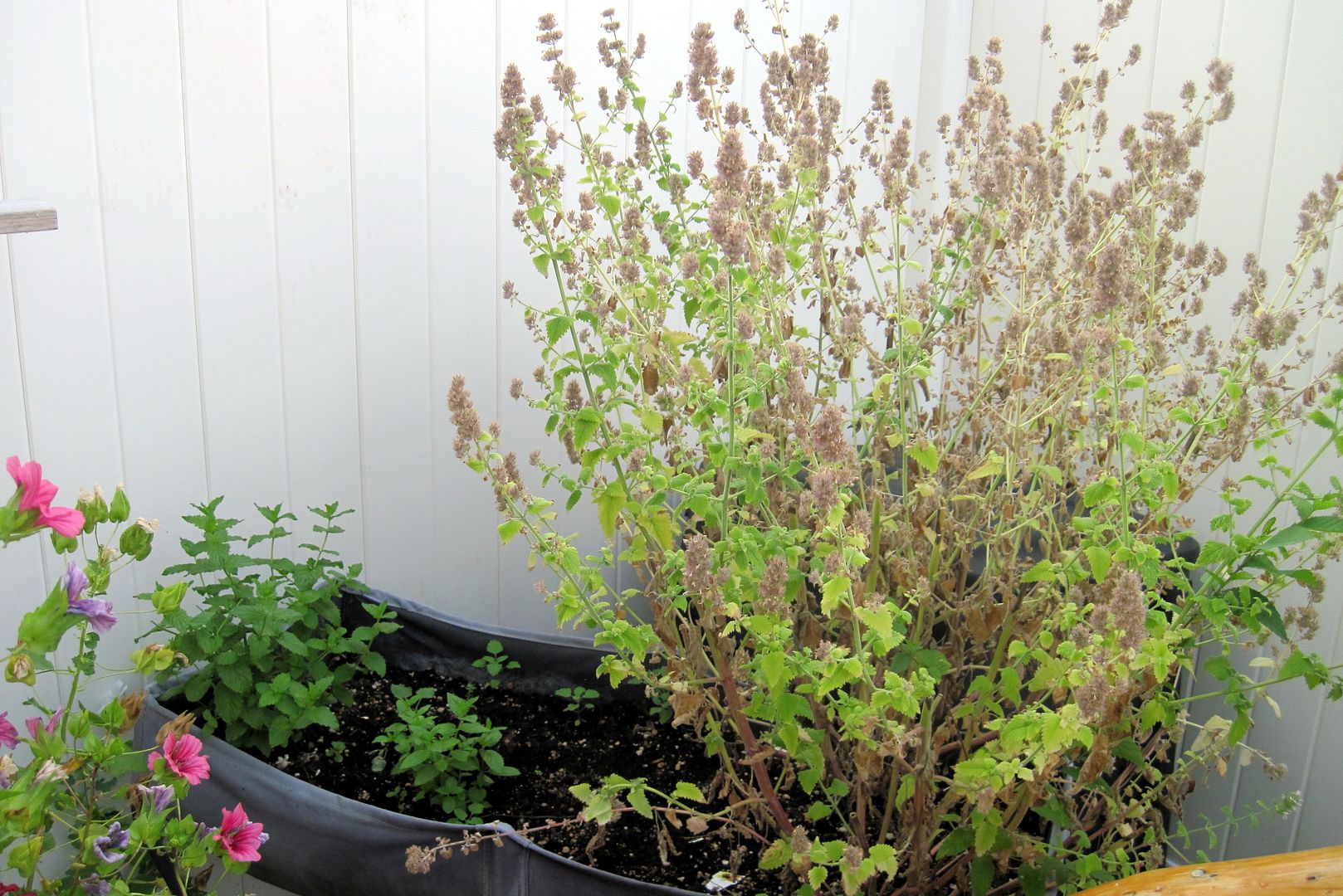 I love a little zucchini, but let's face it, with our minuscule garden space, we really don't have room for hugs squash leaves spreading out all over the place. So, this year, I tried growing a plant in a tomato cage. Success!
I do think that next year, I'll follow the example
suggested here
, and stake the tomato cage upside down. This should allow more room at the bottom, where the leaves are biggest. We'll see how it all works, I guess
I planted strawberries along the fence, by our compost pile, where we rarely get a whole lot of sun. We didn't get a whole lot of strawberries, but my purpose was mainly to put in some ground cover, to dissuade the weeds from cropping up there, as they generally like to do. I think I'll see how the plants do over the winter, and maybe add a few more next year, to see if I can't get a bona fide patch growing. The low sun conditions might be a problem though. We'll see.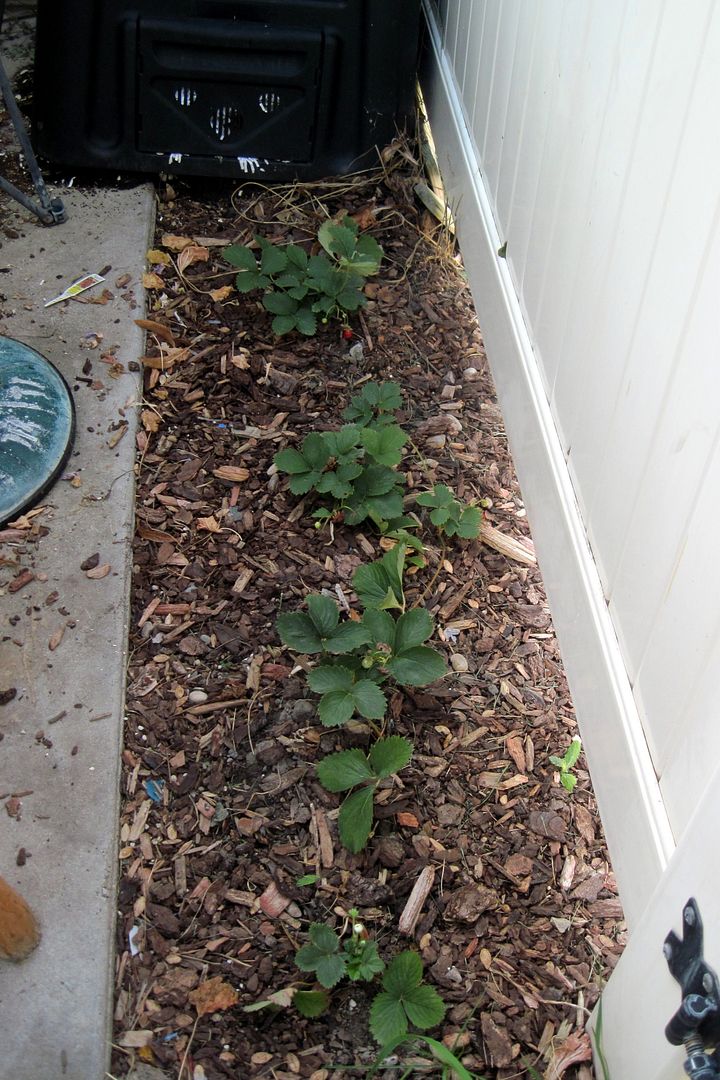 So, that's what happened with my garden this year. I leave you with this shot of my daughter's little corner of dirt--an area she fixed up to be a potato-bug habitat. (They like to hang out under the rocks, and she likes to lift up the rocks and bother them.)
All told, it was a good year for growing. Now on to 2016!!