This post is all about a date that occurred nearly three months ago. Just so you know.
My birthday this year was full of niceties and fun-nesses that I want to remember. So, if you don't like narcissistic birthday posts from forty-four-year-old women who should know better, you might want to just move along today. :)
I wanted to go to Chili's for my birthday dinner, because sometimes I dream of their Buffalo Chicken Salad. So, we did.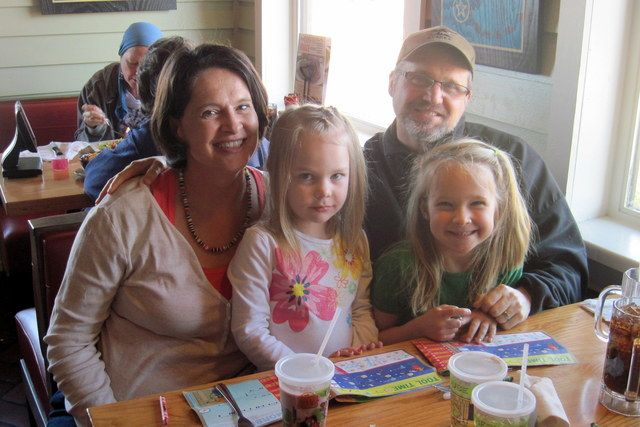 As it turned out, a young friend was hanging around our house when it was time for Eric and my daughter to come pick me up from work, so we invited her along. This little darling sometimes feels like our kid anyway (which is marvelous), so it was only fitting that she should join in the fun.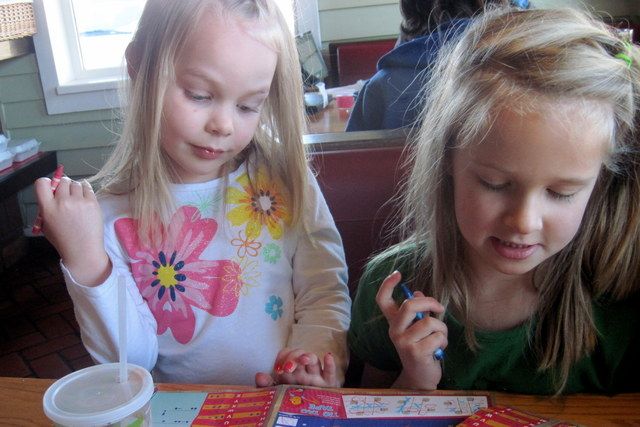 (An added bonus, having a friend along gave my kid someone with whom she could play tic-tac-toe. Someone who
actually likes
playing tic-tac-toe! Happy Birthday to me!)
After lunch, Eric and the girls made their way to the dollar store where they picked up some presents for me. When I arrived home from work, they were waiting for me. A plastic rainbow garden prism-spinner thing, a cardboard butterfly jewelry box, a birthday card that when you open it sings, "Ceeeelebrate good times, Come on!!", and . . .
A cheetah-print high-heeled ring holder: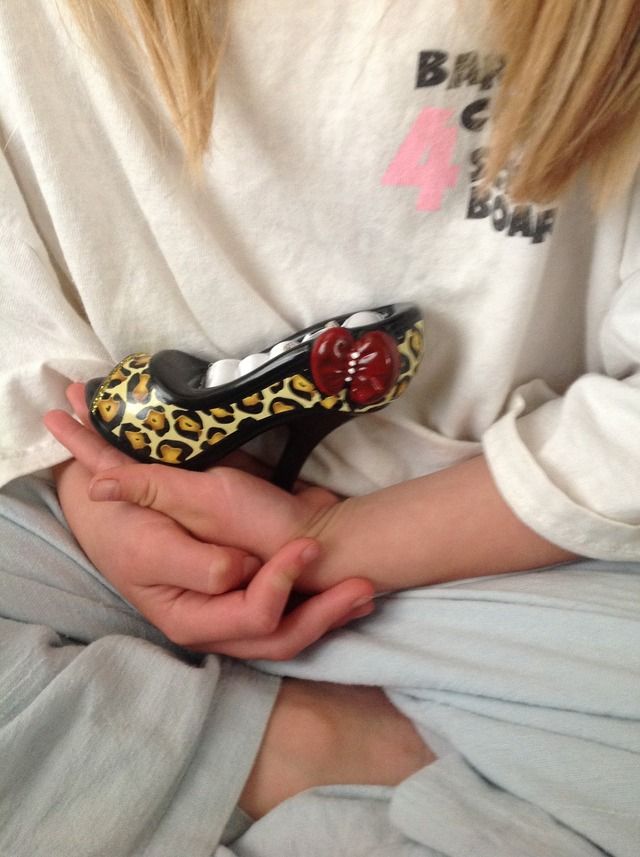 I didn't get any pictures on the day of the present-opening, but was able to get a shot of this magnificence the next morning.
(In addition, and for my "real" present, I got Amazon Prime for a year. Primarily so I can now binge watch
Downton Abbey
. The two-day free shipping sure has been nice though.)
Then, it was time to head to the kitchen and frost a cantaloupe with cream cheese for my birthday party. Obviously, that needs a little bit of explanation.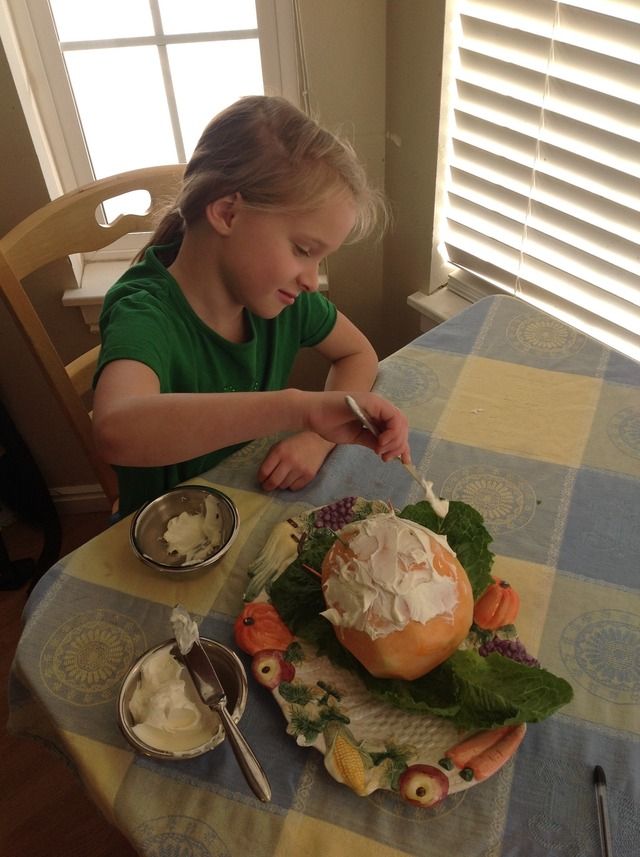 Back in the fall, I helped out at an estate sale for my friend Donna. At the end of the sale, when all the shoppers had left and everything else was going to go to thrift stores, Donna told us helpers to take a little walk through the goods and take what we wanted.
I happened to find a smallish cookbook, probably 60-70 pages, soft cover and staple bound called "The Joy of Jello". Printed in the 1960s, it was a treasure trove of oddness, with Jello recipe after jello recipe. I immediately snatched it up, and determined that at some point
I was going to have a jello party
.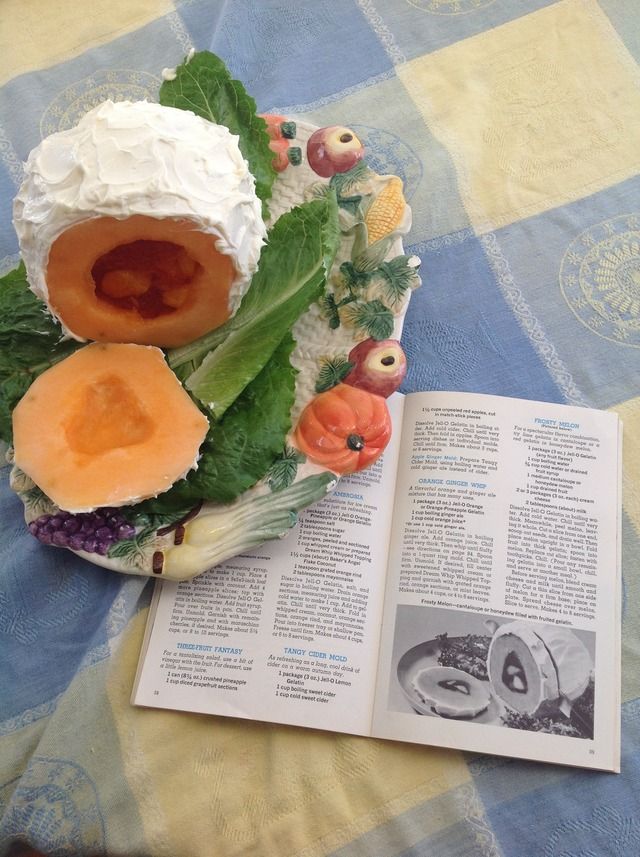 And so it was, that around the middle of February, I asked my friend Candace (who lives close to us in a home that is infinitely more suited to entertaining than our town home is) if I could have a Jello Birthday party there. She said yes. (Candace always says yes to me. She's very amiable that way.)
E-vites went out, with the request that no guests bring gifts, but that
all
guests make a dish from the attached scanned cookbook, also known as "The Joy of Jello!!"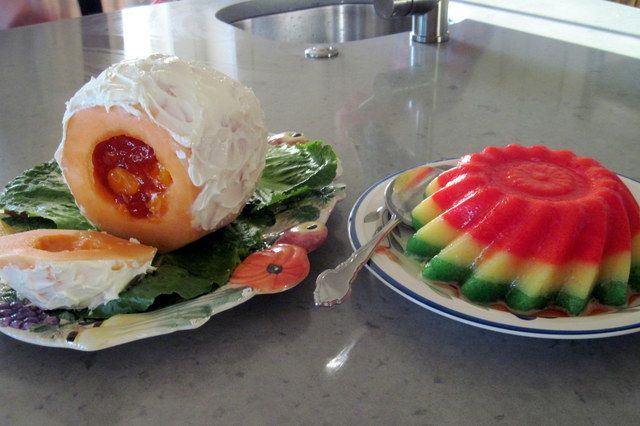 As a testament to the goodness of my friends, and the richness of my life, around twenty different people showed up that night, holding their Jello concoctions, smiling, ready for an evening of fun.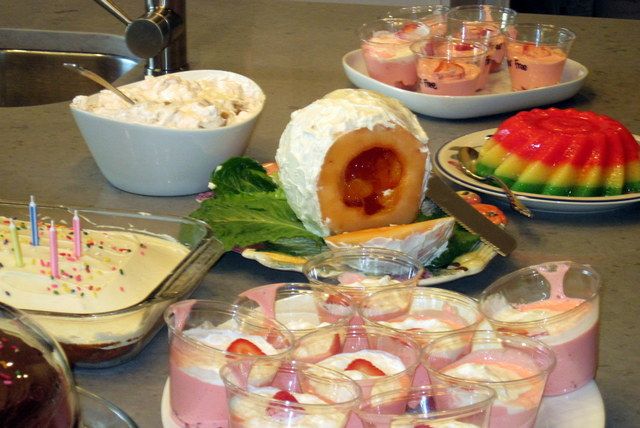 One couple took the Jello quest to the highest level, bringing a dish that instructed, "Fill this ring with potato salad and you'll have a complete meal!" Made with chicken broth instead of water, and congealed with chicken, celery, and pimentos, you can bet that this savory offering was among the most popular of the event for sure.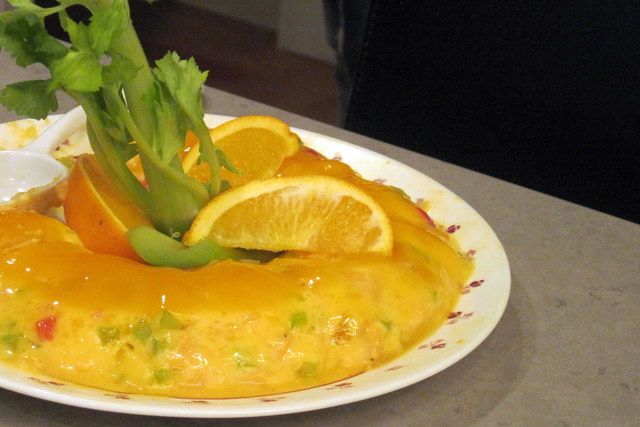 At one point in the evening, I looked around the room, seeing person after person walking around, smiling, chatting with plates full of
nothing but jello
, and I thought to myself, "What kind of person invites a whole bunch of people over to spend their free evening, and rewards that sacrifice with nothing but Jello???"
"Who does that???"
Apparently I do that. And apparently, I have friends who are willing to go along with me in all that silliness.
If that's not love, then I certainly don't know what is.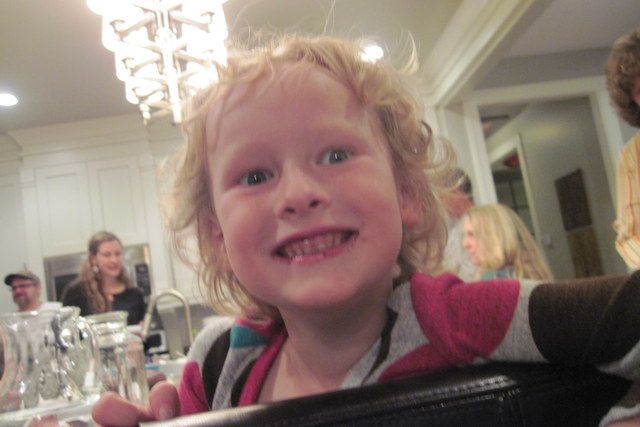 (I gave the picture taking
duties
opportunities to the younger set, and ended up with a bunch of pictures of this little girl from different angles and in different levels of blurry-ness. So, there you go.)