This may be the last post for awhile, but I couldn't stop my recipe overload without sharing this one.
These Nachos are easy and so SO yummy.
So yummy that when I made them for our family soup fest awhile back, they were all but eaten before the soup fest even started. That's because We started a bit late (as usual) and Nachos are really best eaten right when they are ready. So, those who snoozed (and were polite enough to wait for the blessing on the food) loozed.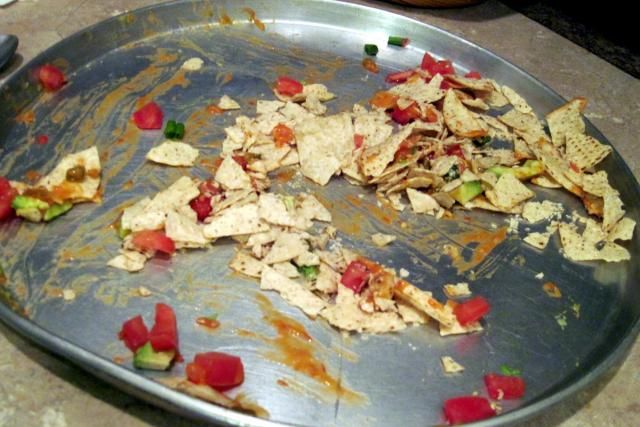 By the time I remembered to take a picture, this was all that was left.
But never fear--now you can make them yourself. Go ahead! Try this at home!
The Best Nachos I've Ever Made
(Campbells Deliciously Easy Recipes)
1 can condensed cheddar cheese soup
1 bag (10 oz) tortilla chips
Chopped tomato, sliced green onions, sliced olives, and diced avocados
Combine soup and salsa in saucepan. Cook over medium heat until hot and bubbling, stirring occasionally.
Arrange tortilla chips evenly on serving platter. Spoon sauce over chip. Top with tomato, onions, olives, and avocados.
Serves 6 (appetizer size servings)