So, way back in August, I signed up to be one of the room moms for my daughter's kindergarten class Christmas party, along with two other moms. As the party date grew nearer, and on the advice of the teacher (who I
adore)
, we decided that we would have three different activity stations, followed by a snack. I did the snack and one activity station.
For the snack, we had grinch hat snacks--basically small fruit kabobs, put together so as to resemble a grinch head in a Santa hat.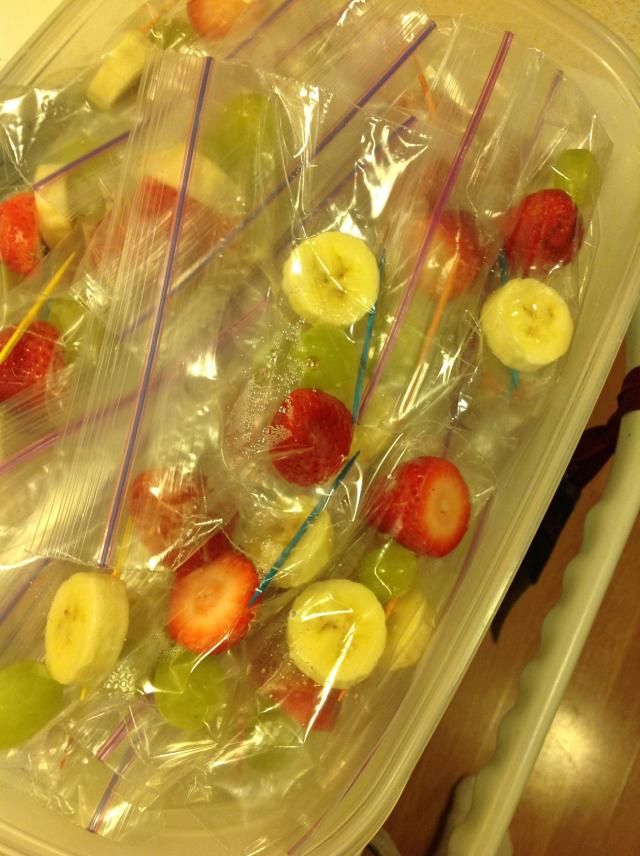 We let the kids assemble them themselves, and I didn't get pictures, so I lifted this shot from allrecipes.com
For my activity, I led the kids in an old favorite "Don't Eat Santa!" (a/k/a don't eat Pete). I got my game board from a site run by my old college friend, Kara,
here
.
The game went well, except that some of the kids kept trying to sneak M&M's when it wasn't their turn. By the third (and final) group I finally wised up and told them kindly but firmly, that if I caught any of them sneaking even one M&M, that that person would lose their turn to "eat Santa", which would mean that they would be trading the possibility of getting NINE whole M&M's for the risky chance of getting one or two. Funny, that group didn't sneak a single candy. Were they just more well-behaved kids, or did my warning had an effect? I guess I'll never know.
All that is to say that I left kindergarten that day with a bag and a half of Christmas M&M's, which I promptly forgot about until well after Christmas.
Well, one day in mid-January, I unearthed the beauties, and (having had my fill of straight chocolate thanks to a holiday overdose) determined that we needed to use them in cookies ('Cuz I hadn't overdosed on those yet!)
Thinking back to a trip that I had taken to Oregon years and years before, where Heidi, Phil, Brian, and I had
feasted
on Heidi's father's "Monster Cookies", I went to my trusty google.com, in search of a recipe that would do. (I could have just called Heidi of course, but I thought I'd try my luck on google first.)
I found about a million recipes, set upon one, and made up a half batch.
(We rarely make a whole batch of cookies or anything else around here, unless we are planning to do a whole lot of sharing or freezing.)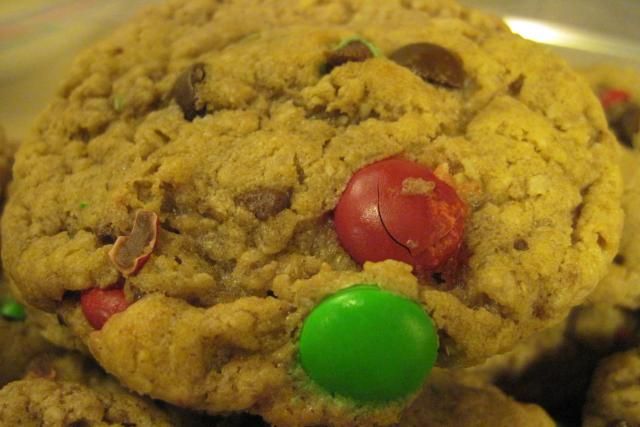 They were delicious,
and
should gluten be a concern of yours, they're actually gluten-free!
Regardless of your gluten sensitivities (personally, I never met a gluten I didn't like), you're totally going to want to make them.
So, here you go:
Yield: 36 regular sized cookies
1 1/2 cups peanut butter
1 cup brown sugar
1 cup sugar
1/2 cup butter, softened
3 eggs
1 tablespoon vanilla
4 1/2 cups quick cooking oats
2 teaspoons baking soda
1 cup semi-sweet chocolate chips
1 cup M&M's plain chocolate candies
1. Preheat oven to 350°F. Spray cookie sheets with nonstick spray, or line with parchment paper or a silpat mats.
2. In a large bowl, combine the peanut butter with the sugars and butter until well combined. Mix in the eggs and vanilla. Mix in the oats and baking soda. Then stir in the chips and M&M's.
3. Drop the cookies by heaping spoonfuls onto the prepared cookie sheets.
4. Bake 10 to 12 minutes. Do not overbake. Cool for 5 minutes on cookie sheets until cookies are set. Transfer to wire racks; cool completely before storing in an airtight container.