Awhile back, one of my friends started a healthy living blog, featuring recipes, fitness advice, and motivation for a healthy life. I follow it sporadically (which is pretty much how I follow most blogs these days), and back around November or so, she posted a recipe for
her favorite breakfast
, which is essentially super-healthy bread toasted with almond butter, and fat-free Greek Yogurt with stevia and berries.
At the time, I was trying (and still am trying) to up my fiber and protein intake and lessen my fat and sugar intake, and so I was pretty interested in her breakfast,
especially
the Greek Yogurt. I went to my grocery store and bought some, finding that like her, my favorite in taste and fat content is Fage 0% Greek yogurt. (I've taste-tested it against the other Greek Yogurts that I can find, and there is no contest as far as I'm concerned. It costs $1.50 per 6 oz container in my Smith's, but I can find it on sale for $1 every couple of weeks or so).
So, nowadays, my default breakfast is a half a cup of Fiber One cereal
(I like it best dry--which isn't to say that I totally like it any way at all, but I eat it because it's a really easy way to get a whole bunch of fiber in a relatively few amount of bites, and it keeps me feeling satisfied all morning.)
and a bowl of Fage 0% Greek Yogurt with fruit, stevia, and either flax seeds or pumpkin seeds (to sneak in more fiber). The yogurt tastes like dessert, and I'm not even kidding.
But, the main reason I'm even writing this post is to tell you that my favorite fruit to put in my yogurt, when it is in season is Pomegranates.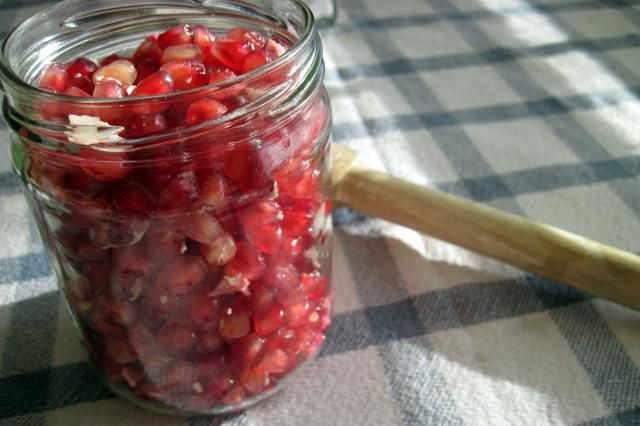 I can't remember whether or not I've gone off her on my love of pomegranates, but believe me when I say that it is a love that is everlasting and undying. The tart sweetness! The crunch! the sense of
eating bits of rubies
! What could be better?
All winter long, as they've been in season, I've eaten pomegranates every morning. I dislodge the seeds (using a handy dandy wooden spoon trick that ends up taking about a minute as opposed to the 20 minutes that it used to take), and put them in a glass jar, which I store them in the fridge. When it's breakfast time, I spoon about 1/3 a cup into my yogurt and get ready for a taste extravaganza.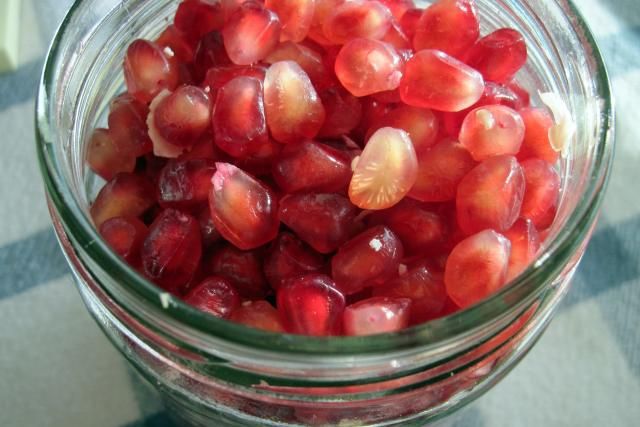 Now that Pomegranate season is over, I'm back to putting frozen raspberries in my yogurt. It's more sweet, and certainly tasty, but there's nothing like a good Pomegranate, and I miss the good old days.
Oh well, something to look forward to next year.
If you like Pomegranates and you haven't seen this (or another similar) video on how to quickly de-seed one, I definitely recommend that you give this one a look. It may change your life.
Like it changed mine.