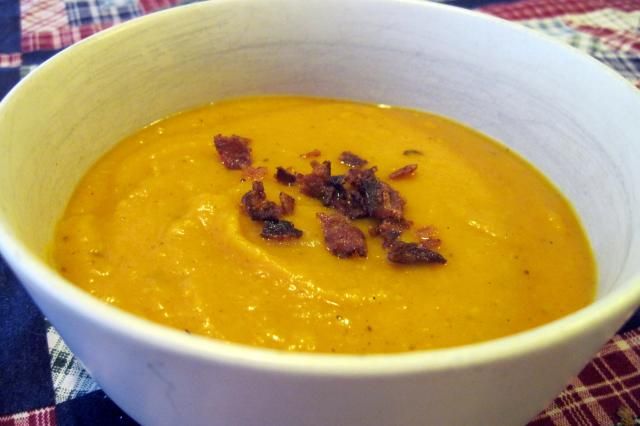 It's creamy and hearty and silky and scrumptious, and it's chock full of vegetables, so it's like guilt-free creamy-hearty-silky-scrumptiousness. Win/win!
Eric thinks I have a bordering-on-unhealthy obsession with squash, and particularly winter squash, but really, isn't it more healthy to have an obsession with squash than it is to have an obsession with chocolate?
(Of course, I'm obsessed with both, so what do I know?)
Anyway, I was hankering for soup a bit ago and happened to have a butternut squash hanging around, so I made a batch of this deliciousness. I loved it so much that I thought I'd share it with all of you.
Smoky Butternut Squash Soup
(I always half this recipe--but we are a family of three and while all three of us will eat this, only one of us gets excited about having it left-over. So, while half makes plenty for our needs, it might not make plenty for yours.)
4 slices bacon (You can use bacon bits here, and it will save you some time, but it's not quite as yummy that way.)
3 pounds (about 2 small) butternut squash
2 large onions, coarsely chopped
2 small carrots, halved lengthwise and thinly sliced
2 small celery stalks, thinly sliced
1.

(This step can be omitted if you use bacon bits)

In a large heavy pot, cook bacon over medium-low heat, stirring until golden brown and crisp. Transfer bacon to paper towels to drain, then crumble and set aside. Pour off fat from pot and set pot aside
2.

(If you've skipped step one, skip to step three here, and then come back to this step while the other vegetables are cooking)

Cut the squash in half lengthwise and scrape out the seeds. Cut each half lengthwise in half again, and using a sharp paring knife, peel the squash. Cut the squash into ¾-inch chunks.
3. Melt the butter in the pot over medium heat. Add the onions, carrots, celery, garlic, and ¼ tsp salt and cook, stirring, until the onions are translucent, 10-12 minutes. Add the squash and broth and bring to a simmer. Partially cover and simmer, stirring occasionally, until the squash is very tender, about 15 minutes.
4. In batches, puree the soup in a blender until smooth and return to the pot. Stir in the sage, and season with the remaining ½ tsp salt and the pepper. Reheat over medium heat, stirring occasionally, until hot. Ladle into bowls and sprinkle some of the crumbled bacon in the center of each serving.
Can be made as much as two days ahead. When reheating, thin the soup with a little broth or water.