So, towards the middle of last June, my mom announced that she had a "use it or lose it" week in their time share condo situation that would be expiring in December. She asked, almost begged all her kids to look over the offerings and availability and if we could find a match between our needs/wants and what was open, it was all ours.
So, I got clicking away, and I found to my delight that there was a one-week opening in a two-bedroom condo in Island Park, Idaho (twenty minutes away from Yellowstone, four hours away from Cache Valley) at the end of September, which is prime Charlotte travel time.
(I conveniently forgot that I would have a daughter in school at that time however. Those are the breaks I guess. Kindergarten isn't REALLY school, right?)
After clearing it with siblings, I got the go-ahead and booked the digs. It eventually became apparent that Eric would not be able to take off work (we'd been on three family reunions over the course of the summer), and so we determined that my daughter and I would go together, and open it up to any other family members who would care to join us. To our delight (and almost miraculously, given a heavy School Board slate of responsibilities), my mom's schedule was open and since she adores Yellowstone, she decided to join us.
And thus, the three-generation girls trip of a lifetime came to be.
We stayed at the Island Park Village Resort, and its location was absolutely perfect.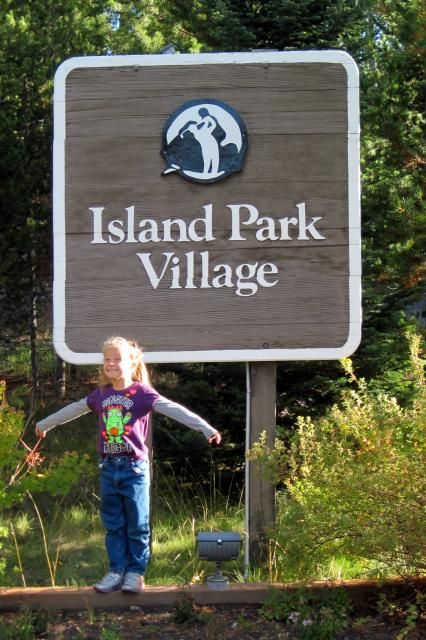 The city of Island Park is quite obviously a place that depends on tourism to thrive, but perhaps because it's so spread out, (at thirty-three miles long, it boasts the longest Main Street in America) it doesn't feel kitschy or over-crowded at all. The resort is located towards the eastern end of the town, which put us minutes away from the western entrance to Yellowstone.
The highlight of the whole trip for me was the animals. Oh MY! So SO many animals! I think this was my fifth trip to Yellowstone, and I have
never
seen even close to the number of animals that we saw this trip.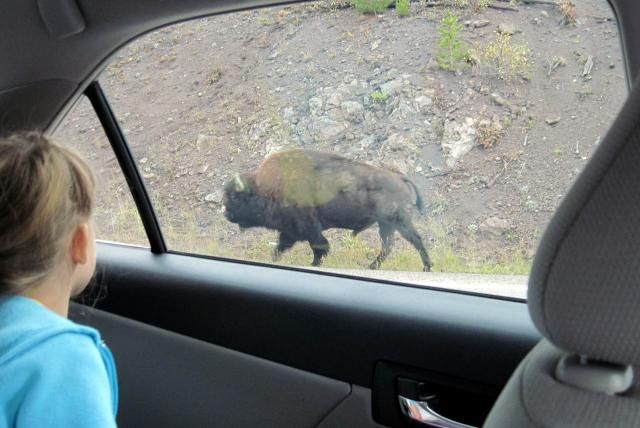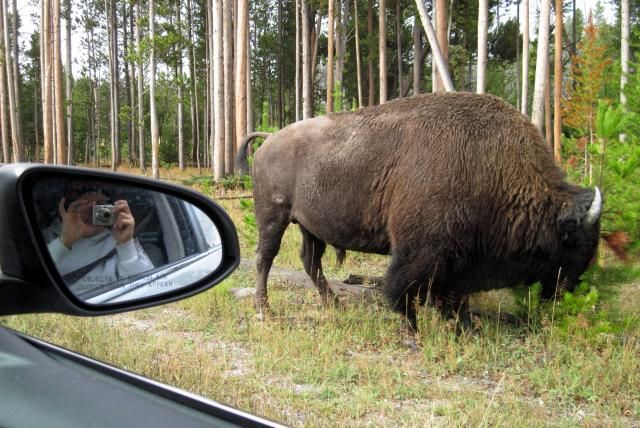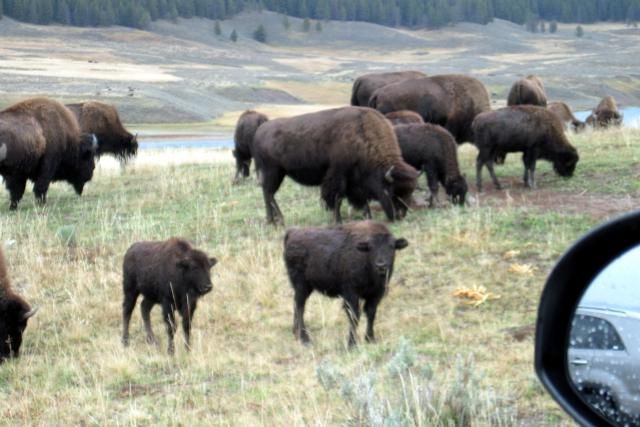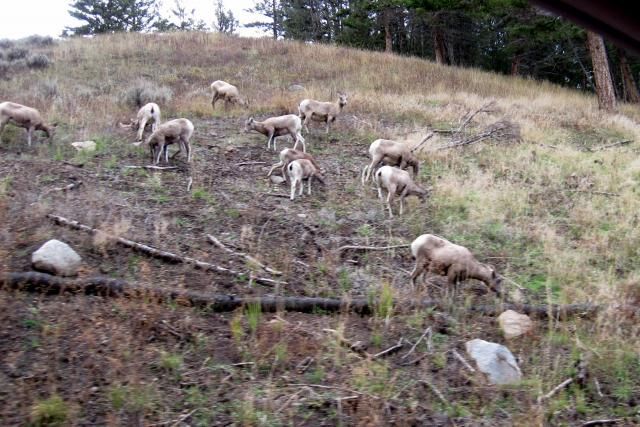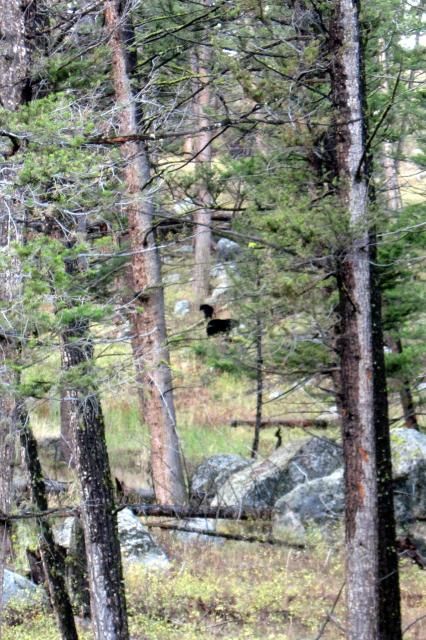 Those black dots there are bears. We saw a mama bear with three cubs (!!!!)
This is as close as I was going to get.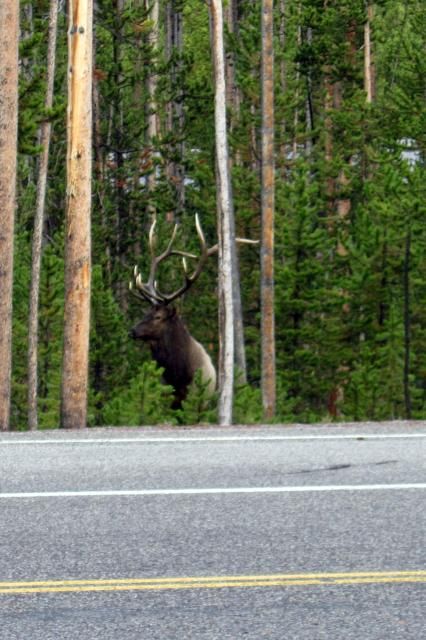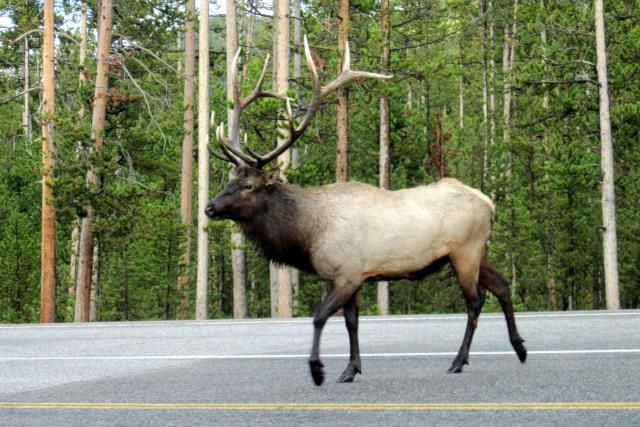 The of course, no trip to Yellowstone is complete without some significant viewing of the vast collection of other-worldly geological features.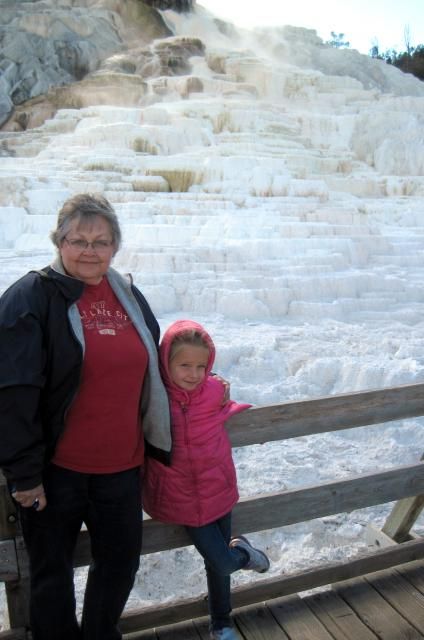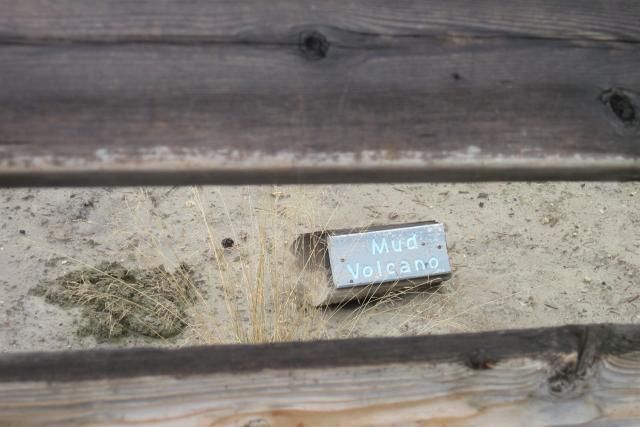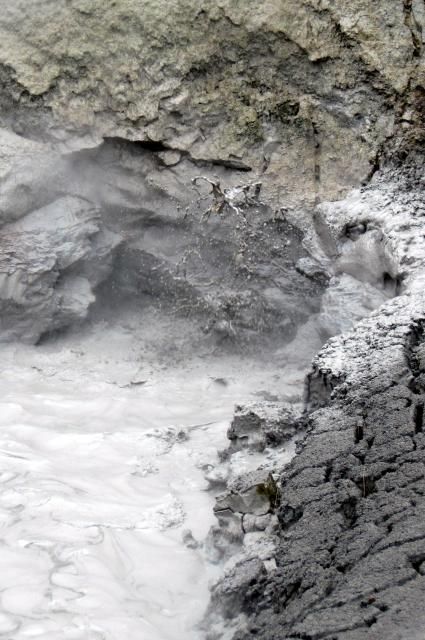 Funny story. Both my friend Annie and my sister-in-law Tamara (experienced Yellowstone travelers) mentioned the Grand Prismatic Spring when I plied them for information for our trip. So, like a drill Sargent, on the first day, I marched our little group through the sulfur-scented steam, among tourists of every nationality, through the rain, to the edge of the of the spring. Here is a picture of what we were supposed to see: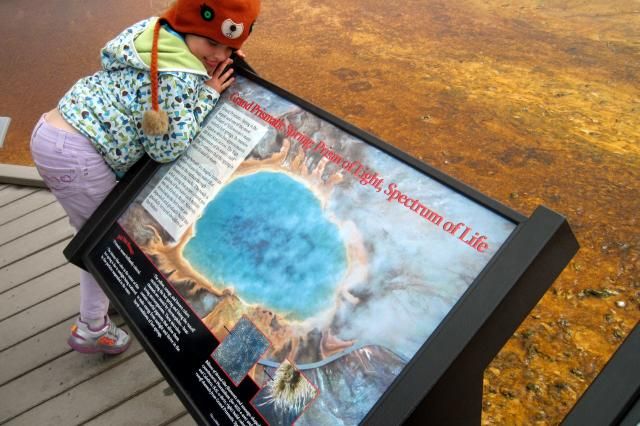 Here is what we were able to make out: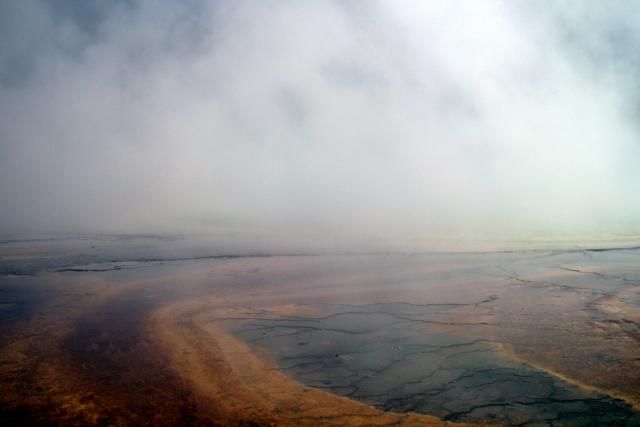 As you might notice from our clothing, it was quite wet and chilly during our trip there, and such a large body of super-hot water generated massive amounts of fog--so much fog that it was impossible to see the colors of spring, or even the spring itself!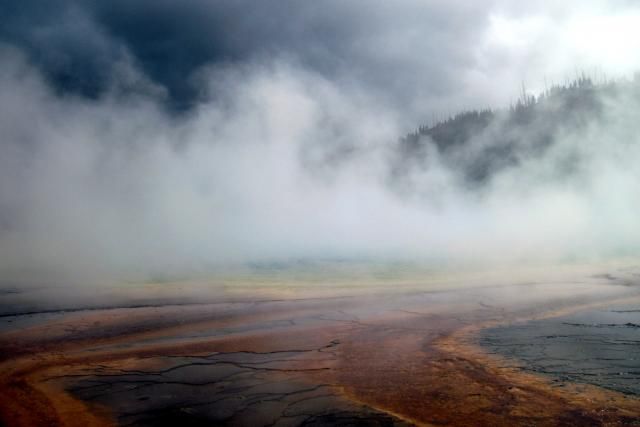 We dubbed it "The Grand Prismatic Steam" and had a good laughed at myself and how it all worked out. Then I marched our party on in search of other viewing gems.
We did find some other, smaller springs, springs that weren't covered in fog, and were beautifully brilliantly blue. That was nice.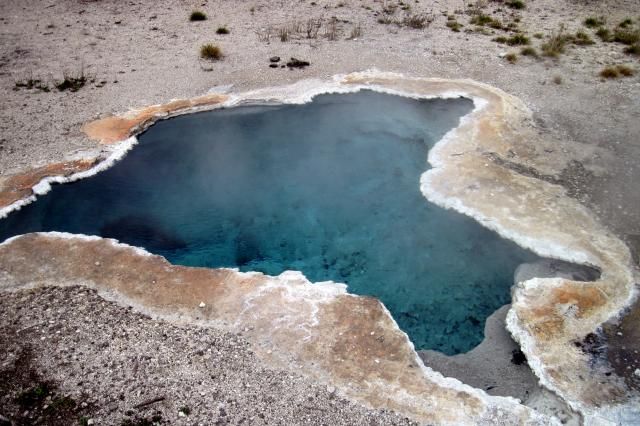 And then of course, the plain "old" (i.e. not powered by molten lava slightly beneath the earth's crust) scenery in Yellowstone just can't be beat.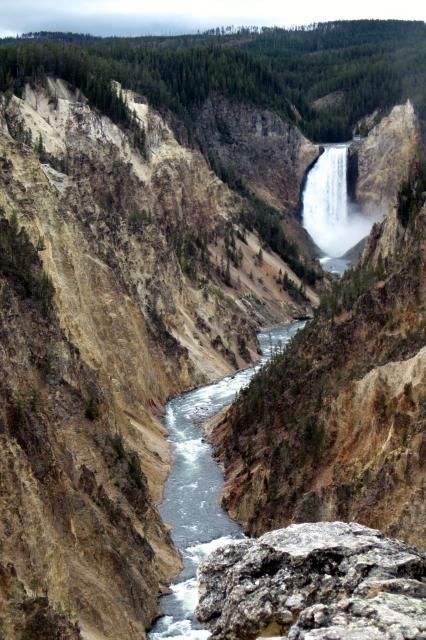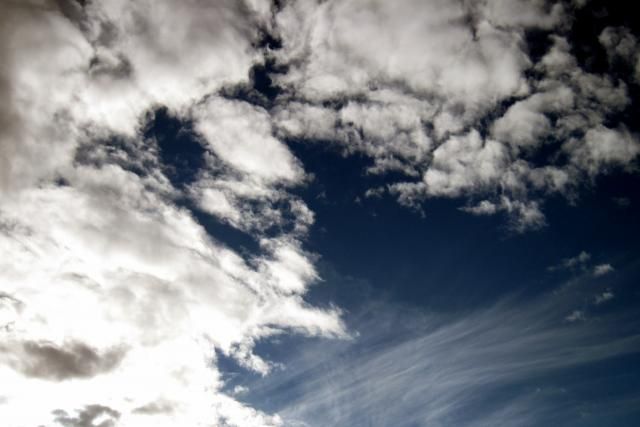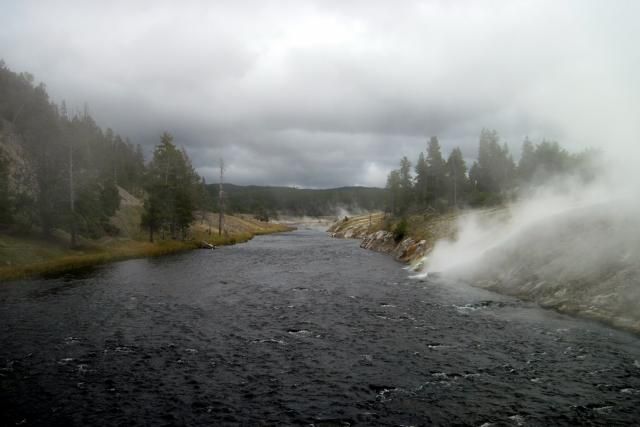 We took full advantage of the visitor centers, and in one of our best plans ever, my daughter participated in the Junior Ranger Program, earning a patch and even being officially sworn in as a Junior Ranger. That might have been the highlight of her whole trip.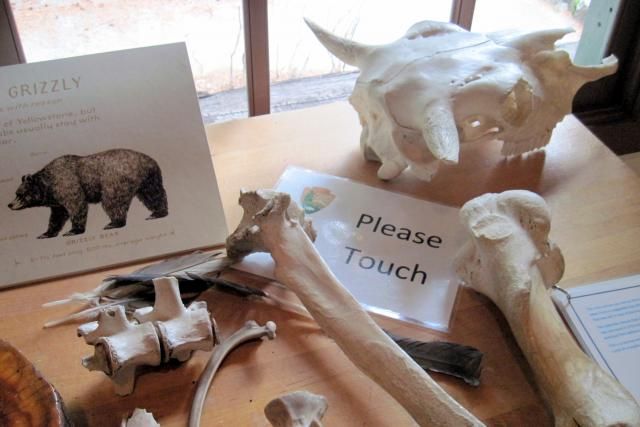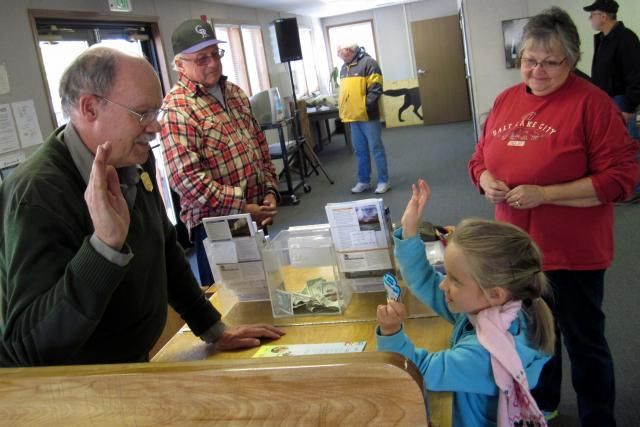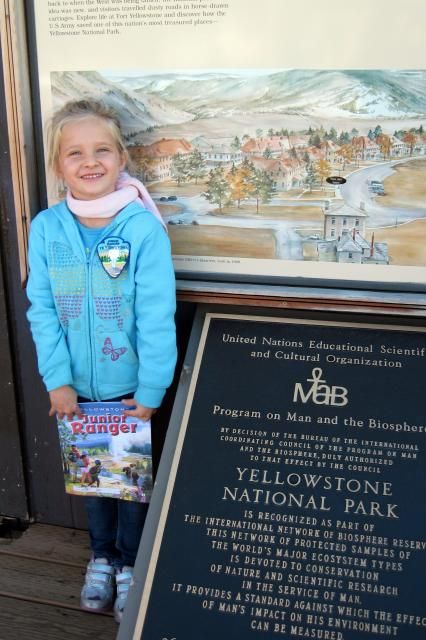 We brought our binoculars, and since we knew we'd be traveling during a time of unpredictable weather, we planned for almost any kind of temperature. That turned out to be kind of critical to our success on the trip, as we vacillated from snow to hail to rain to sunshine, sometimes all in a single day.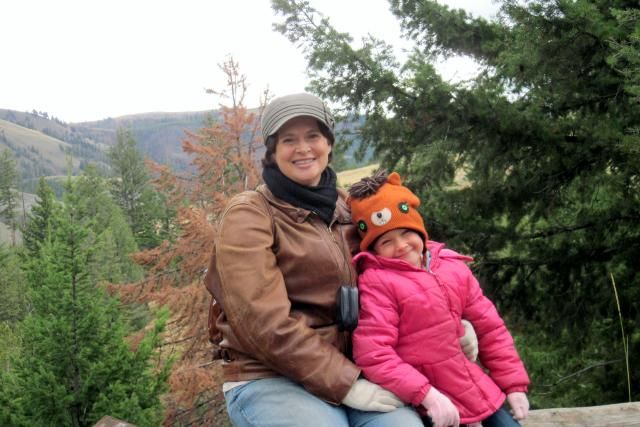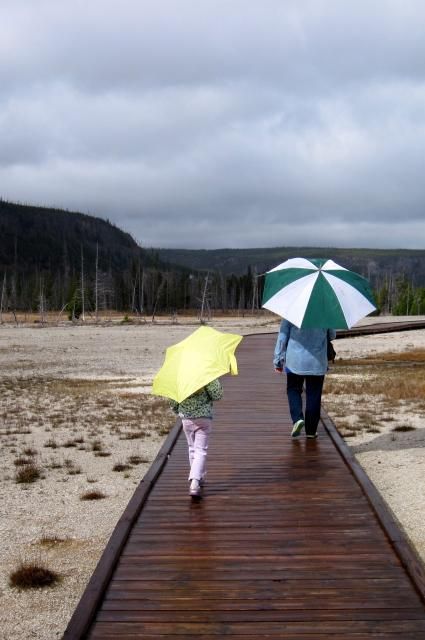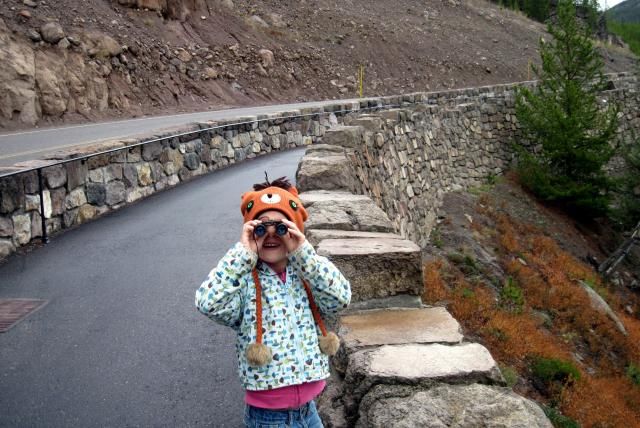 Also, we tried to hit the park as close to the first thing in the morning as we could manage. This was a little outside of my "vacation mode" (you might remember that I'm one who loves to sleep in when I can), but being able to be inside the park early in the morning allowed us to see more animals and travel more freely than we could as the day waxed on. So, I'm really glad we did it.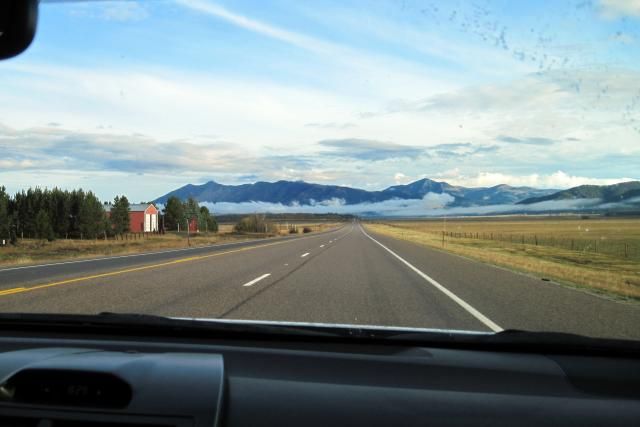 Now that we've been back a little bit and I can look back on the week (semi) objectively, I'm just beyond glad that we did it.Travel can be a time-consuming, energy-draining, financially daunting prospect at times, but particularly in cases where one can manage to travel without breaking the bank (as this was), I just don't know that there are many activities that provide as much of a return on the investment, relationship-wise, education-wise, or mental and physical health-wise as a good trip generally provides. I know not all people are "travel people" (I have a few family members who aren't really travelers), and that's okay, we all have different sources of rejuvenation and relaxation. But, as a "travel person", I've gotta say that this was a really great trip. I'm so glad we went.