So, my little girl turned six last month.
In the
shock of the century
(not really), she asked for a Frozen birthday party--not unlike nearly like every other little girl her age. We settled on a guest list. Since she's our only child, we let her have some kind of a friend birthday party or activity every year. We alternate, one year "big" party, where she can invite more friends than she is years old, one year "little" party, where she can only invite as many friends as she has years. This was a "big" party year.
I was able to make up some invitations using a picture that I found through Google Images. After saving it to my folders, I used Picasa to add the text as well as a side spot for the party details.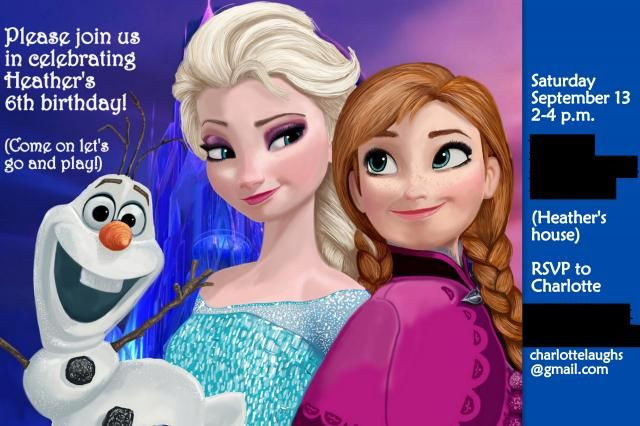 If you want a more detailed explanation, let me know and I'll give one--it was pretty easy, even for a novice like me.
For decor, we swapped our Autumn wreath on our door for our blue and white icy January wreath. I don't know if anyone noticed, but I liked thinking about it there, particularly since we didn't tie balloons anywhere to say "The party is here!"
I was able to score some beautifully beaded snowflakes through
an Etsy trade
, and I bought a $4 Frozen poster at Wal-Mart. The snowflakes will end up on our Christmas tree this year and in other years, and every time I hang them, I'll think of the year Heather had a Frozen birthday party (awww). The poster went into Heather's room after the party, because that's where we both wanted it.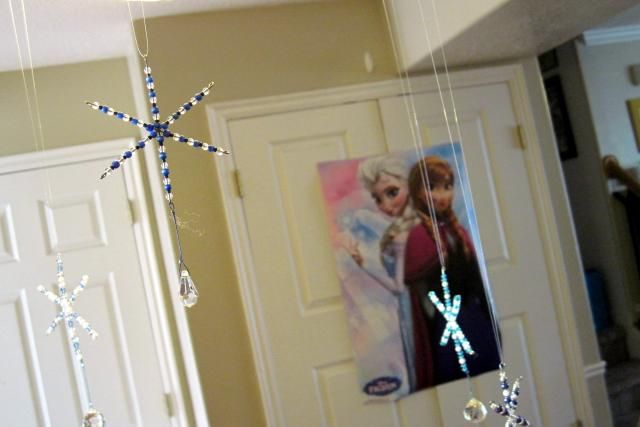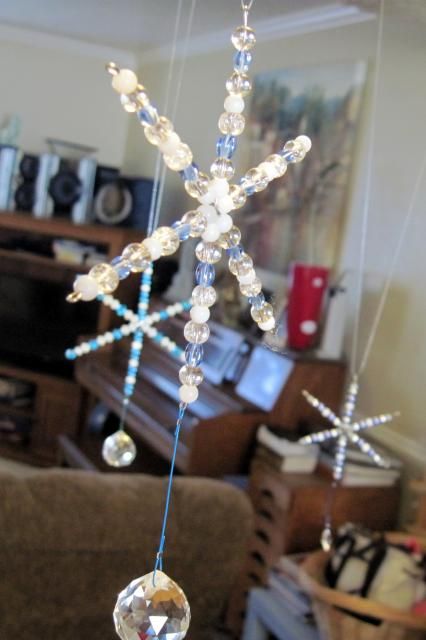 About a month before we were to have the party, I was strolling through Kohls with $10 of Kohl's cash in my hot little hand. Not really needing anything, I wandered to the toy department, and what should I find but a 3-foot floor puzzle featuring our favorite Disney characters for $12.99 Score!! $2.99 plus tax later, I walked out of the store with a ready-made gathering activity.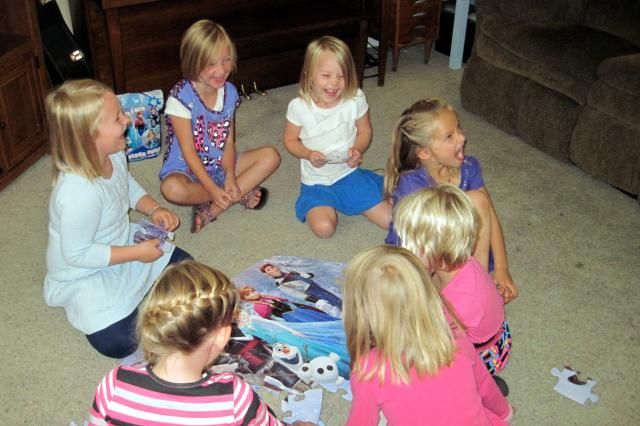 As each girl arrived, they took their place on the floor and worked out the puzzle together.
It worked like a charm--much better than I had imagined, actually.
(If you're local and wanna borrow our Frozen puzzle for your own Frozen party, just ask. The answer will be yes.)
After puzzle time, we made snowflake wands using Elmer's glue, die cuts (also an Etsy trade), ribbon, and Popsicle sticks that Heather and I had previously painted with blue acrylic paint and glitter glue. While not exactly sturdy, they turned out cute, and the girls enjoyed making them, which was the point of it all anyway.
Heather and I made these two before the party so that the other girls could have an example of what we were going for.
At that point, we were planning to head outside and play a little "Pin the Nose on Olaf", but we forestalled that with a little impromptu dance party to the greatest Frozen hits that I could get on Spotify. Hilarious and awesome. You've never lived until you've seen a roomful of girls dancing around and singing "Let it Go".
When that was done, we went outside for our Olaf game.
Eric had been willing and able to freehand an Olaf onto some butcher paper for the cause. Living with an artist is truly the bees knees.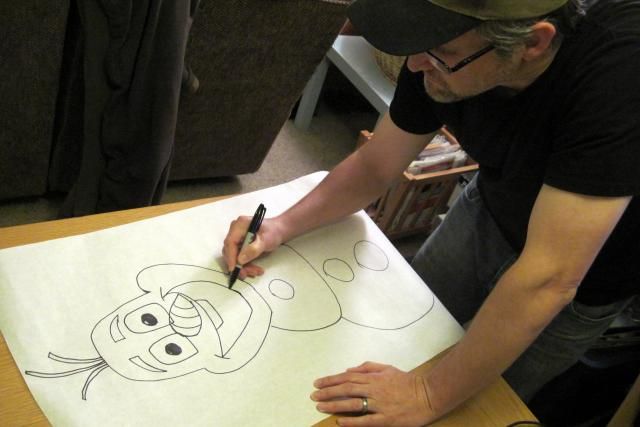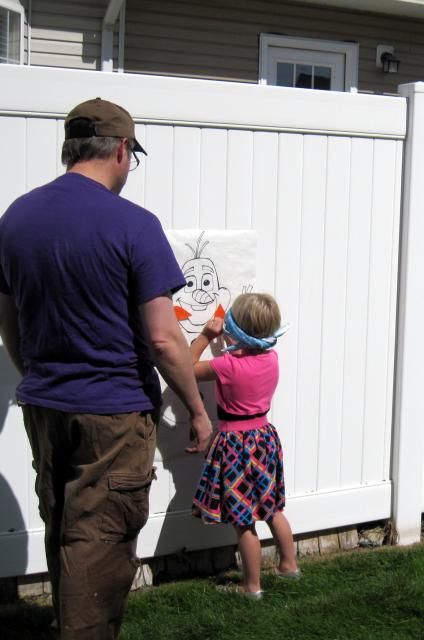 Olaf pinning was followed by the old standby of freeze tag--which we thought would take awhile, but (in a case that
was mirrored
by the last time we had a big birthday party) it was a little too hot outside for anyone to be interested in running around for too long, and so once we noticed that girls were dropping out like flies, we served the cake and ice cream.
And now for the cake tangent . . .
I had made the cake over a few days, primarily because life that weekend was hectic and I knew I wouldn't have a couple of hours at once on the day of the party. So, a few days before the party I mixed up a chocolate cake mix, adding another egg, substituting butter for the oil and half-and-half for the milk, and baked it all up into two round cake pans. After they were cool and I had leveled off the tops for easier decorating, I wrapped them up in plastic wrap and put them in the freezer.
About a week earlier, Heather and I mixed up a half-batch of
these ice candy decorations
to use as decor, so they were already on hand. The "photos" of Olaf, Elsa, and Anna were leftovers from the goodie bags that we made, which I'll get to later.
The morning of the party, I pulled out my handy
Spiff-E-Whip
, and mixed up some chocolate mousse (for the filling) and white frosting. It took about 10 minutes total. Then I pulled the cakes out of the freezer and started frosting.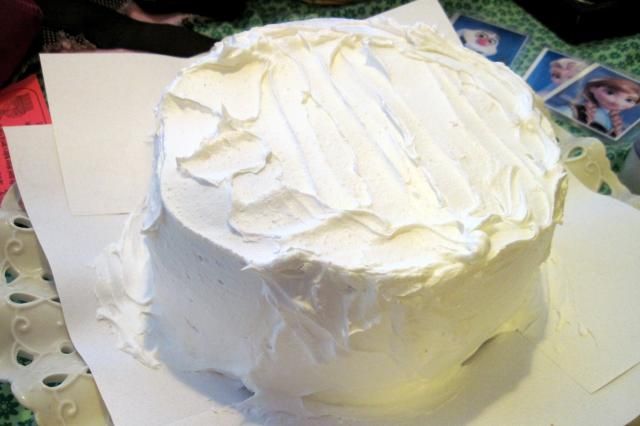 At this point, Heather wandered into the kitchen and wanted to help decorate. Since it was her party after all, and since all the guests were going to be seven or younger, I didn't see anything wrong with having a cake that looked like it was decorated like a six-year old. So, away she went.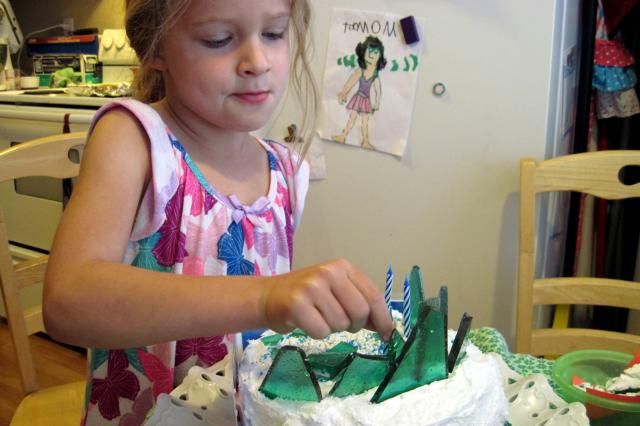 Obviously, she was quite pleased with her work.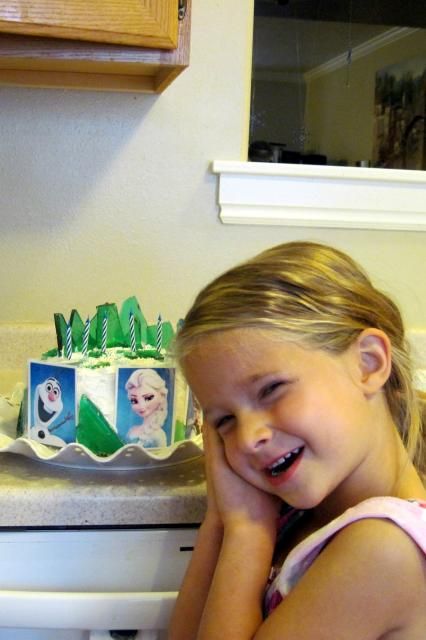 We put it on a platter that Eric and I got for our wedding, which was an added bonus for Heather. She loves looking at "wedding treasures". I was the same way at her age (and at my age as well).
After cake and ice cream, we plopped the kids down and opened presents, which was then followed by more games and fun. I taught the kids "Here Comes the Jolly Butcher Boy", a simple but ultra fun game that I learned from one of my brothers a few years ago. Again, if you want to know the rules, I'm happy to share. It was a big hit.
As the kids left, we pressed one of these goodie bags into each of their hands--small cellophane bags that were filled with yogurt-covered pretzels and Hershey's hugs, as well as little cards of Elsa (with Anna or Olaf on the back) that I had printed out on my computer and then had laminated at Watkins, a local printer.
As parties go, I feel like this one went really well. Of course, that mainly has to do with the fact that we have great kids in our neighborhood and circle of friends, and everyone knows that great people generally make for great times. In addition to that though, I feel like the activities and accouterments we chose worked out really well-both from an appreciation-of-participants standpoint and from an expenditure-of-labor-and-funds standpoint.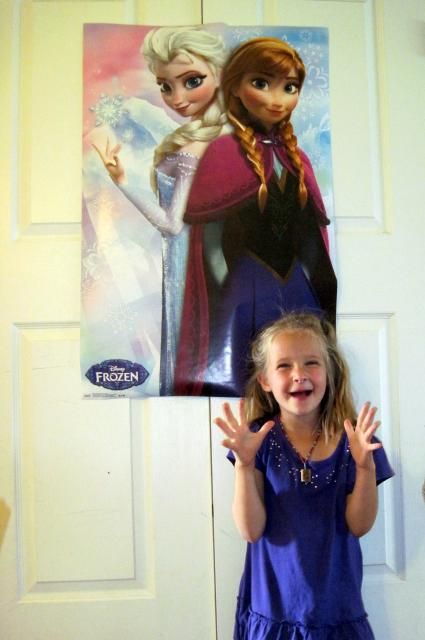 All in all, it could have been much much worse, and probably not a whole lot better. Love it when that happens.