Are any of you basil growers out there? Do you sometimes have a little more basil than you know what to do with? Have you tried your hand at pesto only to find that it's a little too sharp, a little prone to going brown before you can eat it all, a little unsatisfactory in other ways?
Have I got a recipe for you!
My mother-in-law gave this to me last year. She got it from my sister-in-law, who got it from a guy she used to date--a guy who used to be one of my neighbors at the exact time that they were dating, and yet she and I still never met (weird).
Anyway, we call it "Marks' Delight" after him, and it really
is
a delight.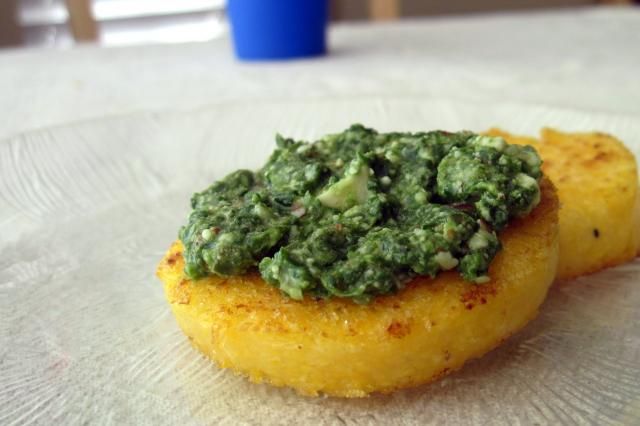 Mark's Delight on fried polenta--deelicious!
Fresh Basil/pesto sauce (Mark's Delight)
½ bunch or bag of spinach
5-6 stems of basil—leaves only (discard stems)
½ cup grated pecorino or romano cheese (parmesan works great as well)
1/3 cup olive oil (I usually just use 1/4 cup here and it works fine)
Juice of one lime or ½ lemon juiced
Cook spinach in a little salted water-set aside to cool. Blend almonds in food processor to desired consistency—leave a little chunky-set aside
In a blender or food processor, blend until smooth:
Add grated cheese blend a little, taste, add a little salt if needed.
Add almonds and just stir in
If it's too thick add a little water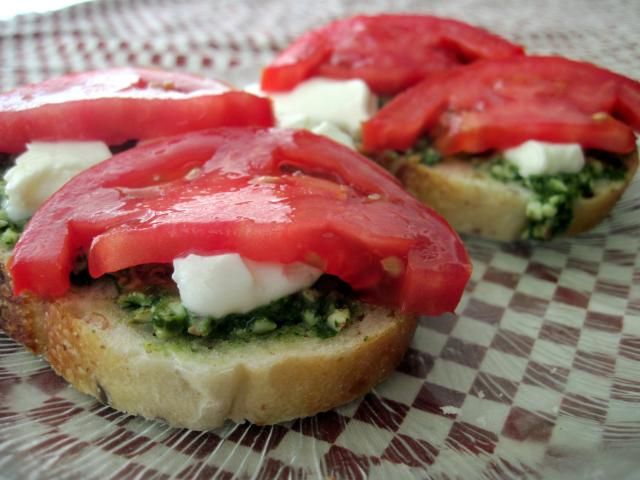 This pesto is quite versatile, you can have it on rice, pasta, bread, eggs, all kinds of things. My personal favorite though is to spread it on fresh crusty bread, top with fresh mozzarella, and then toast (or even microwave if you're in a hurry) just to get the cheese a little melty. Then top with sliced garden tomatoes. Put a dash of salt over the top and prepare yourself for something amazing. Seriously, out of this world amazing.