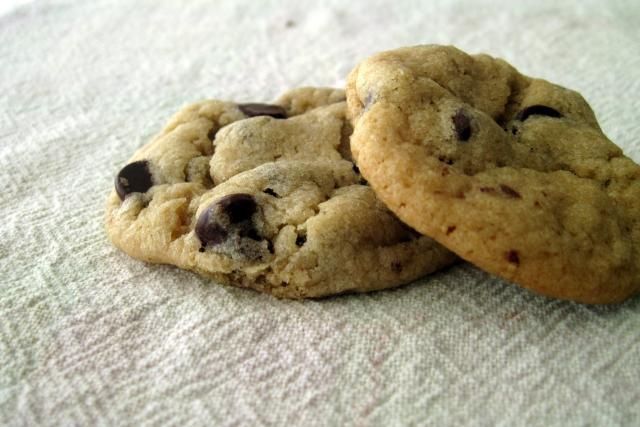 I read a little blog called "

Clover Lane

". I like to think that Sarah and I would be friends if we knew each other in real life, for although our lives don't mirror each other all that closely (she has six children, is Catholic, lives on the east coast, and is a stay-at-home mom), we are around the same age and share common values, similar upbringings (as nearly as I can tell), and when she writes her opinions on life, family, raising kids, and even frustrations with the world today, I catch myself nodding enthusiastically. Sometimes I even add an "Amen, Sister!"

(Not really--I don't say "Amen, Sister!" nearly as often as I write "Amen, Sister!" But I do agree with her a vast majority of the time.)


Soo,

when Sarah provided a link to this cookie recipe, I couldn't help myself.


UPDATE:

So, I can't find where Sarah provided a link

to these cookies

, which makes me think that she probably didn't give the link, so I have no idea where I read the link, since this is not a blog that I frequent all that frequently.

But, I do like Clover Lane, so I'm not going to delete all that I wrote above, even if it is completely irrelevant now.

* * *

Anyway--I tried a new cookie recipe, and they turned out delightfully, with the perfect crispy/chewy texture that I love, and now I may never try another recipe again. But, I've said that before, so who knows.

Here it is (I halved the original recipe because we don't need a full batch around these parts usually):

Chocolate Chip Cookies

3/4 cup butter

1/2 cup plus 2 TBS brown sugar

1/2 cup white sugar

1 egg

1 tsp vanilla

1 1/2 plus 1/3 cup flour

1 TBS corn starch

1/2 heapingish tsp baking soda (half of 1 and 1/4 tsp)

1/2 heapingish tsp of baking powder (see above)

3/4 tsp salt

1 cup chocolate chips, maybe 1 1/2 cups if you're feeling chocolatey

Cream butter and sugar, then add eggs and vanilla, then dry ingredients, the chocolate chips. Heat the oven to 350, and while you do that, chill the dough in the fridge. Bake for 12 minutes or so.