I was going through some papers the other day, and I found this: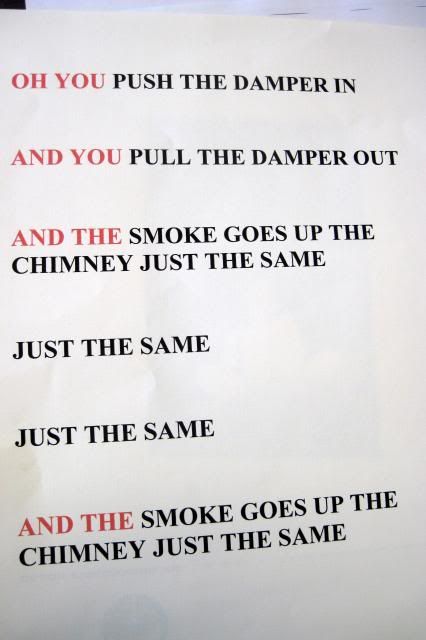 They are the words to a song that we used to sing for fun at the Corry reunion and at other Corry gatherings. My Uncle Steve printed up the words and re-taught it to all of us at Christmas Eve this past year. You know how certain smells or certain songs can take you back to other times in your life? This song reminds me of my childhood.
* * *
Eric and I sometimes compare childhoods. Eric loved
loved
his childhood. That's actually saying quite a bit, since he was diagnosed with diabetes when he was only two years old, which was naturally followed by a lifetime of needles and pokes and emotional (blood sugar influenced) ups and downs and hospital stays.
Fortunately, it was also filled with
frog catching
, and
pet-owning
, and comic-book collecting, and bike riding, and boys-club-forming, and toy-dreaming which was often followed by toy-owning. To hear him tell it, his growing up years were about as idyllic as they could be. I love thinking about that for him.
My childhood was pretty idyllic as well. I ran around with a group of girls that were nothing short of heaven-sent. Smart, kind, funny, accepting, creative, loyal, you name it, my friends were that. My summers were spent camping, dancing, sleeping on the trampoline in the backyard, spending full weeks in the homes of my cousins in exotic places like American Fork and Stansbury Park, Utah. My winters were full of Christmas traditions and birthday celebrations, sleepovers and family home evenings where we all joined hands and danced greek-style as I taught them all the latest steps I had learned in my
American Folk Ballet
class. (You think I'm kidding--but I'm not.)
And then, there was family--lots and lots of family. I have thirteen aunts and thirteen uncles, and I have memories of them all. There's the reunion year that I was assigned to room with Aunt Judy
(Rich, not Liddle--just to be clear)
and a few cousins, and we giggled and played until well into the night every night. There was the summer when my mom and Aunt Mary Beth drove all of us kids to San Francisco so we could play there
and
pick up Aunt Rebecca as she arrived home from her Asian adventure in Okinawa. Aunt Lou Jean and Uncle Warren showed us the wonders of China town, and it seemed I'd never seen a place so magical.
There are hazy memories of a tragic August when we all met together in Illinois for a family reunion, a few days of fun and laughter, laughter that was abruptly interrupted by sadness and gathering in close and bearing together as my Aunt Francine passed away unexpectedly and almost without explanation. I don't think I was more than five at the time, but I do have some memories - mainly of tears and smiles, confusion and peace, sadness and love. Hard stuff. The kind of stuff that can galvanize a family or demolish a family. I like to think that we ended up with the former.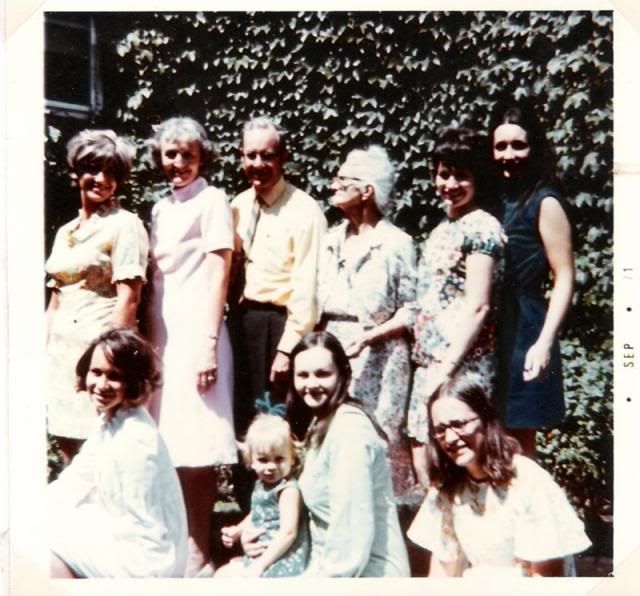 An old photo of some of the members of my mom's family back in the late 1960s. Aunt Francine is top row, second from the end on the right.
I have memories of hiding on the landing of our home or in the stairwell of my grandmother's home so that I could listen to (eavesdrop on) the banter of my father and his siblings, teasing, laughing, re-living old stories, telling new stories. I still love to replay some of those stories in my mind, how Uncle Steve used to slide his hand over the face of my dad and Uncle Jeff to make sure they were still breathing under the covers (scaring them to death in the process), how they all used to sneak ice cream out of the freezer, eating it straight out of the carton with a spoon, always ready to pop the spoon into the sink or stuff it into their pocket (!!) if they were in danger of getting caught.
The first time I met all of Eric's family was the Christmas when we were engaged. I remember on Christmas Day, sitting around the kitchen table with all my in-laws-to-be, laughing our heads off while Wayne and Beverly read from a book that some of the children had created of inside jokes, quotes, and memories of the funny times growing up in the Cantwell clan. To be sure, I wasn't in on most (practically any) of the jokes, and most of them didn't really translate to me, but
I had a ball that day.
Comparing Eric's family to mine, and finding out that there were a whole lot of similarities in a whole lot of areas that have a whole lot of importance to me was a really big confirmation that this guy I had chosen to marry was a keeper, and his family was full of keepers as well.
It all makes me wonder about my Heather, what memories she will take from time spent with aunts and uncles (she's got eight of each), girlfriends, pets and dance class, etc. Who knows, maybe someday we'll all hold hands and do a dance around our living room for family home evening.
Oh wait, we already do that.