So, Eric and I like to watch
Project Runway
together.
And by "together" I mean that we watch it on our respective computers separately, and then the one who has seen the episode tries to "spoil" it for the other, and then we compare notes on whether or not we agree on who went home and who had the high score, and who was dramatic, and who is awesome.
In a completely unrelated note, this year in around October or so, Eric told me that he had a plan for my main Christmas present, and that he really hoped that I would like it. Then he continued that line of talk all through November and December.
This is par for the course for Eric. Every Christmas he puts a lot of thought into my gifts, and completely surprises (and delights) me. But he second-guesses himself all along the way.
So, Christmas morning came, and to my surprise, I opened up a present that was a JayMcCarroll original!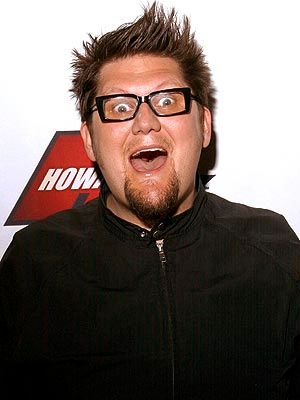 See? Even he is excited for me!
For those of you who aren't in the know--Jay McCarroll was the winner of Season 1 of Project Runway. Here's a sample of his work: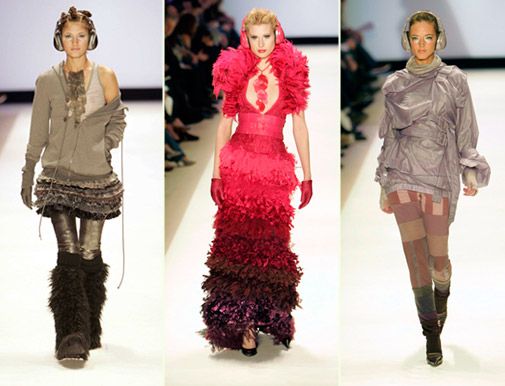 So, with an introduction like that, you are probably wondering a bit about my gift now, aren't you? Well, before I show you, I need to tell you a bit of a story.
When I first opened the package, I saw the tag, and got kind of excited. I mean, how fun to have a designer original, you know? Then I got a little bit nervous, thinking about how much Eric might have paid for this little number. I needn't have worried, Eric got himself a bargain this time.
When I opened up the actual package, I saw a mass of color. A long shirt shirt with multi-colored squares in the front, pink stars on a black field on the sleeves, and green and white stripes in the back met my eye. A little outside my comfort zone, stylistically, but well within my comfort zone of fun.
My mom hated it. Really really hated it. I tried it on, and she gazed on me with her best Jean Willis* "I am not amused look", and asked me where on earth I thought I was going to wear that thing. I reminded her that I work for an opera company, so I would hardly be the most flamboyant person there, should I choose to wear it to work (which I have--several times). She was not convinced, but resigned herself.
Funny thing, later on in that day my niece Kaylee came over to the house with her parents and siblings to do a little Christmas Day chilling. As she came up the stairs and saw me, the first thing she said was, "Wow! That's a really great shirt! I love all the colors!"
Now, Kaylee is (in my opinion) the most fashion-savy person in all our family. Seriously, that girl has an awesome sense of style, and is able to put together smart, classy, interesting, and fashionable outfits out of pretty much anything. So, getting her approval was huge. HUGE.
So huge that I'm willing to share these pictures with the world:
Go ahead, just try to tell me that my Eric doesn't just rock the house. You'll never convince me.
(Full disclosure though--I do wonder a bit about the age appropriateness of the shirt for me. I am closer in age to my mom than I am to my niece.
Am I too old to be wearing this? Do I really care?)
*Jean Willis is my mother's mom. She had a generous spirit, a willingness to work and work and work, and an "I'm not amused" look that was impossible to miss.