Not really. But, can you name that movie?
On Saturday, we lucked into a large bag of home-grown granny smith, golden delicious, and red delicious apples, absolutely free! A little slice of heaven.
In related news, I have this crazy idea (which may come to nothing) that during the month of October, our Family Home Evenings should be a celebration of the gloriousness of fall. So, it was my plan to spend our Monday evening driving to the canyon, and then picking different branches of orange and yellow leaves, which we would then put in a vase in our living room to remind us of this ultra-lovely time of year.
And then we got the apples.
Change of plans, we spend Monday night making caramel apples--and (get this)
we made them from scratch.
And, (get this!!!)
It wasn't even that hard.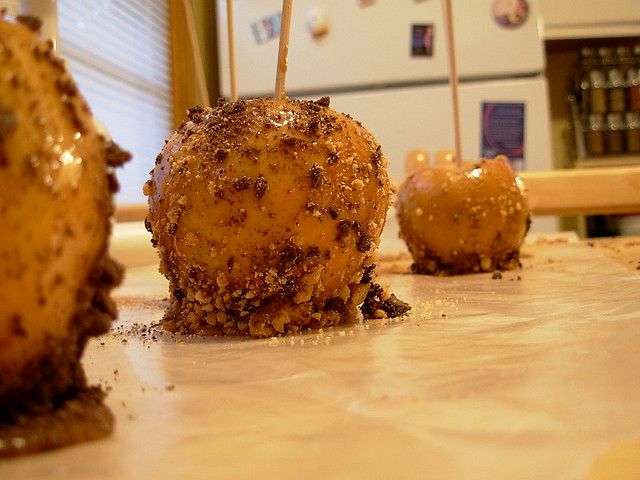 These are not my apples, I didn't take any photos in the process. But, these give a passing resemblance to what we ended up with when all was said and done.
We used the instructions I found
here at comfyinthekitchen.com
. It's the same basic recipe I found on about ten sites once I googled "sweetened condensed milk caramel apples", but I like this one because it shows pictures of what the caramel looks like when it's ready, and in so doing eliminates the need for using a candy thermometer. I have a candy thermometer, but I get intimidated by recipes that say that one is "needed", immediately assuming that such recipe will be above my skill level. I hope you'll believe me when I tell you that this is an easy recipe. Easy enough that there is no need to waste the money or time driving to the grocery store and to buy Kraft Caramels to melt or those wrap-an-apple kits. Just make your own caramel. It takes about 30 minutes and it's easy.
Here's the recipe:
Gourmet Caramel Apples (at home)
Prep time:
Cook time:
Total time:
Ingredients
6 wooden skewers (we used craft sticks)
6 Medium Granny Smith
1 cup sugar
¾ cup white corn syrup
1 can sweetened condensed milk
⅛ tsp salt
¼ cup butter
1 tsp vanilla
desired toppings & parchment paper
Instructions
In heavy saucepan combine sugar, corn syrup, milk and salt mixing well.
Cook over medium heat stirring gently but constantly until soft ball stage --if you are using a thermometer it will be about 230 degrees- but I go by color.
This will take you about 30 mins. (it only took me about 20 minutes)
Remove from heat and cool for about 5 mins and stir in butter and vanilla.
Cool again about 5 mins- you then may begin coating caramel over apples to cover fully…then dip in your desired topping.
Place on buttered parchment paper…when finished with all apples, transport to dish and cool in refrigerator for 2 hours before enjoying!
For toppings, we used mini-chocolate chips and crushed vanilla wafers, because that's what I had on hand. The wafers looked a little funky but tasted divine. The chocolate chips melted onto the caramel which also make them look a little funky, but again, they tasted divine. The caramel was perfect, the tart apples mixed with the sweet and sticky caramel took me back to my childhood and then my college days (when I made caramel apples every year, but never from scratch), and once again, all was well with the world.