Almost a year ago, I happened upon
a blog post
touting a make-your-own laundry detergent recipe that was amazing, cheap
(as in--around $30 for a batch, a batch that will last around a year if you have a big family, and probably two years if you have a small family like me)
, and easy to put together. I was skeptical, but I decided to try it out.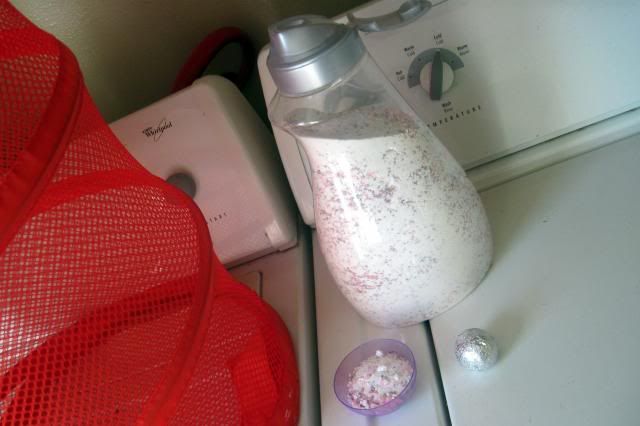 I honestly can't imagine ever going back to purchasing laundry soap again. This soap is pretty (which I know isn't important in the long run, but I don't like doing laundry and if I have something pretty to look at it definitely helps), smells nice, cleans well, and every time I use it, it's just a nice little treat for me--as much of a treat as you can get from washing dirty clothes and towels anyway.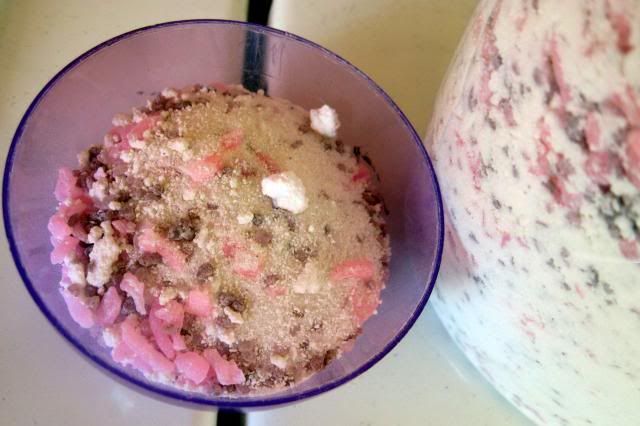 You want the recipe? Of course you do. Here it is:
(Most of this can be found in the detergent aisle, with the exception of the Baking Soda and the Zote Soap)
1 (4 lb 12 oz) Box of Borax
1 (3 lb 7 oz) Box of Super Washing Soda (Arm & Hammer)
1 (3 lb) Container of OxyClean
2 (14.1 oz) Bars of Zote Soap (I found this at our local Latino market. If you can't find it, you can use an equal amount of Fels Naptha, but those bars are smaller, so be sure you get 28 ounces, not just two bars)
1 (4 lb) Boxes of Baking Soda (Arm & Hammer)
1 (55 ox) Bottle of Purex Crystals Fabric Softener (optional--but it smells nice, makes the detergent look pretty, softens the fabric, AND provides a bottle for you to store your soap in so that you don't have to have a giant bucket of soap cluttering up your laundry room)
Grate the bar soap--I used my food processor, and it worked great. If you want smaller bits of soap, you can do it by hand, using the smaller holes on the grater.
Next, get a five-gallon bucket, and start mixing everything together. Unless you have arms of steel (I don't), I recommend a layering approach to this--like dump about 1/4th or 1/3 of each ingredient into the bucket, then stir them all together (I use a wooden spoon). Then repeat two or three more times.
Now you're done! To use the soap, just put in 1-2 Tablespoons in with each load of laundry. You'll think you need more, but really you don't. Also, you will notice that your water doesn't have the suds that you're used to. That's okay, your clothes will still get clean. After this experience, I have a sneaking suspicion that companies put sudsing agents in their detergent more so that you will think it's doing a better job rather than because it is actually needed.
Also, as long as we're talking laundry and saving money, you see that ball of aluminum foil in that first picture? That's what I use instead of a dryer sheet to break up static cling. It works pretty well. My dream is to have one great big huge ball, but for some reason I can't bring myself to cut up a piece of foil long enough, so right now I have four or so different balls bouncing around with each load I do, and it works almost as well as a dryer sheet, so I'm sticking with it.