(I wrote this entry on Tuesday night, but bumped it from the blog in favor of the good news about Doug's new home in Cedar City. On Wednesday I received some horrifying news - that my dear Tayneshia had suffered a brain hemorrhage and passed away. I'm sure I'll eventually have something to write with respect to that, but right now my feelings are pretty raw, and I don't feel like writing much of anything. Still, I've decided to put this post up, because Tayneshia loved traveling, spending time with loved ones, and she absolutely celebrated life. So, one of the many ways I feel that I can honor her is to go on celebrating life myself, and this post reflects some of that celebration.)
* * *
A week or so before we were to leave on this amazing trip, I got thinking back over the past month or two (or four), and I realized that Eric and I hadn't been on a non-temple date together in awhile. I adore dating Eric, but finding the time to go out, then finding the sitter for Heather, then spending the money for entertainment can be a daunting task (as I'm sure many of you know better than I), and I wasn't sure I was interested in that moment in pursuing that line of thinking any further.
And then I realized that I would soon be on an
eight-day date
with Eric, complete with fabulous vistas, a variety of entertainment, and who knew what other delights!!
That was a nice realization, let me tell you.
Maybe you don't remember this (or care), but the infamous
Love Boat
was a Princess Ship. In homage to that, they have rerun-episodes playing on the cabin televisions. Eric and I watched two and a half episodes I think, and thoroughly enjoyed the silliness/cheesiness/complete oddness of it all, until it started getting just too too annoying, at which point we stopped.
But, watching
The Love Boat
is far far from the only romantic adventures we experienced during the week of Alaskan joy.
--We went on what ended up being a double date with my sister and her husband--which was a first for us, and so so fun. (Bocce Ball, dancing, ocean views, etc.)
--We danced a ton (this has already been covered mostly--but I'm telling you, you haven't lived until you've seen Eric break dancing in the Explorer's lounge to a live band (Phoenix Rising, if you must know) playing Marvin Gaye's
Mercy Mercy Me,
among other bits of awesomeness.)
--Eric and I have somewhat complementary dance styles, in that we draw our influences from the 80s. Eric's an amazing break dancer, particularly for an old guy, and I pretty much channel Rudy Huxtable whenever I'm on the dance floor. As you can imagine, we're quite a sight to see.
--We roamed around Ketchikan for most of one day, taking in nature, thrift stores (where we bought Heather a pair of winter boots that should fit her in 2015 or so), quirky garages and pathways, and just generally tooled around, which is really what we're best at, when you come down to it.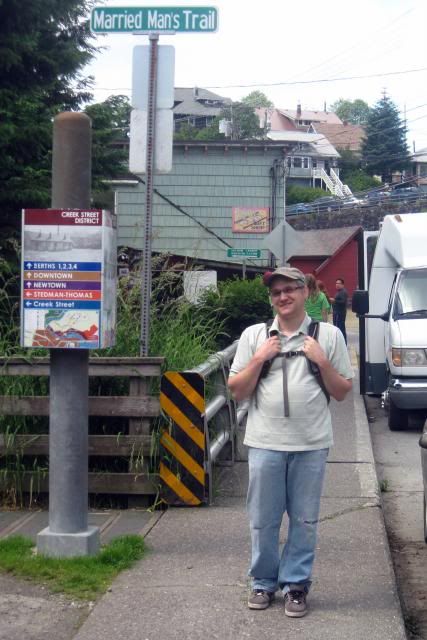 Eric in Ketchikan. Pay particular attention to the name of the trail he's about to start walking.
--Then, as if tooling in Ketchikan wasn't enough, we went ahead and did basically the same thing in Skagway and Juneau.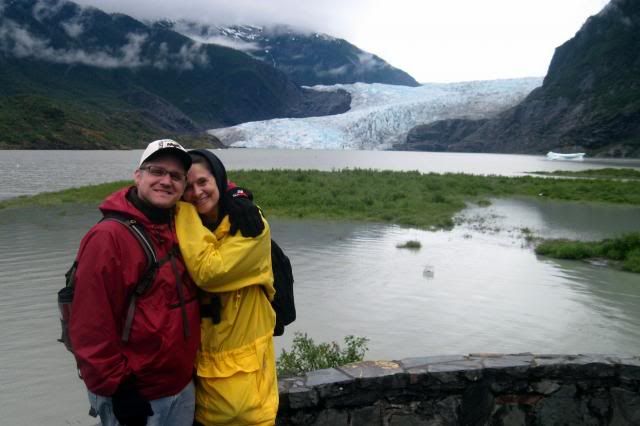 --We watched
Life of Pi
on the deck of the ship, which was a little on the chilly side, what with the cruising wind and all, but still really fun.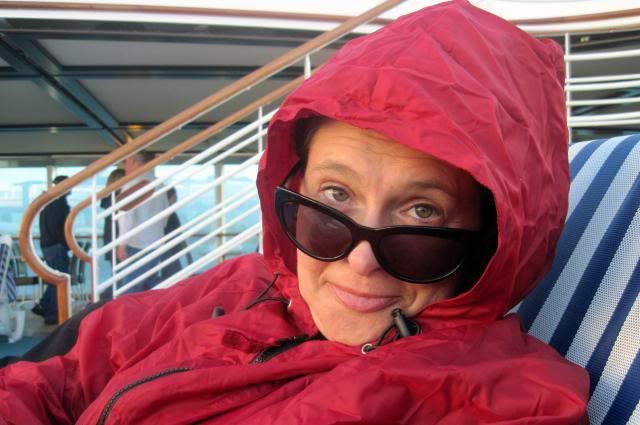 All in all, it was the best eight-day date I've ever been on, hands down, no question.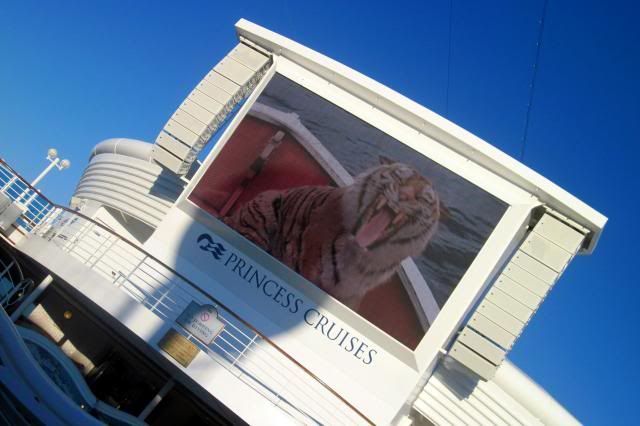 When Eric and I were engaged, and then as newlyweds, sometimes I would stop him in the middle of whatever we were doing, and ask him,
"Will you still hold my hand when we're fifty years old/we've been married for 20 years/I'm not as stunningly beautiful as I am now??"
Back in those days, he would always respond with an emphatic "yes!". Now, to tease me, (and probably to get me to stop asking him such a silly question) he'll say "not a chance" about as often as he says "yes".
I'm not worried though. We're in our forties now, have been married for over six years, and my looks aren't what they used to be. But I just spent a week holding hands nearly non-stop with this guy.
In Alaska.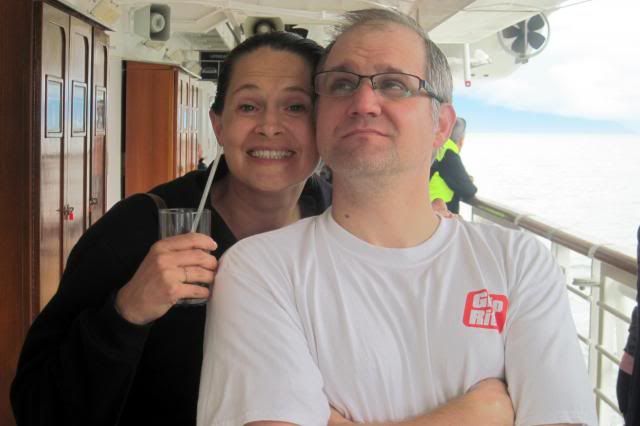 Does it get better than that?