We sailed on The Golden Princess, a really large ship in the Princess Fleet. All Princess ships have a "godmother", the person (usually a woman) who christens the ship. Jane Seymour is the godmother of the Golden Princess. Given my father's fondness for
Dr. Quinn, Medicine Woman
, and my fondess for
Somewhere in Time
, I felt like that was quite fitting.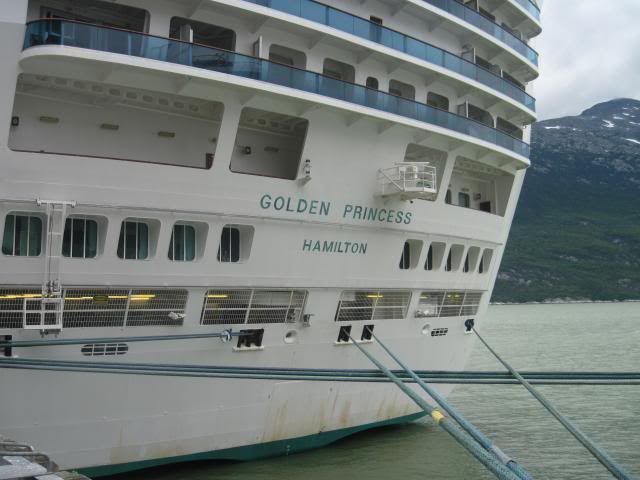 Taking the time and space to describe all the fun aspects of this ship and tell all the stories of hijinks and levity that went on during our week here would make this post long enough that I personally wouldn't be all that interested in reading it, to be honest. So, I'm going to try to condense things a bit, (though I make no promises of actual brevity). So, with that bit of nebulousness, I give you some of the highlights of our ship:
Dancing
I'd been on three different cruises prior to this one, and on each one, I had wished that I had been traveling with a "special someone", primarily so I could dance with that person in the evenings. Well, on this cruise, that wish was granted in spades. Eric was quite happy to join me at four different dance classes
(not kidding-not being sarcastic-love that man)
, where we learned the basics of the Merengue, the Cha-Cha, the Salsa, and the Waltz. Then, on the evenings when we weren't to exhausted from walking all over Alaska, we would head to one of the lounges for some live band dancing there as well. What a treat!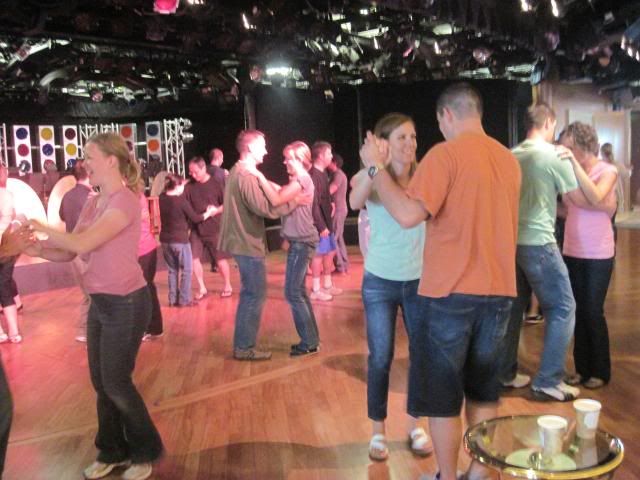 Sometimes Eric and I would brave the classes alone (which was great fun), and sometimes some or all of our family would come as well (which was even more fun.) Incidentally, I LOVE Melissa's face in this picture (the blonde girl laughing on the left.)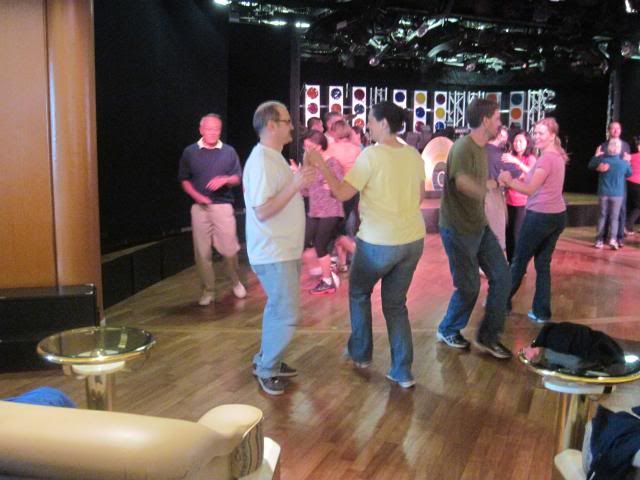 In addition to Ballroom Dancing, there was Line Dancing (which Eric and I never never got around to attending, but the others did), and dum, dum, DUUMMMM . . . ZUMBA.
I've been wanting to try Zumba out for a couple of years now, but I've been too chicken. Images of me making a complete fool of my uncoordinated self while being surrounded by people, local people,
people who I might possibly encounter in my real life
tormented my imagination, and I never made the time/screwed up the courage to attend. Every once in a while I would check out a Zumba video on YouTube, but those only served to heighten my feelings of inadequacy.
So, when I heard that there was Zumba on the ship, and then heard that Becca was planning to attend, well, I couldn't pass that opportunity up. Longer story a little shorter--I enjoyed it. I was totally uncoordinated, off beat half the time, and struggling to keep up quite a bit, but I had a good time, and felt like I was doing my body good. So, one of these days I just might try it again here locally-where people I know may actually see me. (No promises though.)
Other Recreational Activities
The ship held two 3 on 3 Basketball Tournaments, and Doug pulled together a team consisting of him, Mark, and Ryan that took second place in one of them, so that was pretty cool. The ship also held a shuffleboard tournament-which consisted of a cruise director handing a bunch of papers to whoever happened to be around the shuffleboard at the appointed time and having them put together their own tournament. Since we
are
a
bracket
tournament
kind of clan, that was no problem at all. If I understand correctly (not having been there to witness it all) Mark drew up the brackets and arranged the games. The players consisted of several of my siblings, and one other shuffleboarding couple, a couple that had obviously played the game more than any of us had, and won the whole ball of wax quite handily.
Then there was Bocce Ball. I'd never played before the cruise, and I liked it. Eric and I played once with Becca and Ryan (as we ended up on a little impromptu "double date" together), and then a few days later, we had an all Corry girls versus all Corry boys game.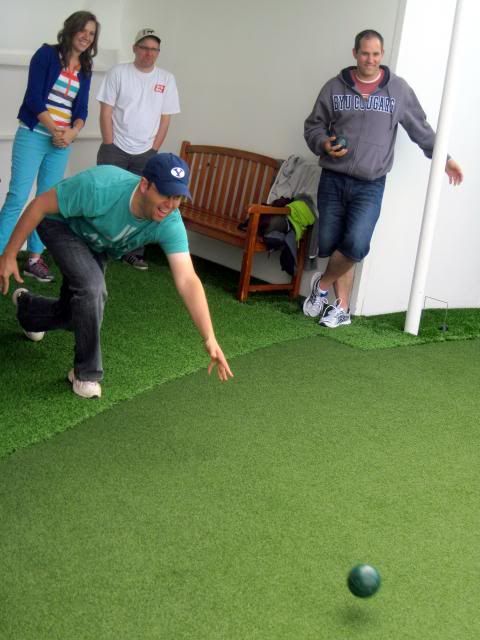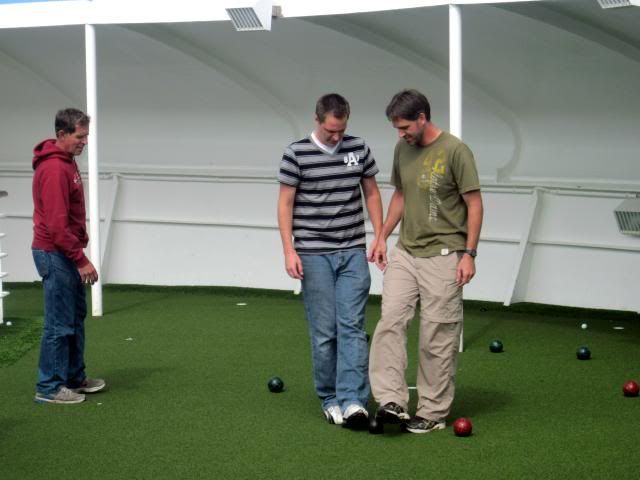 Measuring which ball is closer.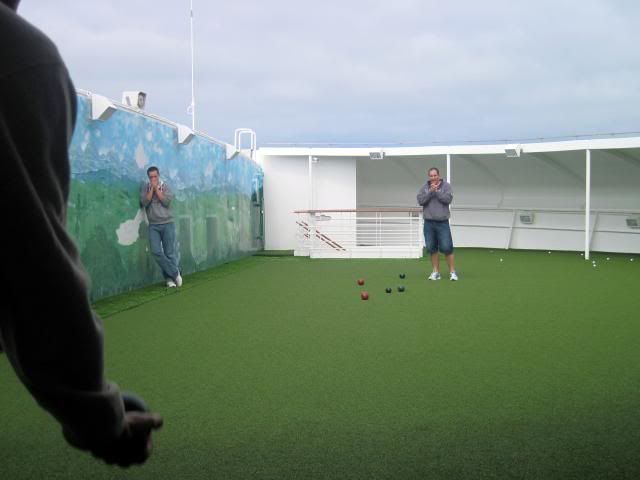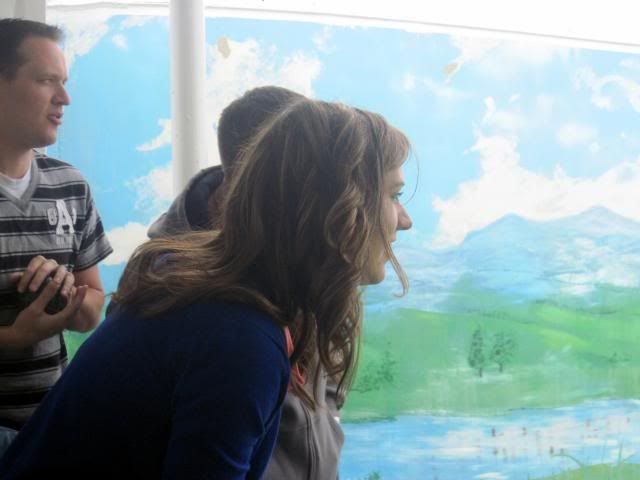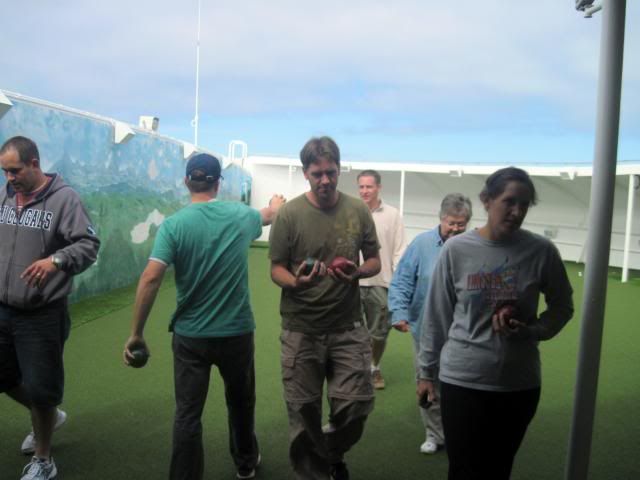 I love how Ryan (green shirt) is studiously practicing his next throw here. The guy has focus!
The boys won, and their celebratory pyramid was definietly something to behold: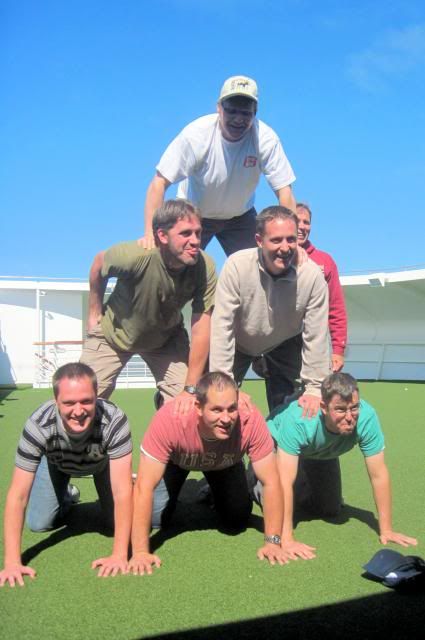 Accommodations
As I mentioned in a previous post, we had inside cabins, which, since we didn't spend a whole lot of time there, worked great for our needs. The one difficulty though, was that in the beginning, we had a hard time remembering which end of the ship our rooms were on. So, there were times when we would get off the elevator, or climb the stairs to our floor, head off to the hallway, and be greeted by this daunting scene: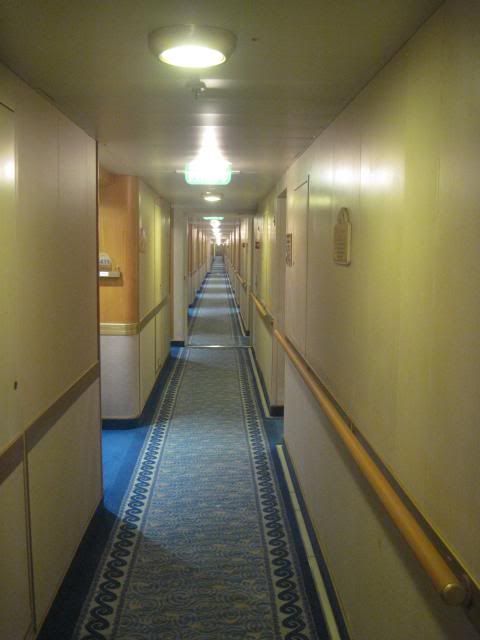 One time (towards the beginning of the cruise) one of us (I can't remember which one--so chime in family if you do) started down the hall, thought he was looking at a mirror of the rest of the hall, decided he had reached the end without finding his room, and turned back. No joke.
Another time I made it to our floor and was making the long walk to our room when I found Doug and Maegan. They had been searching unsuccessfully for their room (which was practically next door to ours), and couldn't figure out why they couldn't find it. We eventually realized that all the odd rooms were on one side of the ship, and all the even rooms were on the other side, and we were looking for our rooms on the wrong side.
Eating
On our first night, our head waiter (who I just thought was marvelous) learned that we were Mormons, and thus wouldn't be drinking any wine or coffee with our meals. Having served Mormons before, he then took it upon himself to let us know anytime there was anything on the menu that we "weren't allowed" to have. He was pretty strict with us, which I found amusing, charming, and sweet--although on the night that Tiramisu was on the menu, Jacob and I were both more than a little bummed when Lazaro told us we couldn't have it, due to the coffee and the Kahlua. Alas, the sacrifices we make.
Incidentally, my father soon settled on a favorite dessert. While the rest of us were experimenting with rich cheesecakes, chocolate mousse, creme brulee, and other delights, more often than not, he would order a dish of vanilla ice cream with butterscotch sauce on it, and rave and
rave
about the deliciousness therein.
As you can imagine, you could eat all day and all night long on the ship if you were so inclined (we generally weren't so inclined, though we all definitely ate more than we would/did in our own homes). There were a few formal dining rooms, two all-day and all-night buffets, a pizza stand, an ice cream shop, a burger place, and a coffee shop, all of which were covered in the price of our ticket. We all soon developed some favorites. Some loved the pizza, some swore by the hamburgers, we all agreed that the fries were a significant cut above what we were used to getting. Eric was thrilled to find watermelon that was consistently more juicy and sweet than anything he had found at home, and reveled in being able to eat grapefruit that
someone else had already sectioned for him
. As for me, they had some curry hard boiled eggs in the morning that I thought were delicious with rice, and then of course there were the chocolate croissants--a treat that has been a favorite of mine since I went to Paris with my mom back in the mid 1990s. And naturally, I loved the fresh pineapple.
Miscellany
Still here? Well, then here are a few closing pictures, since there
obviously
haven't been enough of those.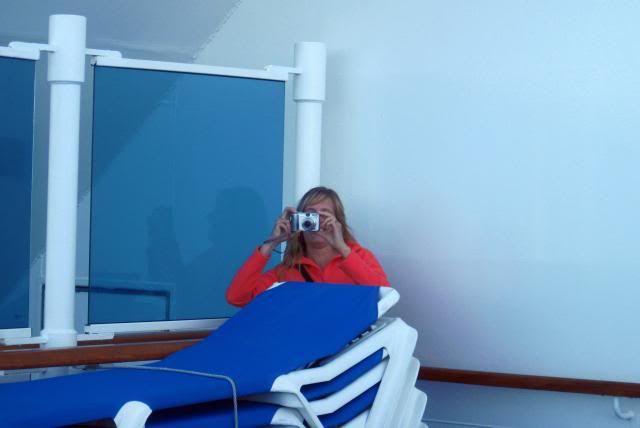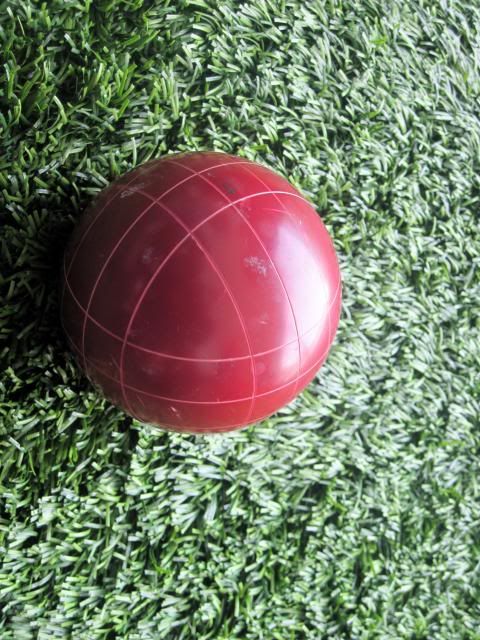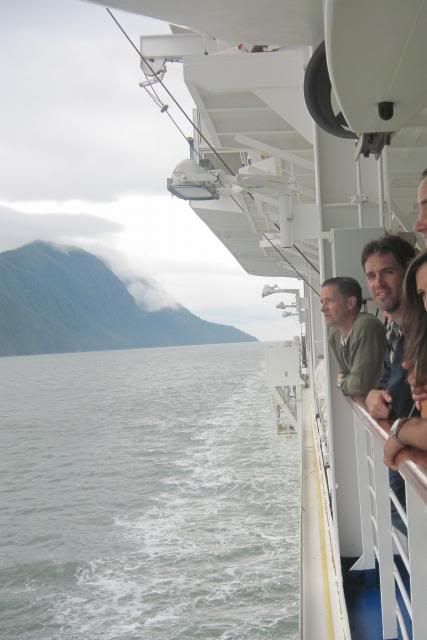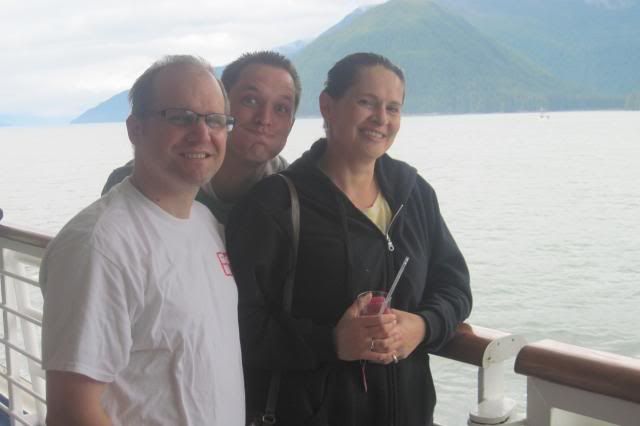 Up next: The quirky parts of our journey. You'll want to tune in for that now, won't you?