I started looking forward to this trip around Thanksgiving, when after many years of talking about it, we were all finally able to line up our schedules and secure the funds
(with an everlasting thanks to my Mom and Dad, who basically funded 98% of it all)
, making the idea of us all going on an Alaskan cruise together more of a reality, and less of an unreachable dream.
Of all the aspects of this trip that kept me smiling in happy anticipation, what excited me most (with the exception of being able to spend days on end with my siblings and parents) was the prospect of seeing gorgeous glaciers up close & personal, and with my own eyes.
You know how sometimes you build something up in your mind, and then when you actually experience it, it just doesn't meet your hopes and expectations?
My experience was about as far away from that as it could possibly have been.
We saw two glaciers, Sawyer Glacier (which we saw from the ship), and Mendenhall Glacier (to which we were able to get ride and see more closely). Gorgeous, gorgeous.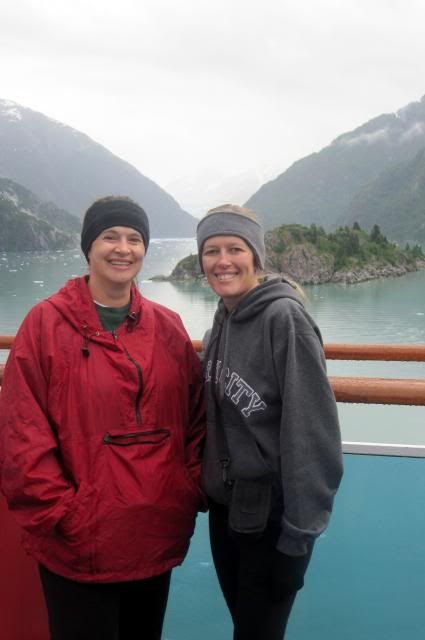 I actually nearly missed seeing Sawyer Glacier. That's because we were cruising by it at around 7:00 a.m., and I had forgotten to ask for a wake-up call so I could see it, and we had inside cabins so no light cues came along to help me wake up. When I did wake up (around 7 or so), I put on my exercise clothes, planning to jog around the deck as I had two days before. As luck would have it, I was heading down the stairs to the deck when ShaLiece (my sister-in-law) saw me from inside the elevator, wormed her way out the door, told me that she had gone to get her camera because it was so beautiful out there, and in so doing, convinced me to do the same.
We then spent the next hour or so roaming the ship, meeting up with my mom, and taking in the amazing views. I've never seen anything like it.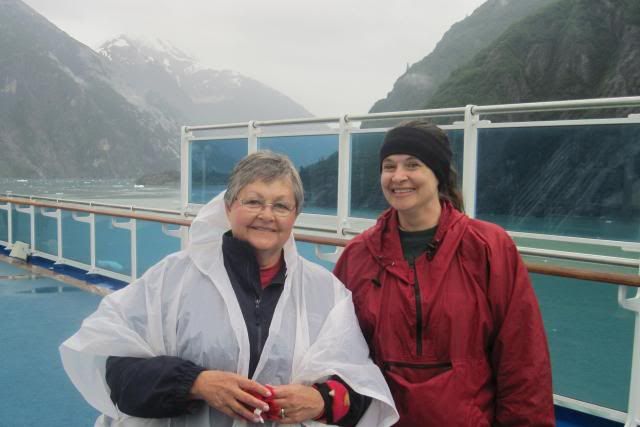 See that little silvery thing in the wedge/valley made by those two mountains meeting? That's that glacier. I'm not a great photographer obviously, because if it was, you'd be gasping at the beauty.
After we'd seen the views so much that they were starting to look a little ordinary, I decided that I'd better get my run in* before the day got too late, so I made my way to the "deck that serves as a track" where I had what is probably the best run I've had since my high school days. The views, combined with the perfect running temperature
(cool but not frigid)
, combined with the fact
that I was running at sea level
(a fact that didn't become apparent to me until I got home and wheezed my way through a good ole Cache Valley Run) made me feel like I could run forever, and that it would be a pleasure to do so. That's a super rare thing for me--I'm not so much of a "runner's high kind of girl".
I totally took this picture on my run. If I was a hashtagger or an instagrammer or a tweeter, I'd totally tag this #bestrunningsceneryever. Just so you know.
Later that afternoon, the ship docked in Juneau, and we all climbed on a bus to visit the Mendenhall Glacier.
Eric did a little weight-lifting: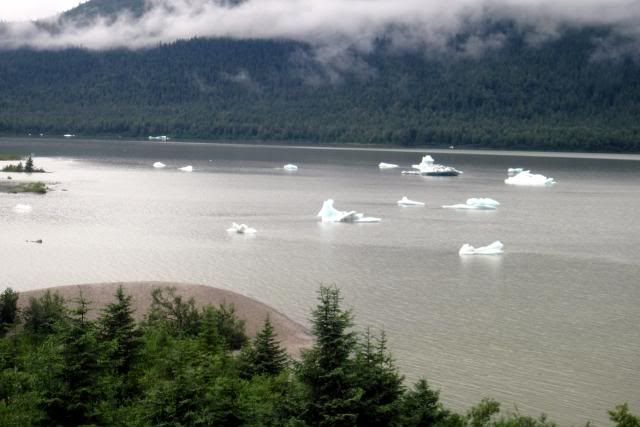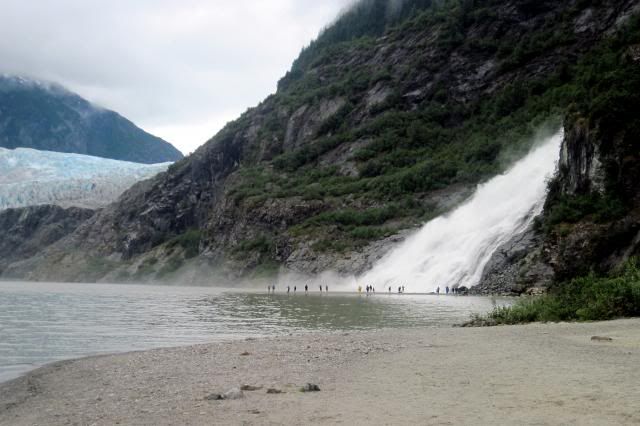 We took at hike to get closer to the actual glacier, and once there, some of us roamed out into the icy cold waters. I made Becca (my sister) take my picture with the ice in the background as proof of my heroism. Why didn't I have Eric take my picture you ask? Well, in order to get to the place where you could walk into the icy water with a mini iceberg in the background, you first had to walk into icy water
without
the benefit of the photo-perfect mini iceberg in the background. Eric, fatigued from his glacier lifting, chose to forgo this activity, so I ventured out without him.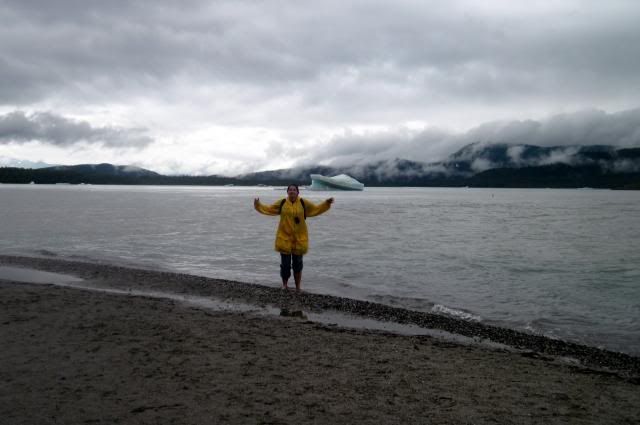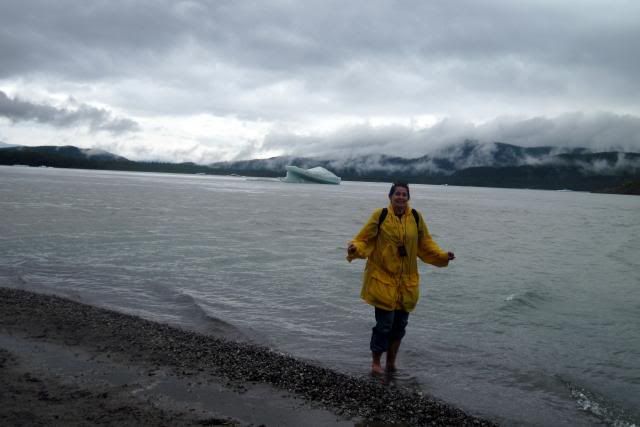 On the way back I made Becca turn around at the halfway point so that I could take her picture. The water was freezing (have I mentioned that enough yet?), and she acted like she wasn't amused with me, but I think we can look at her smile and see that she
was in fact, VERY amused.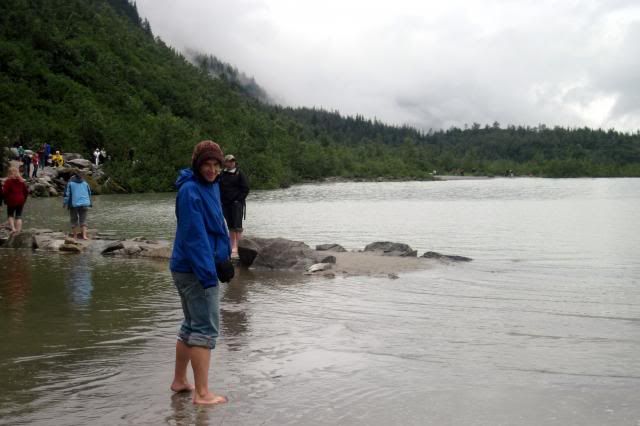 See that yellow dot of a person on the left, four or so dot-people in? That's my dad. Eric chose to stay there and wait for our return. Smart. Unadventurous to be sure, but definitely smart.
Learning about glaciers was fascinating, if a bit sobering from a climate change perspective. More than anything though, I was carried away with the raw absolute beauty of these magnificent creations. They are completely, astoundingly, and indescribably breathtaking.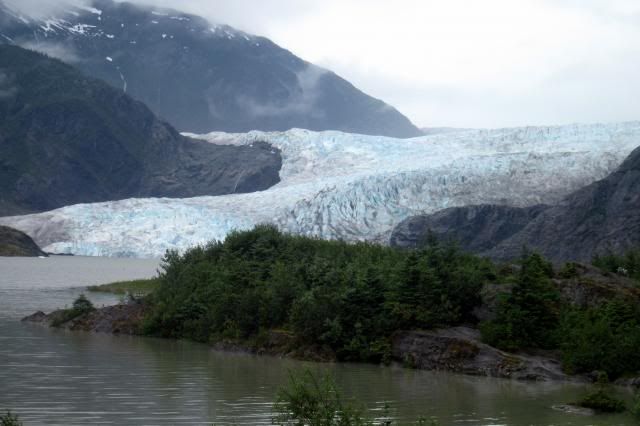 Life being what it is, and the world being as big as it is, I don't know that I'll ever make it back to the Juneau or Sawyer Glacier again. But I can hope, and I can dream, and I'm more glad than I can say to have the memory of them locked away to experience again and again in my getting-to-sleep moments.
*Those of you who know me well may be surprised to learn that I was concerned about getting my run in, since I'm not generally a "get my run in while on vacation" kind of girl. The short story of that is that I'd been working on a couch to 5K program and had made it up to 28 minutes of consecutive running and didn't want to take a week off and lose my momentum because I've learned that catching my running momentum once I've lost it can be an agonizing experience. (Long sentence huh? Yup.)