I loved Valentines Day this time around. We don't do much for Valentines generally. Something about it being sandwiched between the biggest holiday (gift-wise) of the year, and my birthday, shortly to be followed by our anniversary, Mother's Day, AND Father's Day keeps us motivated to celebrate on the low-key side. Eric and I don't exchange gifts, though we generally go out for lunch, and for supper we break out the goblets which we fill with sparkling cider if I remember to get it, and Kool-Aid if I don't.
When I was growing up, my parents (or lets be honest, my mom) would always make us something special for Valentines Day, and leave it on our doorstep "knock and run" style in the evening of the big day. Once I was old enough to realize that, I would wait in happy anticipation for that event, pleased to have the conversation hearts and cheesy valentines from my friends and classmates, but knowing that the big event of the day was still to come. They never disappointed. There was always something special and sweet--usually candy of some kind, but "special splurg-y" candy--the kind that we didn't usually have during the rest of the year. And, there was always a note or letter from my parents, telling me the things that they loved about me, the things that I did or was that made them proud of me, and just how much they loved me. To say that I felt special on Valentines night is an understatement to say the least.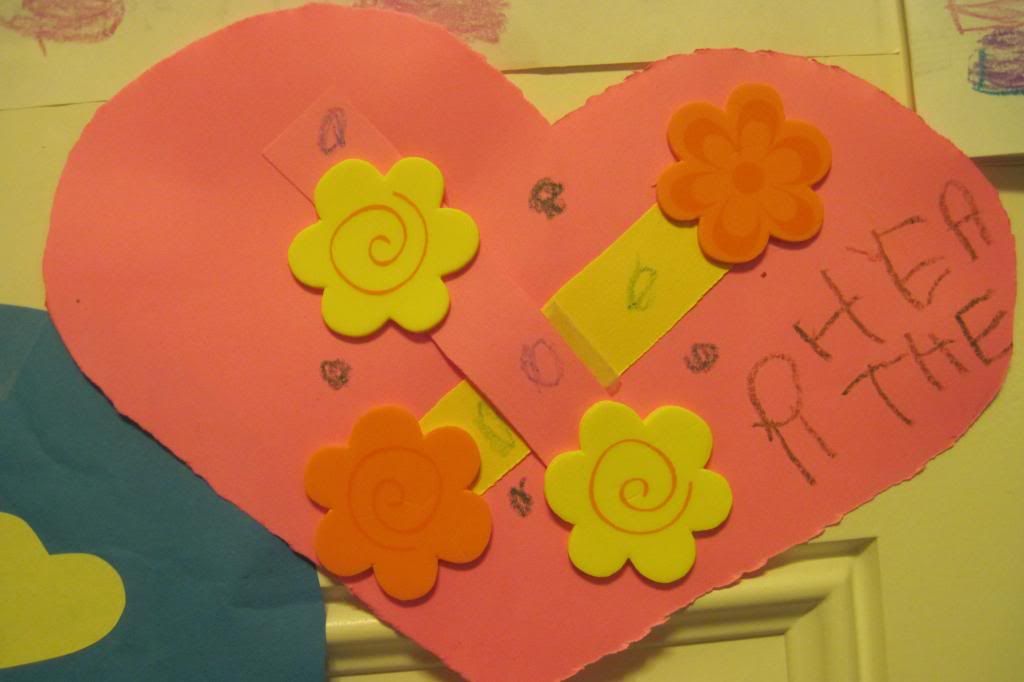 So, I was kind of excited for Valentine's this year. It was the first year that
I
we would be doing something special for Heather, because it was the first time that
I was
we were confident that she would "get" it. We went through the day, meeting daddy and grandpa for lunch, and then made some chocolate-dipped strawberries for our supper treat. I had gone to the grocery store early that morning to buy roses, because I had planned to buy a dozen, then separate them out into bunches of three or four flowers each for delivery to different admired and respected women in our circle of friends and family. Unfortunately, the day ended up being a little more hectic than I'd planned, and so the flowers stayed in our home and graced our bookshelf instead. While I was out getting the flowers though, I chanced to see a box of heart-shaped Junior Mints (one of Eric's favorite candies), so I bought it and gave it to Heather to give to her daddy.
As Heather was wrapping the box for Eric, something seemed to click in her mind, and she ran upstairs where I was getting dressed to ask me anxiously if I would please cut a heart out of paper for her. So, I did. Ten minutes later, I was presented with this: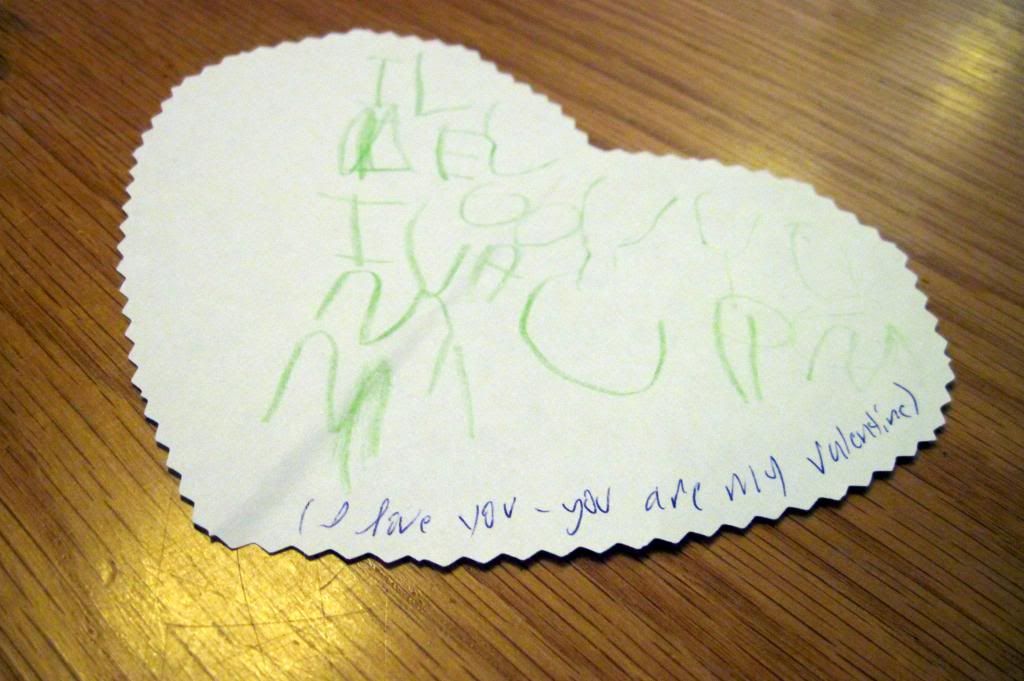 My first Valentine of the Day, and the first Valentine Heather had ever made. Naturally I just love it.
When evening came, just as we were wrapping up our supper of I-don't-even-remember-what, I snuck to the front door, leaving a mysterious bundle of gold lame clutch purse
(that I had traded a pair of gloves for, etsy style)
filled with a little candy, a few pencils, and an amazing $1 ring that sparkled when you pressed a certain button. I quietly opened the (very squeaky) door, set the bundle on the doorstep, rang the doorbell, quickly shut the door again, and bounded over to the couch where I sat down and innocently waited for Heather to come answer the door.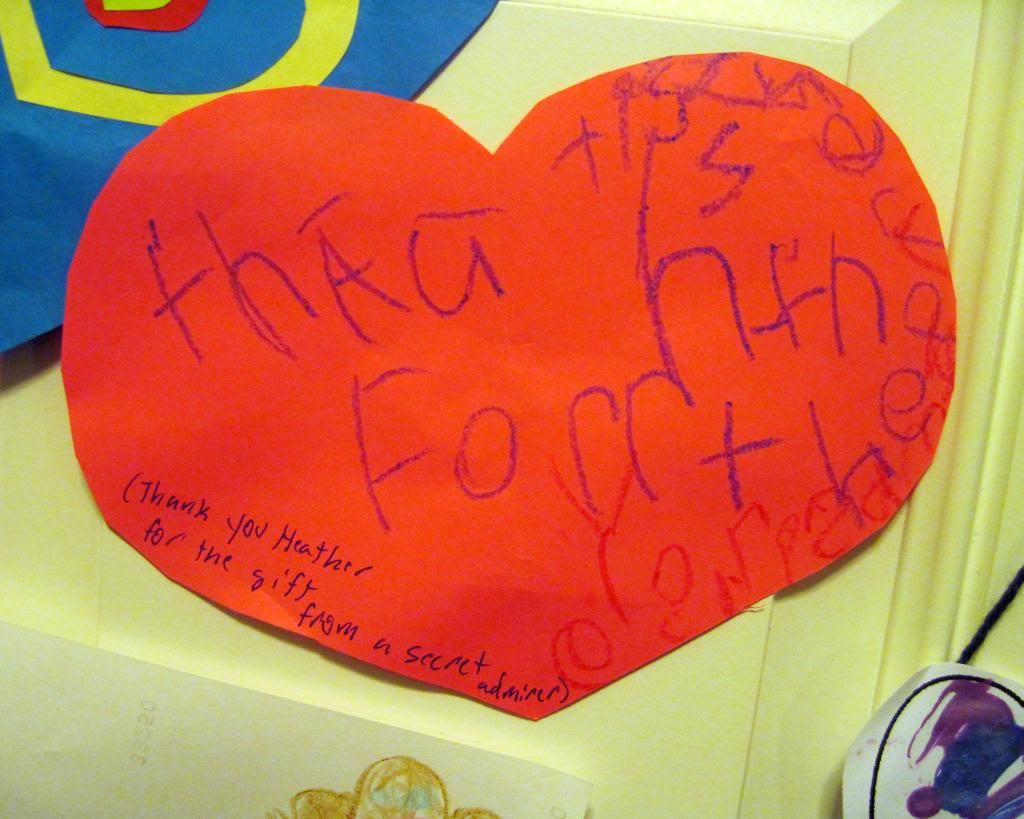 Not to divulge any mysteries or anything, but this secret admirer's initals just might be A.M.Y., and she might live just a few doors up from us.
Her reaction was priceless, from the shock and confusion as to how Dad and I managed to magically get her present to the doorstep and ring the doorbell, to her complete joy at the purse, the ring, and the candy, to her exclamation that "These presents are the best that I could ever hope for!"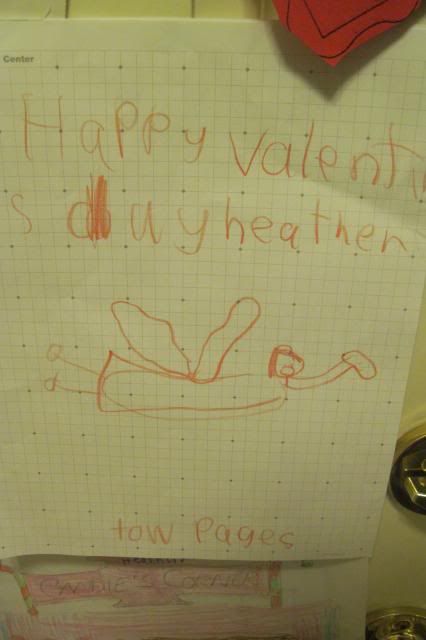 Valentine made for and delivered to Heather during Sacrament Meeting this year by our friend Nora (who sometimes sits in front of us during church and exchanges original artwork with Heather throughout the meeting).
I love the notation that there are "tow pages".
. . . and here's the second page. Just in case it wasn't clear from the first page which "Heather" we were talking about.
It was a great day, and a great season leading up to it. All in all, it was a day filled with love, which unsurprisingly, and very un-uniquely is absolutely my very favorite kind of day to have.