I've been going through about a two-year search for the best chocolate chip cookie recipe. I grew up on the knock-off Mrs. Fields Cookie Recipe that my mom discovered, and I LOVED them. However, for some reason, they don't do it for me anymore. Neither does the recipe that my friend Brian W. made for us when we were on our RV Arches trip many many years ago, although at the time, I thought they were about as good as they get.
To be honest, my very favorite chocolate chip cookies are the ones that Heidi makes. Unfortunately for me, Heidi is more of a "a pinch of this and a pinch of that" kind of cook, and I've never been able to duplicate her masterpieces with my "by the book" approach. (I've even tried the "pinch of this" method, but I must have awful cooking instincts because without fail, every time I try to experiment or improvise in the kitchen, I end up with a nearly unedible mess.)
Well--I'm pleased to say that my search has come to an end!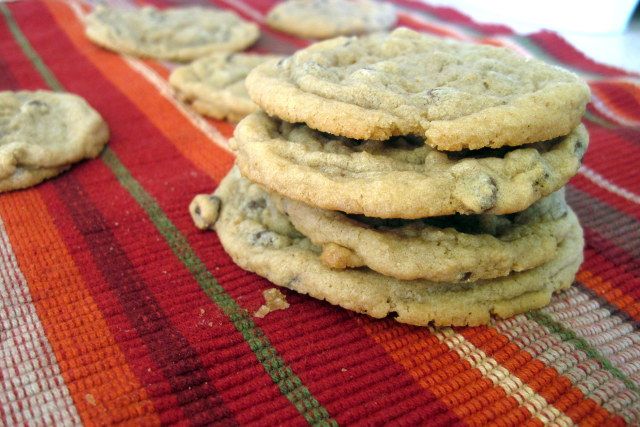 Mint Chocolate Chip Cookies
(if you aren't in the mood for mint, you can switch out the mint extract for vanilla and it's just fine.)
1 1/2 cups of all purpose flour (sometimes I split this half white/half wheat)
1/2 cup of butter at room temperature (I often microwave mine for 10 sec. as I never remember to take it out early!)
1/2 cup of tightly packed light brown sugar
1/3 cup of granulated sugar
1/4 tsp. of mint extract (optional)
1 cup of dark or semi sweet chocolate chips
Mix it all together--starting with the butter and sugars and egg and extract, then the dry stuff, then the chips.
Cover and refrigerate for 30 minutes or so. (Or if you are impatient like me, put it in the freezer for 5-10 minutes)
Bake at 375F.
for 8-9 minutes for soft cookies, or 10-11 minutes for more crispy cookies.
This is a small recipe; it only makes about 18 cookies.