And I'm a laugher, so that's saying something.
First of all:
1. Go to hulu.com
2. Search for "the biggest loser"
3. Click on Season 14, Episode 3
4. Skip to 1:15:36 in the episode (near the end)
You'll probably have to endure a few commercials. It's worth it.
5. Laugh and laugh, and if you're like me, maybe you'll cry a little. What can I say? I'm a softie for success stories.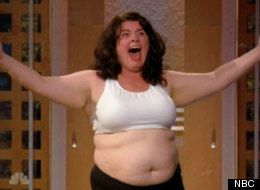 Then:
1. Go to amazon.com and search for "Hutzler 571 Banana Slicer"
2. Or--you can just click
here
.
3. Read the reviews of this fine product
4. Look at the customer images
5. Die laughing. (But don't really die please.)
You're welcome.