So, remember two years ago when I made Christmas shortbread that I thought was to die for, but Eric was non-plussed and totally forgot what he was supposed to say, and instead
completely
offended me by insinuating that my neighbor made better shortbread cookies than I did?
Hmmmm????
Well, to make a long story short, this year I tried it again, and by pure happenstance, I made an adjustment or two that netted a batch of shortbread cookies that met with Eric's approval, nay --Eric's
effusive praise
.
Success!!!
Want the long story long? Okay
(you glutton).
Generally we give spiced nuts for our Christmas neighbor gifts. However this year I was in the mood for a change, and Heather wanted to help (and I wanted the company), and there just isn't a whole lot for a four-year old to do when you're roasting nuts, you know? So, I decided to try the shortbread route again.
We followed our usual recipe from our friends at
Clover Lane
, doubling the recipe as Sarah suggests.
However,
as I was adding the flour, Eric's mom called, and once we were finished with our conversation, I couldn't remember for certain the number of cups of flour I had added. Horrors! So, I guessed, and as it turned out (and as I realized two days later when we made yet
another
batch of these cookies) I ended up increasing the flour by somewhere between 1/2 a cup an a full cup. I'm guessing that it's maybe a altitude difference? I mean, Clover Lane is practically at sea level, and here I am, up in the valleys of the Rocky Mountains. Anyway, whether it's an altitude thing or a personal taste thing, the bottom line is, we made a few adjustments, and we like these cookies better this way.
So, here are a few photos, followed by the recipe.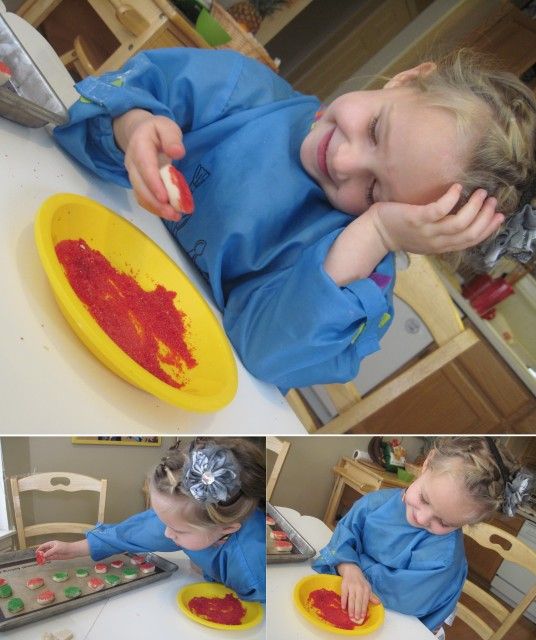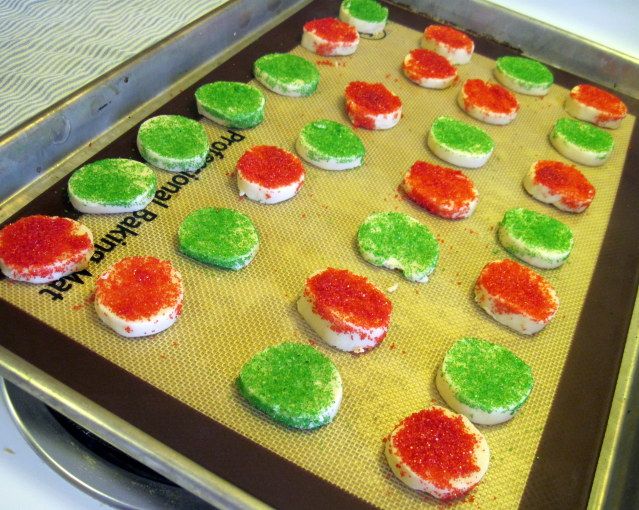 Pre-Baked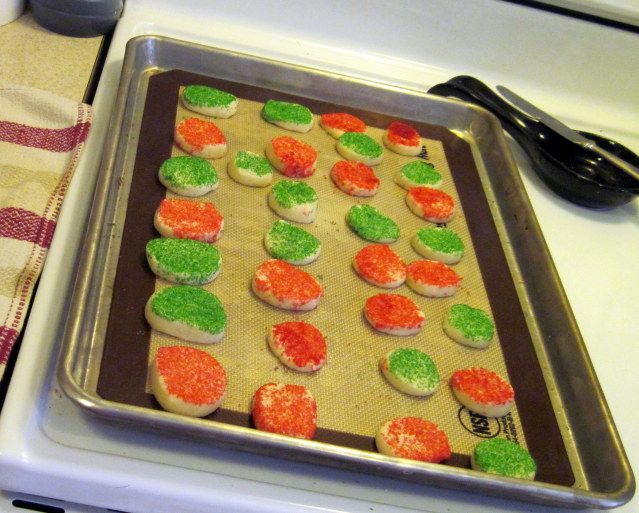 After 10 minutes of baking
These bags are a little on the busy side. Next year, if we go this route again, I'll probably go with clear bags. However, I had these on hand, having purchased them at the after Christmas sales two years ago, and so by crackie, we were going to use them!
And, finally, after wading through ALL of THAT, here is the recipe:
Holiday Shortbread
(Original inspiration found here)
I always double the original recipe--so my recipe is doubled from the one at Clover Lane. I say this more for myself than for all of you, because when I pull up this post next year, I don't want to accidentally double it again, thinking that the recipe I've posted here is the original proportions.
2 cups butter, softened
1 1/2 cups powdered sugar
4 tsp. vanilla extract
5 cups flour

(or you can start with 4 1/2, if you like--I think that's what I'm going to do next year)
1/2 tsp. baking powder
1/4 tsp. salt
red and green sprinkles
Cream together butter, sugar and vanilla.
Add in flour, baking powder and salt.
Mix together and divide into 4 equal portions.
Roll each of those portions into about an 12" roll.
Refrigerate for about an hour, OR, if you want one-stop baking (like I always do), you can put them in the freezer while you tidy up the kitchen. Then, about 10-15 minutes later, take out one roll, and continue below. Leave the other three rolls in the freezer until/unless you start to get worried that they are getting actually frozen, then you can transfer them to the fridge.
After cool, slice each roll into 22-30 slices.
Take each sliced, unbaked and press into sprinkles.
On lightly greased cookie sheet, bake at 350
degrees for approximately 10 minutes. (Get them out
before
they start to brown…they will look undone, but don't let that worry you.)
This recipe makes about 80 cookies, depending on how thick you slice them, and how long your rolls are.