When we last left our fair feline heroine
, her family (or the three people who were hoping to be her family) were making plans to spay her, while simultaneously trying to discover whether or not she already had owners somewhere in the vicinity.
No other owners were found, and so we (the family in question of course) went ahead and made the appointment to get her spayed.
Incidentally, I was
totally
wrong about this, but for some reason I thought that the whole spaying thing would be quick and easy, like an outpatient kind of thing. Really? Why would I think that? Why would the cat equivalent of a hysterectomy be something that could be done in an afternoon with no after-effects? Hmmm? Naive Charlotte, that's me. It ended up being a 36-hour vet visit, after which we had to keep Marilee inside the house for a full week (which drove her
crazy
, believe you me) with sutures that we had to make sure she didn't lick out, and pain medication. A little more than I was expecting, but it totally makes sense, now that I think about it.
Anyway, back to our narrative, we got Marilee spayed, and then, about a week later, she came home with
this
around her neck: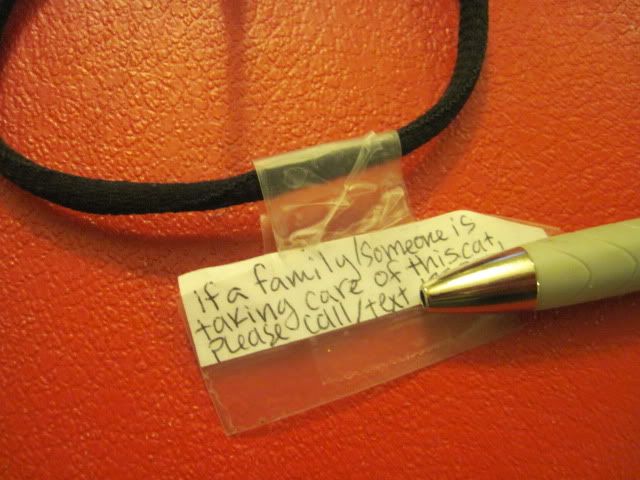 DRAMA! HORRORS! CATASTROPHE!!!
As soon as Heather pieced together what was happening, she rushed up to her room where she started sobbing uncontrollably. I stayed downstairs while Eric made the call, and when I could tell (from the one side of the conversation that I could hear) that everything was okay, I marched up to her room to console her. She was absolutely beside herself, sure that "our" cat was going to have to leave us and go to someone else's house.
As it turned out, a family just three doors down from us
(so much for our thorough canvasing of the neighborhood)
had been taking care of Marilee (they were calling her Mowgli) after some of their friends had found her wandering around, abandoned in an area several miles and two towns away from us. Our neighbors were only too happy to take her in, but they already had a cat, and it soon became apparent that Marilee and their cat were not going to get along. So, they determined to care for Marilee as an outside cat, and although they felt bad about consigning any animal to an outside life during the frigid Cache Valley winter, they didn't feel like it could really be helped, and was certainly a better option than roaming around lost and unloved.
So, they were only too happy to get our call, and their Mowglie became officially our Marilee. Whew!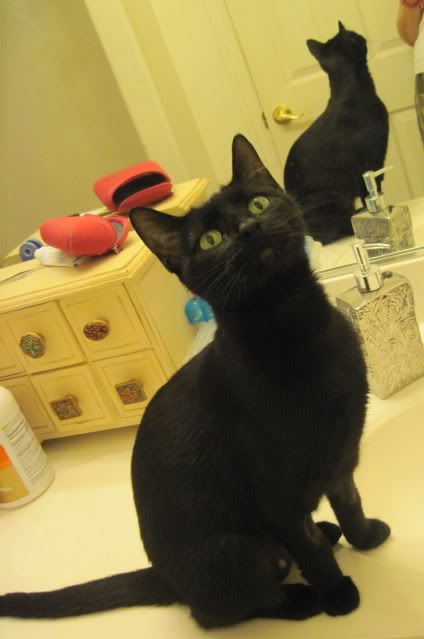 She likes to watch us get gussied up in the mornings.
As we've gotten more acquainted with Marilee, we've felt more and more lucky that she's adopted us, and that we've adopted her. Marilee's inability to get along with other cats notwithstanding (we've found that she's a bit of a spitfire and rather territorial), she is unsurpassed when it comes to enduring the love and physical affection of some of the shorter members of, and visitors to, our household.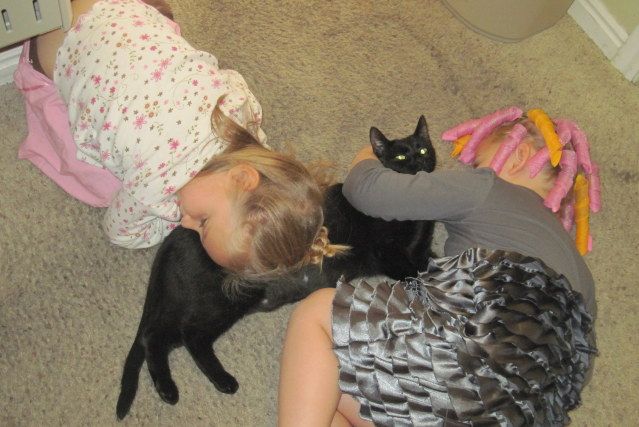 I'm pretty sure she's thinking "Just shoot me now!"
And yet, she takes it.
That long-suffering saint of a cat.
Of course, even the most mild-mannered of animals will have their breaking point, and Marilee definitely has hers, as we can see by these lovely decorations that sometimes pop up on Heather's face.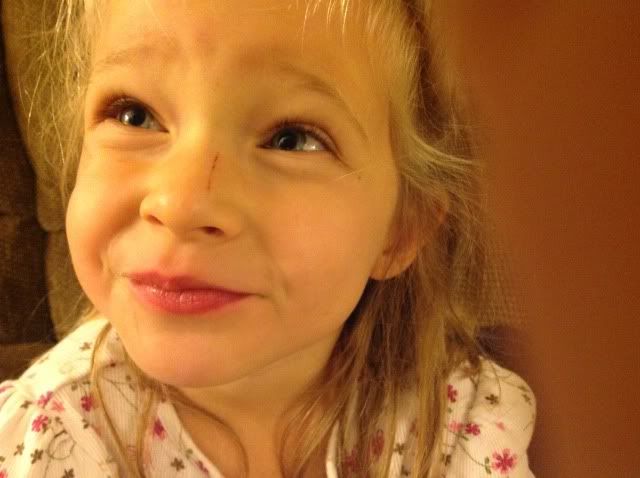 Honestly, this is another thing that's been a revelation to me. As anyone who knows me well will tell you, I am pain-averse. In fact, there is very little that scares me more than the thought of physical pain. Eric and (apparently) Heather, not so much.
One night, Eric and I were talking about Heather's scratches and what to do about them, and how to get her to stop loving that cat quite so physically (because believe me, Marilee is not one that fights back at the drop of a hat. She endures and endures and endures, so if Heather has a scratch on her face, you can bet that it was a last-ditch effort at freedom on Marilee's part), and I was musing over the fact that I couldn't figure out why Heather didn't learn her lesson--that too much squeezing will result in the unpleasantness of having a cat claw make contact with your nose or cheek.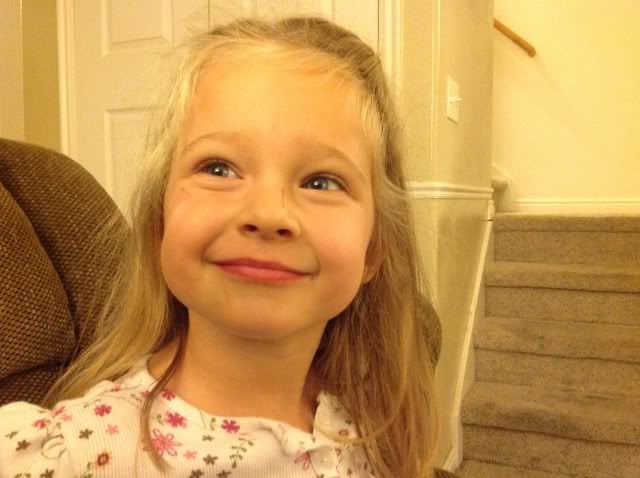 With a knowing wry smile, Eric simply said, "She just can't resist."
(What the heck? She can't resist?? Resist, girl!! RESIST!!!)
He's right of course. She's her daddy's girl, and like him, her love for animals and especially for her cat, surpasses all thoughts of danger, pain or inconvenience. She just can't stay away. I can't relate, but Eric can and does. In that way they are absolutely two peas in a pod.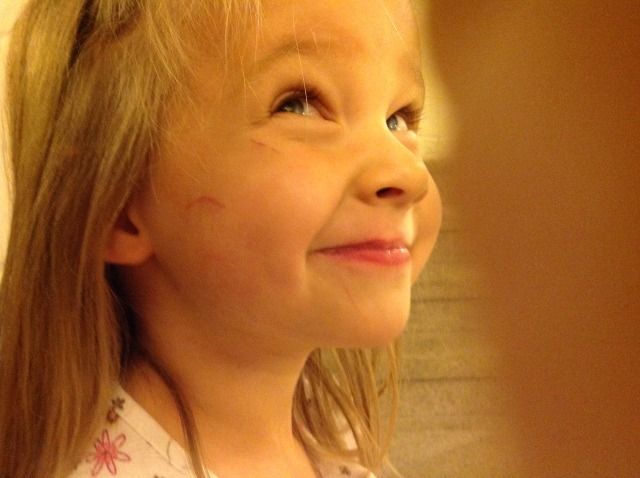 One last thing and then that will be it for this thrilling cat report. We've given Marilee a little cave on top of the entertainment center. This is partially because we felt like she really deserved one place that she could go when she just couldn't take all the loving harassment from the shorter set. The other reason though, honestly? Eric and I thought it would be hilarious to have a cat cave up among the stereo and the cat figurines
(that Eric proudly brought into our marriage and home decor nearly six years ago)
.
I mean really, who does that? Who sets their cat up in one of the main focal points of their living room?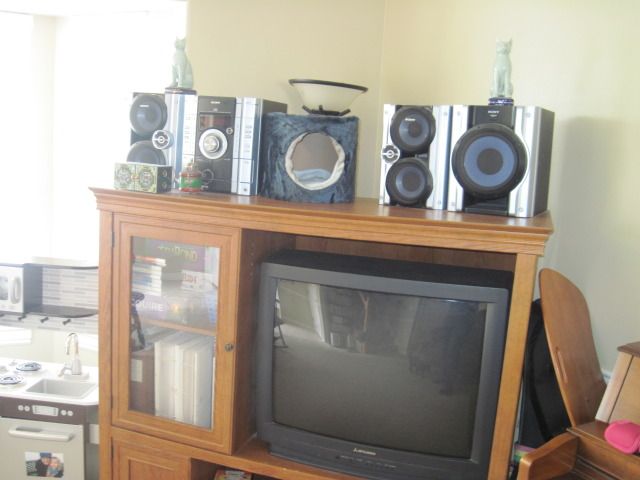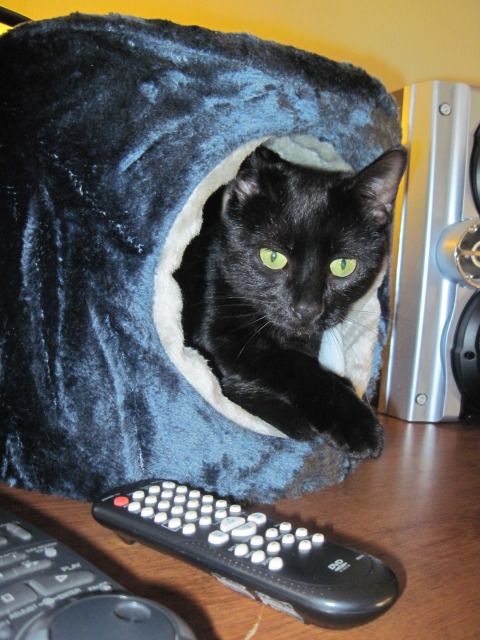 Apparently, we do.