It's time for a little whimfest. Not to be confused with Midwinter Musical Madness 2013, which won't start until February, but still, I need a little bit of whimmery in my life, and you guys are the ones to give it to me, aren't you now?
(Here's hoping.)
Long story short, I've been making rainbow fingerless gloves for the etsy shop lately, and I ended up with one pair that was slightly less than perfect (as in, it's about 1/2 an inch shorter than the prototype, and it doesn't have as much peach color as the prototype). They're still quite fun though, see?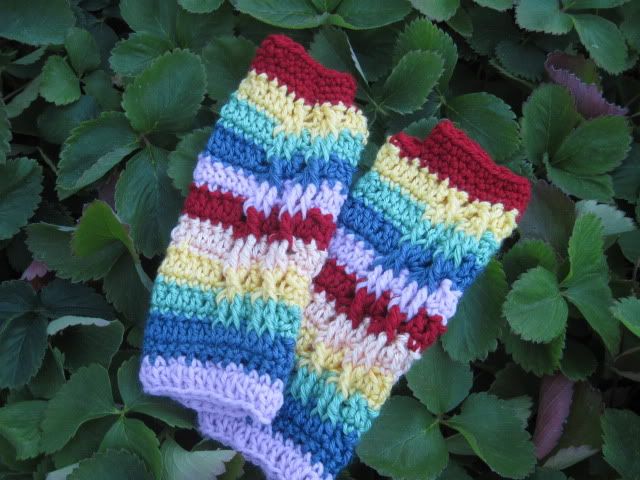 (
Here's
the original. You can hardly tell the difference, huh?)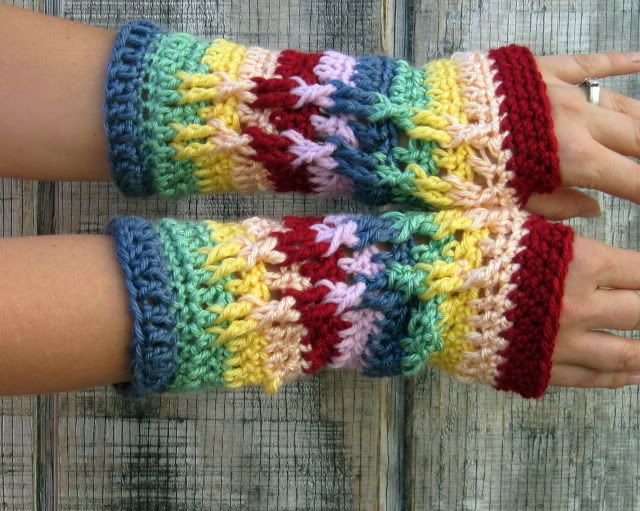 So, I've decided to give them away.
Woo-hoo!
Here's how you get them:
If you want to go the traditional route, you can head over to
the crochet blog
and do all the promotional stuff that people always do when they're trying to get their name and brand and product out there, and are willing to "incentivize" (a/k/a bribe) people to do it.
OR, you can go the fun route, here at "just a little bit of quirkyness".
Or, you can do both.
But, getting back to the fun route--for THREE entries into the drawing, this is what you need to do:
Leave a comment here, with an original poem. It can be a limerick, it can be a haiku, it can be free verse, it can rhyme or not rhyme, it can be silly or serious, it can be whatever you want it to be, but unless it is a haiku, it needs to be at least four lines long. Also, your poem must treat one or more of the following (almost completely random) five themes:
Leprechauns
Confetti
Central Park in New York City
Our cat (Marilee)
and finally
Any planet in our solar system, including Pluto, even though that is not considered a planet anymore.
I'll leave this giveaway open for one week, which means that next Monday at 10:00 p.m. (my time, which is mountain daylight) I'll draw a winner and post his or her lucky name both here, and over on the salutationscrochet blog.
Happy Poetisizing!
(Note #1: You can write as many poems as you want. However, the most entries you can get for the gloves is three, and you will get those three entries as soon as you write one poem that meets all of the qualifications listed above.)
(Note #2: I realize these gloves aren't the most (ahem) manly of items, and may not appeal to the seven or eight of you men you check in here from time to time. Still, wouldn't they make a great gift for one of the women in your life? Why yes, they would! So sharpen those (virtual) pencils, and get rhyming (or not rhyming) already! We all know that it wouldn't be a whimfest without you!)