*If you are familiar with the Church of Jesus Christ of Latter-day Saints, and specifically the details that surround temples and temple work, you may want to skim some of the next bit.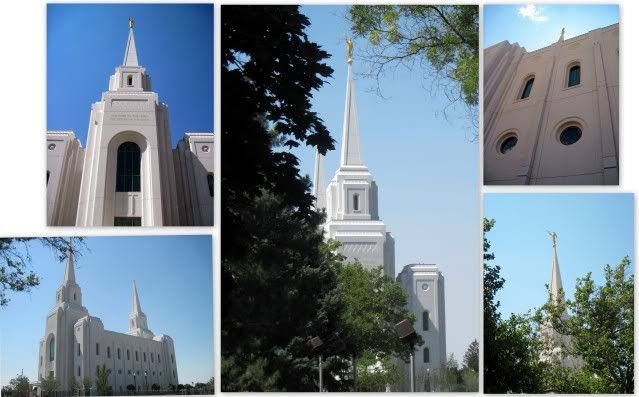 Today is the day that the Brigham City Temple will be dedicated for temple work. In honor of the occasion, our stake (and I believe all the stakes throughout Utah and possibly further flung as well) will not be having regular Sunday services, and instead, every baptized member of the church is invited to attend a broadcast of one of the dedication sessions, which will be shown in Stake Centers throughout the state.
We're traveling across the valley to North Logan, not because we don't have a stake center closer, but because that way Grandma and Grandpa Cantwell can watch Heather while we go to the twelve o'clock session (they will have attended an earlier session in the morning).
Anyway, in honor of the event, I thought I'd post some pictures of a little trip we took to Brigham City to tour the temple. Every time a new temple is built, an open house is held for about a month once the temple is completed, but before it is dedicated. At that time, pretty much anyone can go inside the temple and see what it looks like there. Then, once the dedication occurs, only church members with valid recommends are invited inside.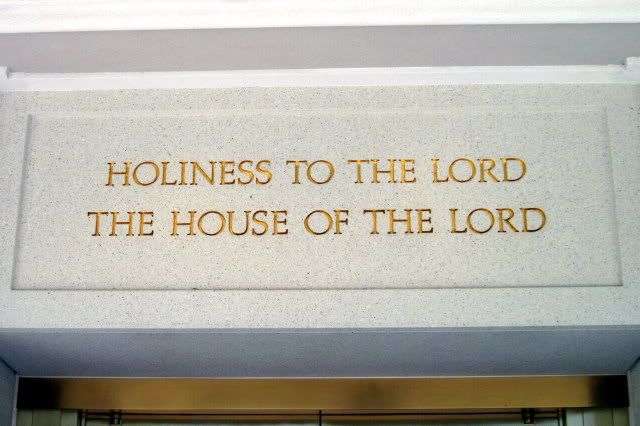 When I was growing up, I used to dream about being able to attend a temple open house. I wanted to go inside the temple, see what it was all about, see if I felt anything special there, get a taste for myself of what my parents got to experience every month when they drove down to St. George. That was in the eighties though, and temples hadn't yet begun to "
dot the earth
" to the extent that they do now. So, it wasn't until I was eighteen years old and the Las Vegas temple was built that I was able to go through a temple during the open house period. It was the most beautiful building I had ever entered, and I remember feeling a very calm peaceful feeling while I was there.
Anyway, one of the reasons I even say all that is to point out that while I had to wait until I was eighteen years old for a temple to be built in my vicinity, Heather has had two temples built within one hundred miles of her home during her short four years of life.
That lucky girl.