(Note--I wrote this Friday night, but didn't get around to posting it today. Those are the breaks I guess.)
I'm sitting outside on our front steps on a Friday evening, alternating between eating
caprese salad
(thank you, back patio garden), writing this post, and giving Heather artistic direction and encouragement as she creates yet another chalk masterpiece on our sidewalk. One of these days she's going to master the Dick Van Dyke method of creation, and we'll be off on a fairy tale adventure, with carousel horses that leave the carousel, and penguins that feed you little cucumber sandwiches and dance around while you eat them.
Probably not today though.
It's been a nice week. The festival season is closed for another year, which means that this is a rare time of quiet for me, work-wise. I love this time of year. Since I don't have to deal with the whole back-to-school thing 'till 2014, it's a really relaxed, lovely time. Work is more low-key, the weather is cooling off (slightly), and it's a great time to take a little breather from the hectic pace of life. Once Heather starts kindergarten, I imagine that will all change, but for now, the living is easy, and I'm enjoying it.
A funny (as in,
awesome
) thing happened about two weeks ago. Heather and I were visiting a family in our neighborhood. One of the children there was (is) going to be baptized soon, and so I was running through some of the logistics of that event, as well as introducing some of the points of the
Faith in God
program for her.
When we were finished with that they asked us if Heather had any love for dress-up clothes. Um, hello??? That would be a big yes! Come to find out, they had a whole tub of princess costumes, with no girls little enough to fit into them anymore. Thirty minutes later, we left the house with two Cinderella gowns, a Snow White dress, a Sleeping Beauty gown, and an Ariel gown, all in Heather's size, and all just waiting to be worn and loved. In a further bit of serendipity, a few days later, my mom came for an overnight visit (to see the last of the operas on her list),
and just happened to bring her sewing machine with her
. Since some of these costumes had been extra-well loved and used, it was a magnificent blessing when the master seamstress got to hemming and patching and mending, turning these well-worn hand-me-downs into costumes worthy of Halloween or even a princess tea party. Hooray!
Turns out, all of this was
extra
serendipitous, because at the same time that it was all happening, Heather was striking up a pretty strong friendship with two sisters in our neighborhood. The three of them have spent a large part of nearly every day over the past two weeks alternating between our house and their house, and I bet you can't guess what the toy du jour has been during that time, can you?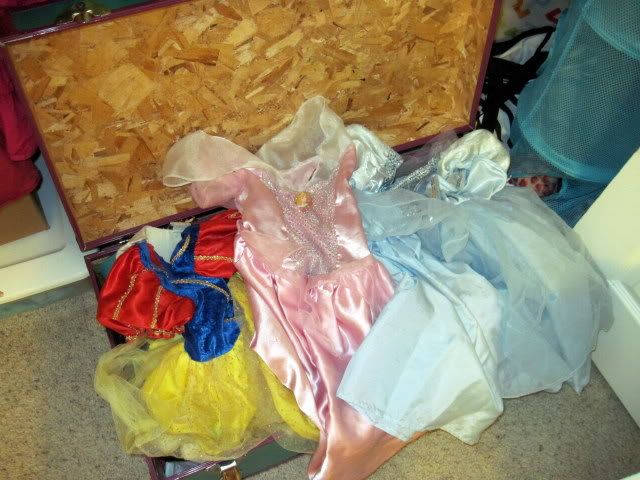 It's a small thing of course, having a foot-locker full of princess dresses that you got for free. However, having a house full of darling girls, all playing and laughing and sometimes tattling and pretending and doing a little bit of growing up together is absolutely
not
a small thing. To me and Heather, it's a big thing. A big, wonderful, slightly miraculous, happy, joyous thing.