This year, on the Saturday before Pioneer Day, our Stake held a special Pioneer Day Celebration. It started out at 7:00 a.m., with a 5K Fun Run (which we skipped--we don't do 7:00 a.m. on a Saturday, no way, no how), followed by a free breakfast for everyone. Additionally, there were different stations where you could play pioneer games (like tug of war) and games that were really fun, but not quite so pioneer-themed (like water balloon volley-ball). Word is you could even dress up in old pioneer clothes and get your family picture taken that way, but we never found that particular booth. (We were too busy filling up on French toast and chatting with our neighbors to venture too far away from the picnic tables, truth be told.)
The big event of the day, at least as far as we were concerned was the children's parade. As many children as were willing decorated their bikes, wagons, scooters, and tricycles, and as the grand finale of the event, they rode them around the church as spectators clapped and cheered, and doting mothers (including yours truly) followed them around, snapping photographs like the paparazzi that we are.
It was the highlight of Heather's week, easy.
Heather started prepping for it about a week before, trying to determine exactly what kind of decor she wanted to showcase on her trike. I even went so far as to borrow some pioneer costumes from the opera company for her to wear, but she wasn't nearly as excited about decorating herself as she was about the bike, so the costumes stayed in the closet and returned (never worn) back to the opera company.
Anyway, here are a few shots of the fun:
These two are shots of Heather practicing up before the "real" parade.
A hard-fought match of tug-of-war.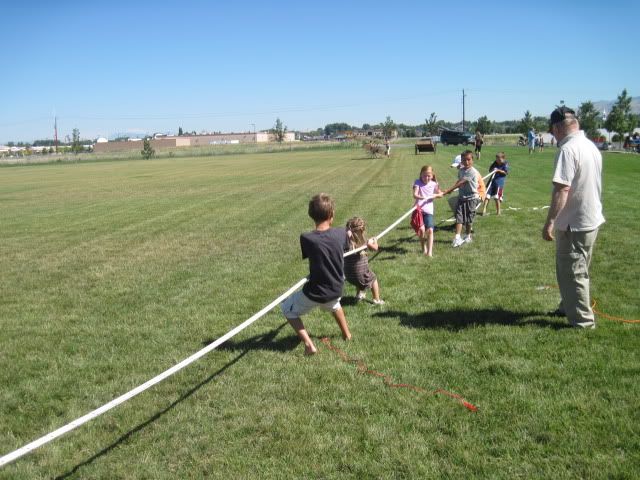 They're off!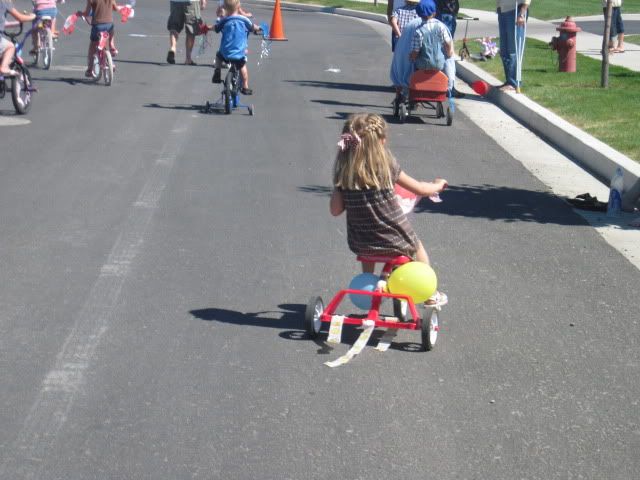 Taking time to cheese it up for the camera.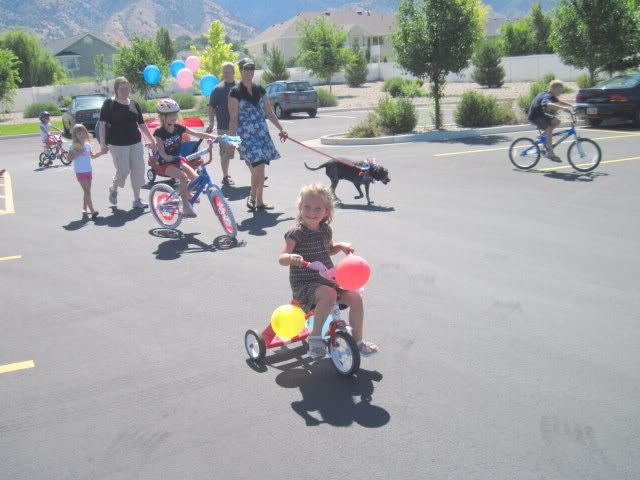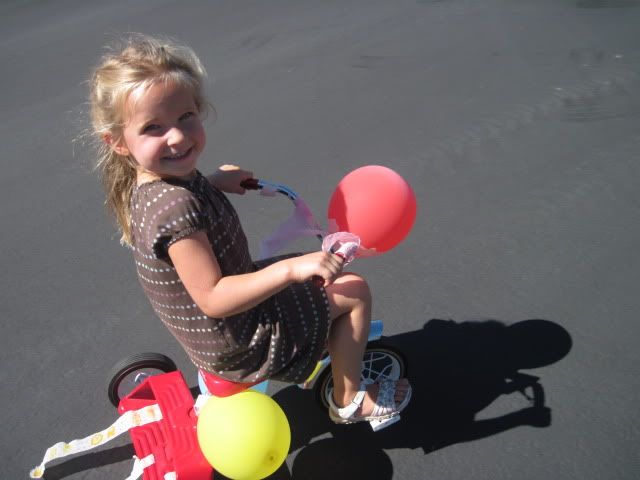 The day was hot. I mean really really hot. I mean, at 11:00 in the morning, after walking around the church one time I was sweating and roasting, and feeling heat stroke coming one (that last bit might be a bit exaggerated). The kids were supposed to get popsicles at the end of it all and I was planning to snag one for myself as well, but there was some kind of timing snafu and they didn't arrive in time for roasting hot Eric, Heather, and Charlotte to take advantage. No matter. It was a fabulously great time with or without popsicles.