Just because it's been awhile, here are a few recipes that have made the cut lately, and now reside in the 3-ring binder of recipe joy:
This first one I found by happy accident. My friend Candace and I attended a production of Greater Tuna here in Logan (which was awesome), and before the play, I crashed her Tuesday night family dinner, which consisted of these noodles. They were delicious, and I saw first hand how easy they were to make (super easy). We had them in our home the next week, with similarly stellar results.
Quick & Easy Thai Noodles
Recipe adapted from the one at OurBest Bites
Ingredients:
1 12-oz. package noodles--linguine, spaghetti, thai-style noodles, whatever.
1-2 tablespoons canola or peanut oil
1/4 cup soy sauce - Eric doesn't like soy sauce, so anytime a recipe calls for soy sauce, I water it down by half
2 1/2 tablespoons brown sugar
2 1/2 tablespoons rice wine vinegar
2 tablespoons Asian sweet red chili sauce -Apparently Thai Kitchen makes one that's great and easy to find; this is not the chili sauce you find near the ketchup. The first time I made this, I used this sauce: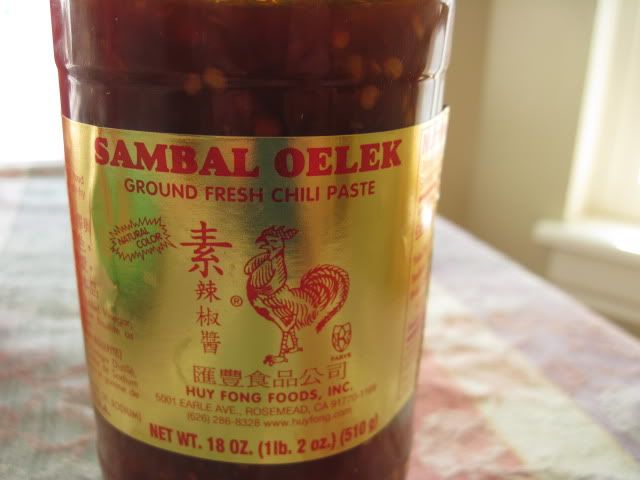 because that was what I had in the fridge. It was too spicy, and not at all sweet, and I don't recommend it.
1 tablespoon sesame oil
1 small red onion, sliced
4 cloves garlic, minced or pressed
2 tablespoons fresh ginger, minced or pressed-you know you can keep fresh ginger in the freezer and grate it off as you need it, right? That little tip has changed my Asian cooking life.
1 large or 2 small orange, red, and/or yellow bell peppers, seeded and sliced
1 cup fresh or frozen green sugar snap peas, snow peas, edamame, or green beans
1 medium zucchini, julienned or chopped
(IMPORTANT NOTE: As long as you include the onion, you can pretty much substitute any veggies for the peppers, peas, beans, and zucchini. I've used chard, carrots, crookneck squash, cabbage, you name it, as well as the veggies suggested. Not had a bad experience yet.)
Directions:
Bring a large pot of salted water to a boil. When it is boiling, add the noodles and cook al dente. When the noodles are done, drain them and toss in 2-3 teaspoons of olive oil.
Whisk together the soy sauce, brown sugar, vinegar, sweet chili sauce, and dark sesame oil. Set aside.
While the noodles are cooking, heat a large skillet over high heat. When the oil is hot, add the sliced onions, garlic, and ginger. Stir fry 1-2 minutes or until fragrant, but the garlic isn't burning. Add the rest of the veggies and stir fry until the veggies are crisp-tender. Add the noodles and stir fry until the noodles are well-combined with the vegetables. Give the sauce a quick whisk and then drizzle it evenly over the noodles and stir fry the entire mixture for about 30-60 seconds or until everything is well-coated in the sauce. Serve immediately. Serves 6-8.
* * *
Next is another internet find. This one comes from a website run by four sisters who used to live about two blocks from me back when we were all growing up in Cedar City. It was my sister Becca who sent me the link to their blog a few weeks ago, with the glowing endorsement of their pulled pork (a la Cafe Rio.) I haven't gotten around to making that yet, but I did make this dressing, and it was right on the money.
Cafe Rio Cilantro Ranch Dressing
(adapted slightly from the one at favfamilyrecipes.com)
Ingredients
1 packet TRADITIONAL Hidden Valley Ranch mix (not BUTTERMILK)
1 c. mayonnaise (I used the olive oil kind, which probably made it less authentic, but I like it just fine that way.)
1 c. buttermilk
2 tomatillos, remove husk, diced
1/2 bunch of fresh cilantro
1 clove garlic
juice of 1 lime
1 jalapeno, seeded
Mix all ingredients together in the blender. That's it!
* * *
And the last one is a stawberry pizza recipe that I snagged at a recipe exchange party that we had here in the neighborhood a bit ago. So, so, so yummy. The woman who shared the recipe (whose name is Jamie, and is the one that taught me the little girl hairstyles mentioned here) said that it was life changing. I had my doubts, but I'm a believer now. Delicioso! The only thing I would mention is that if you are making this for a small family like I do, then scale the recipe back accordingly. I've found that unless you really like cold pizza (which I don't), this is not a pizza that is really great left-over. That's because part of it needs to be hot and part of it needs to be cold for optimum tasting,.
In that way, it's kind of like the McDLT--remember that one?
No?
Never fear chums! I've got you covered! And with George Constanza even!
Changing back to the pizza though--when it's fresh and hot from the oven with the cool strawberries on top? Yumma, yumma!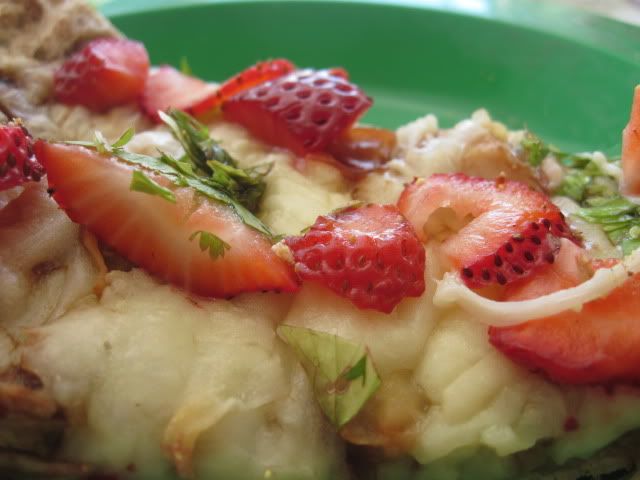 Strawberry Balsamic Pizza


½ cup good quality strawberry jam/preserves - I used homemade freezer jam
¼ cup balsamic vinegar
1 tsp Sriaracha Chili Sauce - This time I did use the sauce pictured above, and it worked fine.
1 ball pizza dough
1 cup diced or shredded chicken breast
½ cup bacon, cut in 1 inch pieces, cooked and drained
½ cup thin sliced sweet onion
12 oz shredded Italian blend cheese
¼ cup fresh cilantro, finely chopped
¼ cup fresh strawberries, diced small
Place pizza stone or sheet pan on middle rack of oven. Preheat oven to 450.
Place vinegar in small saucepan. Bring to boil, then reduce heat and simmer 4-5 minutes or until reduced to half of the original volume and mixture is thick and syrupy Add jam and chili sauce and mix well. Set aside to cool.
Take out pizza stone, sprinkle with cornmeal. Pat/roll out pizza dough on a lightly floured surface, then arrange on pizza stone.
Combine chicken with 2 Tbs of the vinegar-strawberry mixture and mix to coat all chicken with sauce. Pour rest of sauce onto pizza dough and spread to cover. Leave a 1" border all around the edge. Scatter chicken evenly over the sauce.
Place about ¾ of the cheese on top of dough and spread to cover sauce evenly. Scatter bacon and sweet onion over cheese to distribute evenly. Scatter remaining cheese over this layer.
Bake for approximately 8-10 minutes or until cheese is bubbly and crust is golden brown. Watch carefully, at this temperature it's easy to burn the pizza!
Remove from oven and let cool slightly, 1-2 minutes. Sprinkle with chopped cilantro and fresh diced strawberries. Serve and enjoy!
And, I think that's quite enough recipe randomness (not to mention font randomness) for today, don't you think?
Hasta,