So, remember when Heidi and I decided to get
an awesome photo session
with our little girls?
I love those photos, but I couldn't decide what to do with them. They (probably) weren't going to be our Christmas card this year. I mean, we absolutely consider Eden and Heidi a part of our family, but I'm thinking it might be a little bit confusing to my cousin Matthew in North Carolina (who I'm pretty sure isn't a regular here at quirksville) if we were to send out a Christmas card with a surprise new blonde five-year old in them you know? I mean what's the story there? Secret adoption that didn't make it around the family grapevine?
(TANGENT ALERT: I'm reminded of the time when I sent out my college graduation announcements. I listed my name on them as "Charlotte Julien Corry". It took no time at all for my mom to get a call from my grandmother asking what the deal was with the whole Charlotte Julien thing, since to her recollection I didn't have a middle name. She was right of course. I've always regretted not having a middle name, and so in college I took matters into my own hands and gave myself one. Not legally or anything like that, but I have plaques with that name on it, and when I designed my graduation announcements, Charlotte Julien it was. But anyway, back to matters at hand.)
Likewise, I wasn't sure that a picture of Eden and Heather would fit in all that well in
the family collage
in the entryway of our house, which was kind of a bummer.
But then, as luck would have it, I remembered a tutorial that I had found via pinterest awhile back. It was this woman who took a photo of her two daughters, had it blown up by Office Max or some other office supply store, adhered it to sheet insulation, and hung it up in their bedroom. At the time I read it (pre photo-shoot), I felt a little bummed. It seemed like such a good idea, and so economical, but I only have one daughter, and to me, the thought of a big four foot shot of Heather's face plastered on the wall of her bedroom just screams, "my mother is doing all she can to encourage any spark of narcissism that I may have", which
isn't
really my intention. So, I filed the thought away at the time, resolved that I wouldn't be taking advantage of it, but bummed all the same.
Well, I bet you can tell the rest of this story. As I looked through the photoshoot pictures, it occurred to me that Heather's bedroom would be the
perfect
place to do something along these lines. After all, Eden is the closest thing Heather has to a sister, and vice versa, so putting something like this together would work great.
So, I did.
I used a hybrid of
the original tutorial
and
this one here
, because I found that wrapping the foam worked better for me than painting the sides. Also, I got my pictures printed at Sams, because I wanted color prints, and word is that the cheapies that you can get at OfficeMax have to be black and white.
Make no mistake, I
hated
putting this together. Yes, you read that right. I
hated every minute of it.
That's because I do not enjoy crafting, and (consequently) I'm not great at crafting. Crocheting? Yes, I'm a
(totally humble as you can see)
master. I love doing it, I love planning out what I'm going to do, I love looking at my finished work. Crafting? Totally different story. I do NOT love doing it. I do NOT love the mess it makes. I do NOT love the helpless feeling that I get when things go a little wrong and I have to scramble to make it work out somehow (something that never phases me if it's a crochet problem).
However, as unenjoyable as the process was, I LOVE LOVE LOVE how these turned out: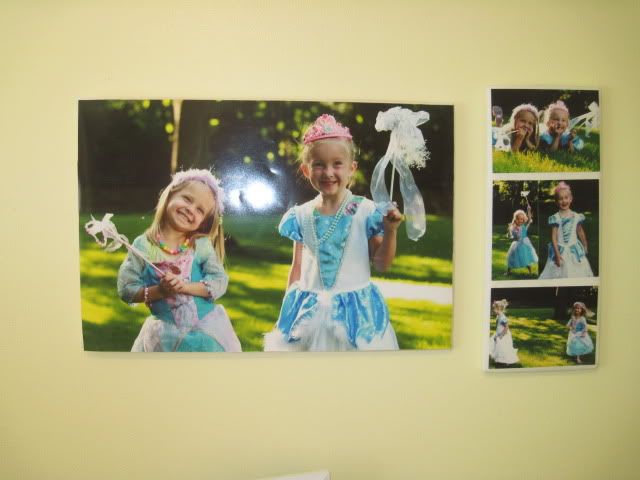 Yup, that's my camera flash right there between Heather's and Eden's heads. Oh well.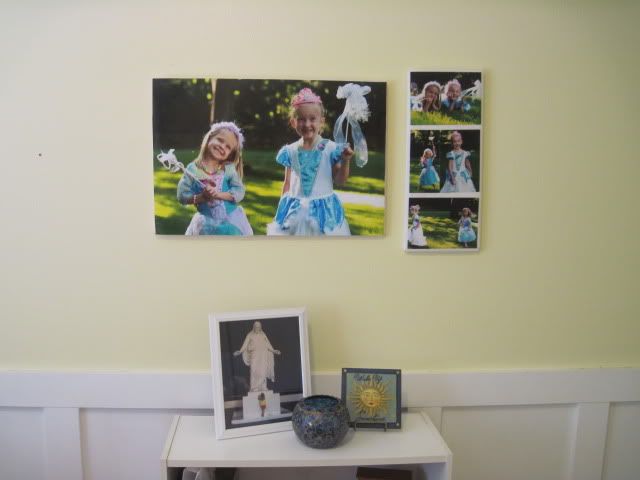 They aren't perfect. One side is cut a little bit crooked. The "canvases" are wrapped in butcher paper rather than fabric, which up close, looks pretty cheap.
(This is because by the time I realized that painting the sides wasn't going to work, I didn't have the energy to go out and buy fabric, and I had a whole roll of butcher paper just sitting there.)
They don't always hang straight (though I think I've finally fixed that with a little bit of removable velcro), and there are other issues as well. They're not 4 feet long either, but I'm good with that.
In spite of all those flaws though, I adore these pictures. The perfectly capture the personalities and love of two of my very favorite girls in all the world. What's more, I find myself again and again roaming aimlessly into Heather's bedroom for no apparent reason, other than to stare delightedly at their bright faces.
So I guess the big question is, was it worth it?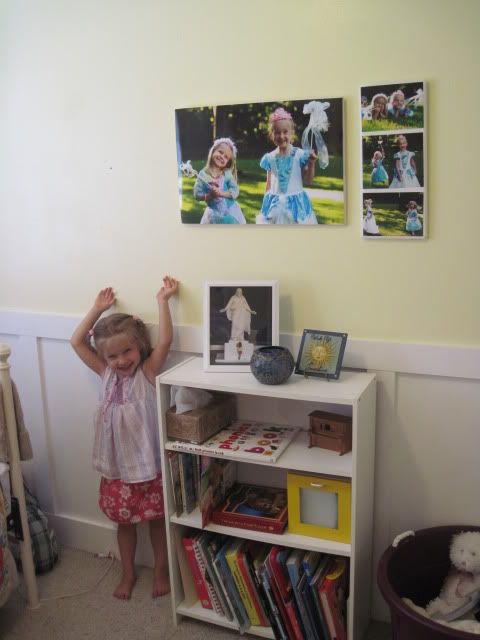 Oh yeah baby, you better believe it.