Last Sunday our next door neighbor knocked on our door to ask if we would be willing to help out with an activity for our ward youth. Once we agreed, we were told to be at Maceys (our most local grocery store) at 7:10, in disguise. Once there, we would be given a piece of paper containing some of the words of a scripture. If/when one of the youth found us, we were to give them our paper. The youth then met in a lounge area to put the scripture together and have a little lesson/discussion on it all.
Eric and I decided to go a little nerdy on our disguises, (although I do wish we still had our
groucho marx glasses
). You can't tell it from the picture, but Heather had flowers
all over
the back of her hair. That's because she was in disguise as Rapunzel (Rapunzel in sunglasses, but still).
At any rate, we had a great time, and those cute kids in our neighborhood seemed like they did as well.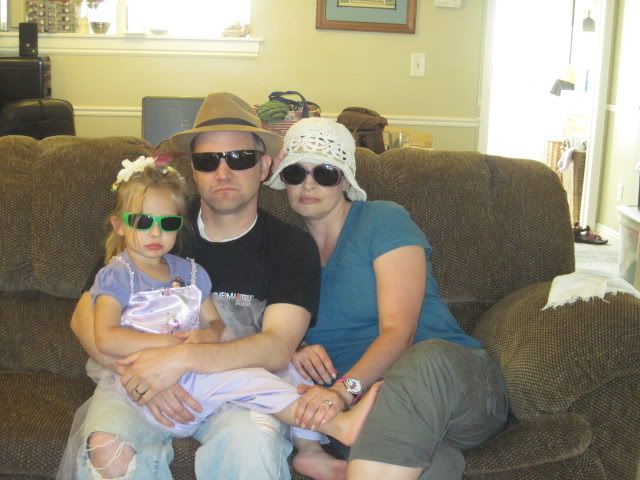 Note my pink sparkly Minnie Mouse watch. Heather gave me that for Mother's Day.
Speaking of Rapunzel hair, that's been a fairly common occurrence around these parts lately. A week or so ago, I was at the house of one of the other Primary Presidents in our stake to pick up some baptismal clothes, and Heather was with me. This woman had a daughter a year or so older than Heather with long blond hair that was braided in one french braid down the back of her head, and decorated with flower clips from top to bottom. As the mother and I talked "Primary shop", the girls played in the other room while Heather slowly and steadily became completely enamored with her Rapunzel hair. The next day (and the day after that, and the day after that), guess what hairstyle Heather requested?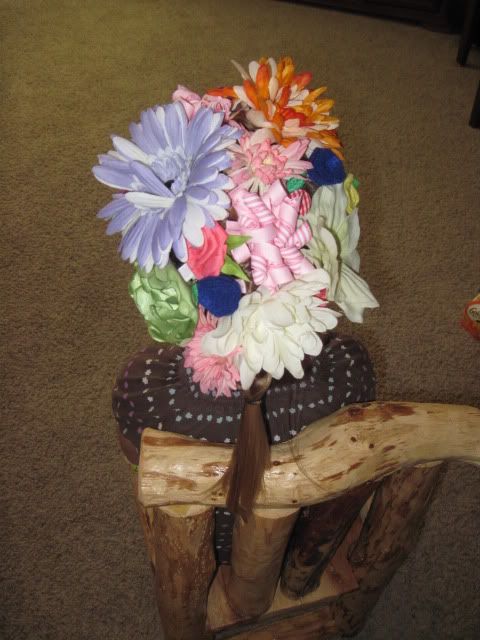 Heather was pretty adamant that every single one of these flowers be used.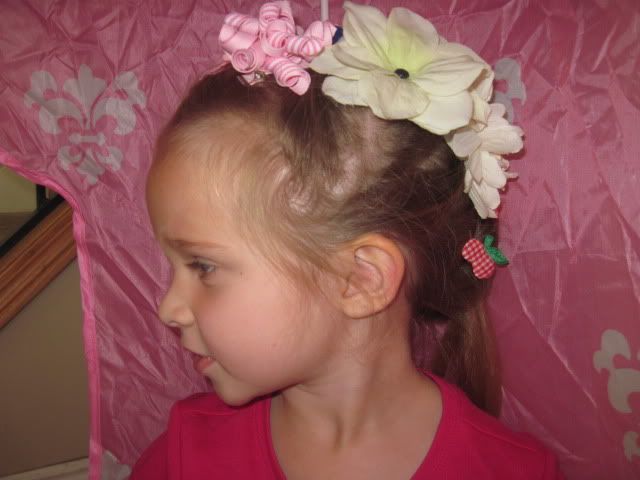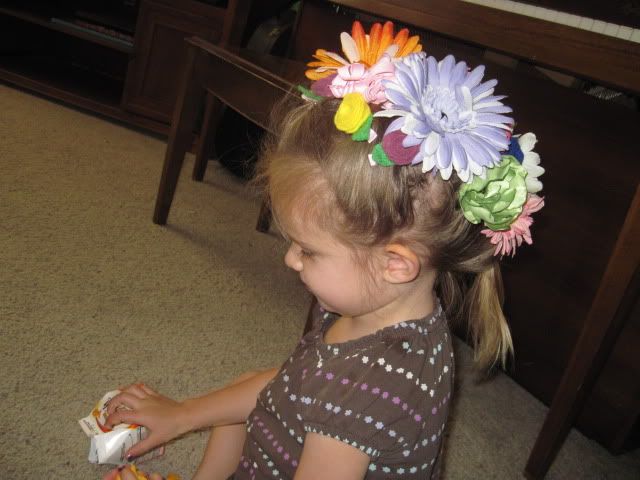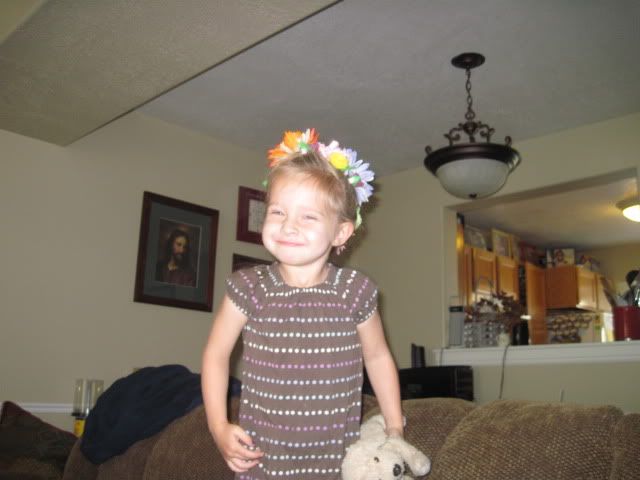 In other news, I've had a cold lately, and so my Hulu/DVD consumption has doubled, if not tripled over the past few days. I've watched
part of
Fat, Sick, and Nearly Dead
, after which I spent 45 minutes looking at juicers and vitamixes online until I convinced myself that this was probably just a whim and I should try my hand at making more green smoothies in my perfectly adequate blender before I committed the money and counter/cupboard space to yet another kitchen appliance. I also watched three episodes of my current favorite crime drama,
The Closer
. I ended it all (for now) with an oldie but a goodie,
Send Me No Flowers
. That trio of Rock Hudson, Tony
Bennet
Randall
(thanks Carol)
and Doris Day is an absolute classic, I don't care who you are.