When I was little, I was a
book freak.
I remember setting my alarm for something like 3:30 or 4:30 in the morning so that I could get in a couple of hours reading before it was time to do the pre-school piano practice. I remember when my mom found out about that, and we had a little chat about how important sleep was to a growing girl, and she asked me to not get up quite so early. (I'm sure this was a little hard for her to do, seeing as how I took after her 100% in my love for reading.)
I don't remember too many of my birthday presents when I was a little girl. I do remember when I was 10, going to the t-shirt store with my mom, and picking something that could be attached (silk-screened? ironed on?) to a shirt. I picked a royal blue shirt, (my favorite color at the time) with a sunshine, and the words (sparklified as only the late 70s and early 80s could do) "Beautiful Things Happen When You Smile".
Oh--there I go, tangenting off again. The point of me starting on the birthday presents is that I
do
remember one of my birthday presents pretty well. It was a lamp that would clip on the side of my bed. It looked something like this:
With the lamp, there was a note that said, "From one reader to another. Love, Mommy"
So anyway, I was a reader. Some of my favorite books growing up were the Wizard of Oz Series, the Anne of Green Gables books, anything else by L.M. Montgomery, the Great Brain books, Harriet the Spy, anything by Beverly Cleary, and of course, Charlotte's Web.
But, my all -time favorite books, the ones I collected above all, the ones that I would devour again and again and then discuss and analyze with my best friend ad nauseum were my Trixie Belden books, written by Julie Cambpell and Kathryn Kenny. That spunky Trixie with her naturally curly hair was a master sleuth like none other. With her best friend Honey at her side, Trixie would crack cases, uncover secrets, and unmask villains, all while enduring the teasings of her big brother Mart. If that's not quality, I don't know what is.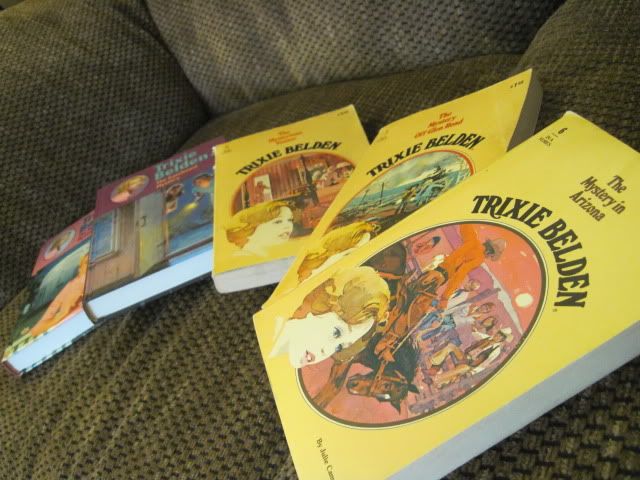 Turns out, one of my nieces is an avid reader as well. So, for Christmas last year, I gave her the first book in the Trixie Belden series with instructions that if she liked it I had about a hundred more
(not an exaggeration)
that I could lend her.
Turns out, she loved it, devoured it, wanted more. True to my word, I pulled five books out of the attic and dropped them off the last time we were at her home. Can I just say how much I am
loving
sharing the joy? Totally loving it.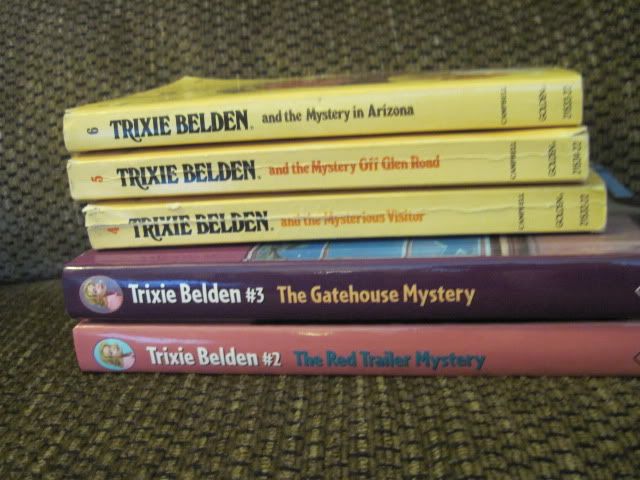 And this is just a little "when I was a kid I could go to a movie for 25 cents" story (note: I couldn't. My dad could, apparently). You'll see below that the books that I bought or received for gifts in my younger years could be purchased for $1.50. Now, it's a little more steep. Try seven buck-a-roonies. Now granted, my old ones are paperbacks and the new ones are hardbacks, but still. A dollar fifty? I didn't know I had it so good.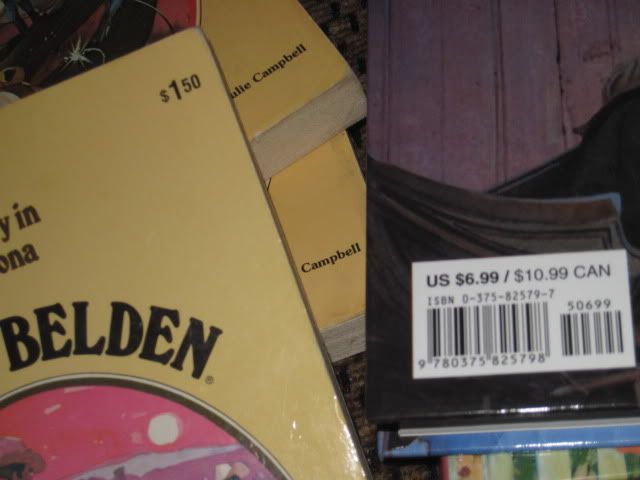 This is where I use the classic phrase, "Back in those days though, a dollar fifty was a lot of money!"
And with that, I leave you.
(the old fogey)