So, just over a month ago Eric and I celebrated our 5th wedding anniversary with an overnighter in Salt Lake City.
We dropped Heather off at Grandma and Grandpas, and went back to
our old favorite
, the Metropolitan Inn. We love the beds there, as well as the general location, as well as the ultra-frugal price. The last time we went, I was happy to note that we had a very unique print from the Wizard of Oz featured prominently in our room. Turns out, that wasn't as unusual as I had thought. We were in totally different room on a totally different floor this time, with exactly the same print. I'm beginning to think that all the rooms feature a little bit of Oz.
(But I'm okay with that. Where else can you sleep in downtown Salt Lake City on a Tempurpedic bed for $70? Hmmmm???)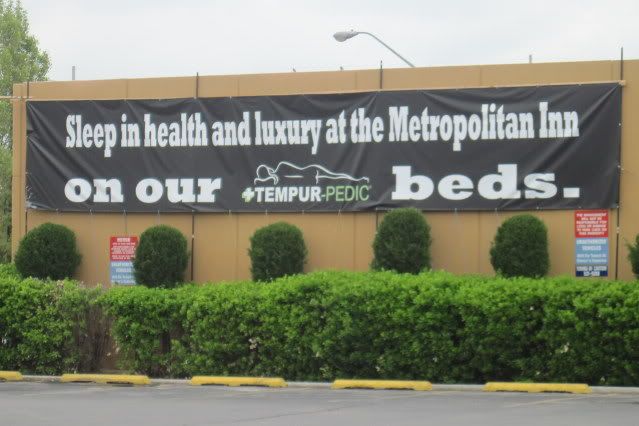 We had supper at P.F. Chang (Eric's choice, but I was good with it), and strolled around the Gateway for a bit, which is code to say that Eric browsed around in Barnes & Noble for a hour or so while I did some people- and water- watching at my beloved fountain. Then we walked home, chatting and laughing along the way like we were a couple of kids on a date, instead the two middle-aged parents that we are.
The next day we were planning to head downtown and take in the new City Creek Center. However, while I was in the lobby filling up on english muffins and bananas while simultaneously reading some publication geared for antique hunters, I learned that the Salt Lake Library just happened to be having their semi-annual mega-book sale that day. Having been to one of these before,
(Hi Lyn!)
I knew that this was something worth noting, and proposed it to Eric.
We ended up ditching the City Creek Center and hitting the library, where we made a
killing.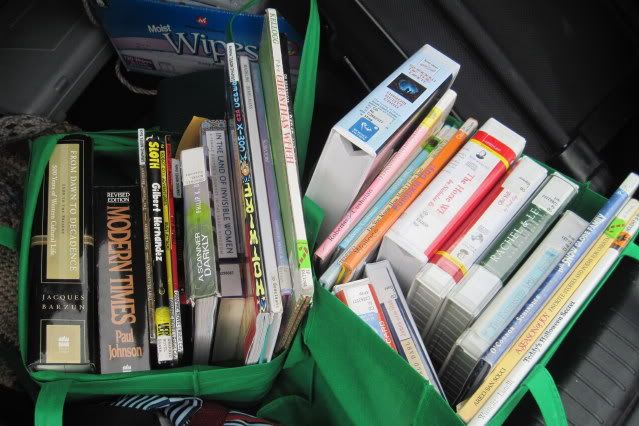 We paid around $40 for ALL THESE!
My favorite purchase was this Babar book. I have fond memories of my parents reading this very book to me when I was a child. Come to find out (through a few nights of reading said book to Heather),
It's freaking long!
No matter. Nothing can dampen my love for
Babar and His Children
. And, having read it through now, I have even more respect for my parents.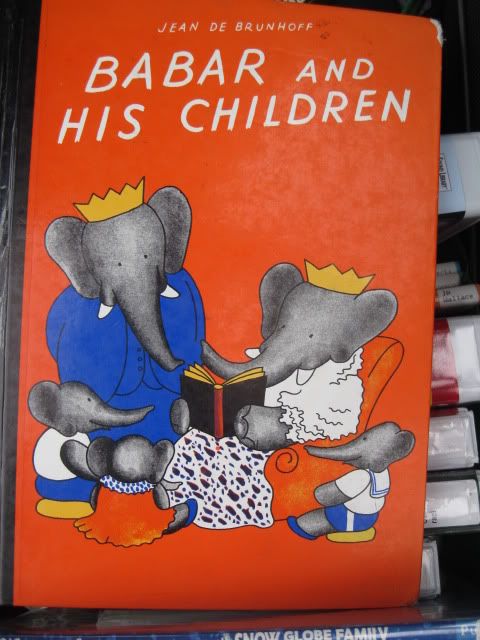 Getting back to our story, after the library sale, we strolled around looking for a random place to eat lunch. We walked by the Market Street Grill, and since neither of us had ever eaten there and since we both love seafood, and since it was lunchtime (less expensive than dinnertime generally) and since it was our five year anniversary after all, we decided to stop and splurge. Best crab sandwiches either of us have ever ever ever had. Eric can't wait to go back. (this makes me a little concerned about our future dining-out budget
(shocking, I know)
, in light of the fact that prior to this, Eric's Salt Lake restaurant of choice was
Hot Dog on a Stick.
)
After lunch we booked it back home, picked up Heather, had supper (leftover crab sandwiches for us, mac and cheese for the muffin), and started our FAMILY BIRTHDAY PARTY!
(Which family party consisted of eating this cake and opening a gift bag full of family birthday books, purchased earlier that day at the Salt Lake Library.)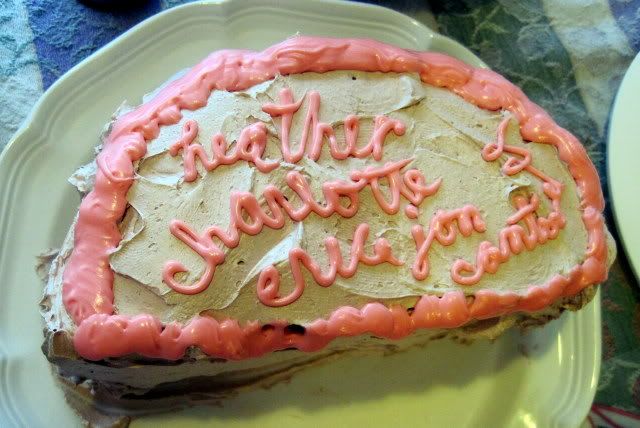 Yes, that is half of a cake, thank you very much. We don't need a whole cake around these parts for the three of us, so I made one 8" round and a bunch of cupcakes, which we froze for future family home evenings and neighbor gifts. Then I cut the round in half, stacked one half on top of the other, and frosted it. I misjudged the ratio of frosting to cake using this method (there was waaaay too much frosting on those flat-side pieces), but other than that, it worked great.
This will probably be a big shock to you, but Heather chose the words that I wrote on the cake.
Happy Birthday to Cantwell Family 2012
from
Charlotte
on
Vimeo
.
All in all, a fabulous way to celebrate a fabulous day.