So, several months ago (right around Christmastime, in fact) , we moved Heather out of her toddler bed and into a big girl bed. To be honest, she wasn't that excited about it, and actually cried the whole time I was dismantling the toddler bed.
Fortunately, those tears turned to squeals of joy pretty much immediately after I got her new big girl bed and hence, big girl room situated.
The only problem was that Heather's favorite color is pink, and her room is basically yellow, and we had nothing to tie the two colors together, and I wasn't in the mood to shell out the bucks for a new quilt or bed spread. So, we do what we pretty much
always
do in this situation, which is call my mom to place an order for some homemade goodness. (Remember
the robe
?)
Mom wasn't home, so we left a message on her voice mail machine.
A day later, Heather received this e-mail from grandma:
Dear Heather,
I would love to make a quilt
for you, Heather. Thank you for asking me. I talked to Aunt Melissa and we found some pretty fabric and a cute pattern. We would like your Mommy to look at some suggestions and see if both of you like them. I probably won't be able to get it made until almost summer. Can you wait that long? Congratulations on turning your room into a girl room instead of a baby room.
Love, Grandma
Of course, Heather was more than willing to agree to wait for her quilt.
As things turned out, it ended up that Aunt Melissa made the quilt instead of grandma. That's because she had some kind of deal with the quilting higher-ups, and she ended up putting together a pattern in connection with a company called
The Intrepid Thread
. I don't really understand all the ins and outs of it, but really, do I need to? When something as awesome as this happens, is there really a reason to ask a bunch of "whys"? I don't think so.
So, anyway, a few weeks ago, I picked up the mail to find a big box addressed to Heather. It was morning (I had forgotten to pick up the mail the day before), so a very bed-headed Heather opened up the package and immediately started modeling her new quilt with delight.
This one is my favorite
And here's a shot of the quilt in the big girl room, on the big girl bed.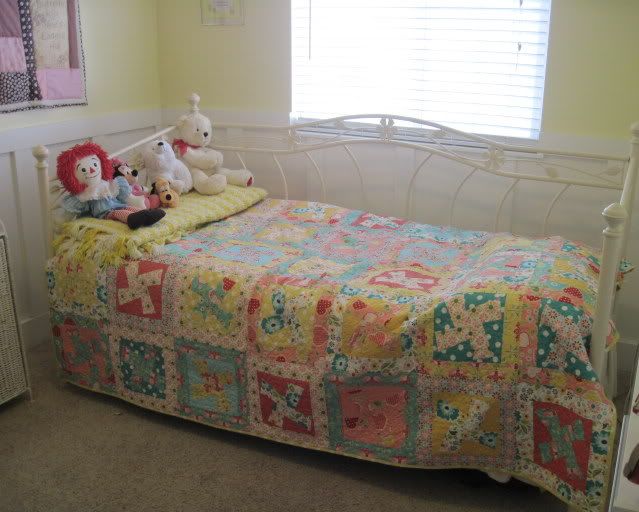 Not to rub it in too much, but I'm tellin' you, if you don't happen to have a master quilter (or two) in your family, you are
definitely
missing out!
(If you
do
have a master quilter in your family, or if you
are
a master quilter, you can find more details on this quilt and even a few links to purchase a pattern or a kit on Melissa's blog
here
.)