So, a few days ago, for our family scripture study we were reading
the parable of the talents
. For some reason (and for a change) Heather was really interested in the story, and wanted to simultaneously talk about it
and
hurry to the end to find out how everything turned out.
After we had read the story, we got talking about talents, and Eric explained that talents are things that a person can do really quite well. This is what followed:
Eric: Heather, what talents do you think you have?
Heather: Well, I can dance!
Eric: Yup, good one!
Heather: And, I can sing really good!
Charlotte: You're right, you can sing really well.
Heather: And after I take swimming lessons, I'll be really good at swimming too!
(Note--I love the unbridled optimism here.)
Eric: Right!
Charlotte: Now, what talents can we think of that daddy has?
Heather (thinking): ???
Charlotte: Well, daddy is really good at making robots, isn't he?
Heather: Yes, he is!
Eric: And I'm really good at fixing things.
Heather: That's right!
Eric: What about mom? What are some talents that mom has?
Heather (thinking) :???
Charlotte: Well, I'm pretty good at singing too.
Eric: And mom is good at making food.
Heather: Yup!
Eric: And mom is really good at getting me and you to do the things she wants done in our house, like emptying the dishwasher and cleaning the bathrooms.
Heather: Yah. Mom is really really good at that talent!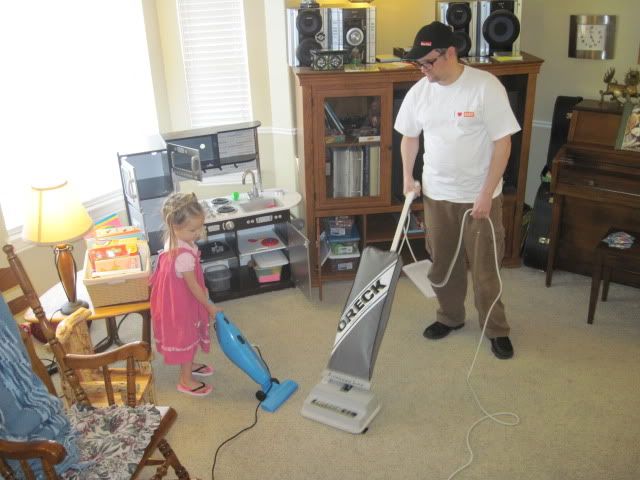 I tell you. The things I put up with in this family. Outnumbered, that's what I am.
(Obviously I need to get someone to take pictures of me doing chores!)