So, while we were in Disneyland (California Adventure, to be exact), it came about that Krista and I were waiting for our turn to go on the Soarin' over California Ride, fast passes in hand. We were hanging out on some benches in a low-traffic area outside the ride, watching over all the too-short-to ride kids in our party.
While we were there, this guy who looked very familiar strolled by. After a double and triple take, both Krista and I agreed that it was none other than Tim Allen (a/k/a in our circle as
the voice of BUZZ LIGHTYEAR!!!!
), accompanied by what I can only assume is his child.
Not wanting to make a scene or bother the guy while he was enjoying some family downtime, but still wanting to document the big moment (as in, the first and probably last time I will be that close to a bona fide movie and television star), I made a big show of having little Rachel mug for the camera, so I could take a picture of Mr. Allen, while
appearing
like I was taking a picture of my niece. It went off without a hitch, and I thought I had gotten away perfectly with my secret plan.
That is, until I checked out my picture in zoom mode.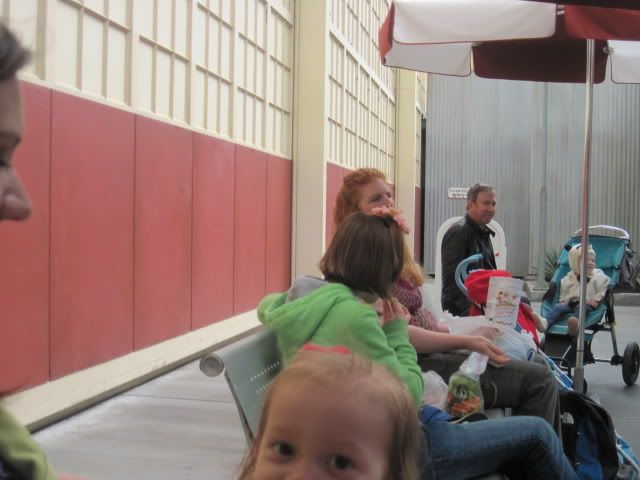 Original size. Note Rachel playing decoy in the bottom center.
Zoomed in
So, you think he was on to me? Yeah, I think so too.
So much for Sly Charlotte.