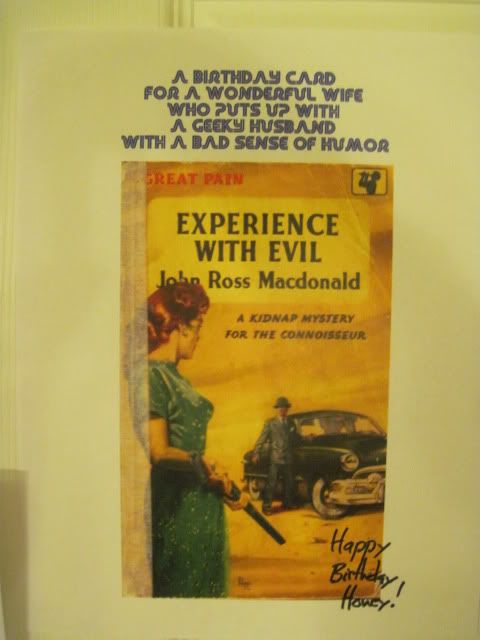 Remember the week (or was it more?) of fabulous forty birthday posts last year?
Well, as Heather is fond of saying, after forty, comes forty-one!
But, never fear. We will not be having a week (or more) of fabulous forty-one birthday posts here. In fact, we're only having one post.
Here it is:
It was a birthday full of dinner with friends, chatting, laughing, and presents.
The Monday before the big day (also known as "birthday eve"), Heidi surprised me by turning our monthly joint FHE/dinner into a surprise birthday party at her home.
And now, for a bit of a tangent (shocking, I know):
I don't think I've ever written this here, but it's getting to be where I can't remember what I've said and what I haven't said, so if you've read this before, please forgive me (and skip/skim away).
Several years ago, (in a birthday card no less), Heidi spelled out to me at least part of the reason why she makes
a big deal
about birthdays. She explained that the day a person is born is (obviously) the commemoration of the day that that person came to earth. However, it is
also
, on at least some level, the commemoration of the fact that that particular Spirit chose to leave Heavenly Father, pass through a veil of forgetfulness, and experience life and the great plan of happiness and salvation that our Heavenly Father prepared for all his children. As Heidi put it (paraphrased in the words in my memory), that is
definitely
something worth celebrating. I like that philosophy.
Now, leaving the tangent, and getting back to our story, the surprise FHE party was full of my favorite things. Delicious food, good friends, a few presents, some laughing, and some great chatting.
Eden and her cousins had even gone to the trouble of making posters for the event . . .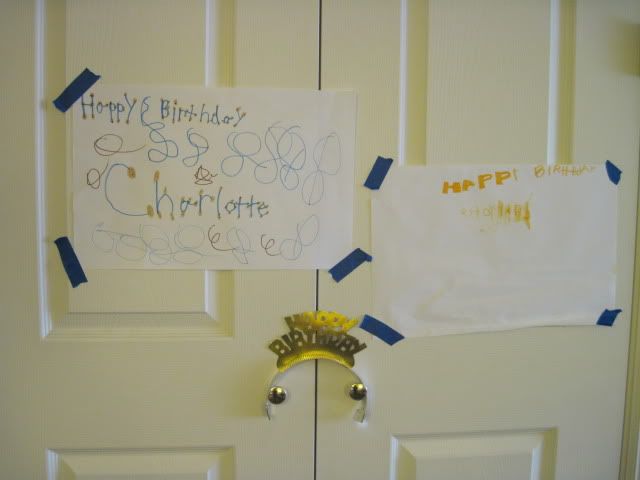 Eden made this one herself. Just to be clear, to my knowledge, Eden is not dyslexic. Apparently she just got started on my name the wrong way, and didn't feel like starting over or turning it around.
and getting balloons . . .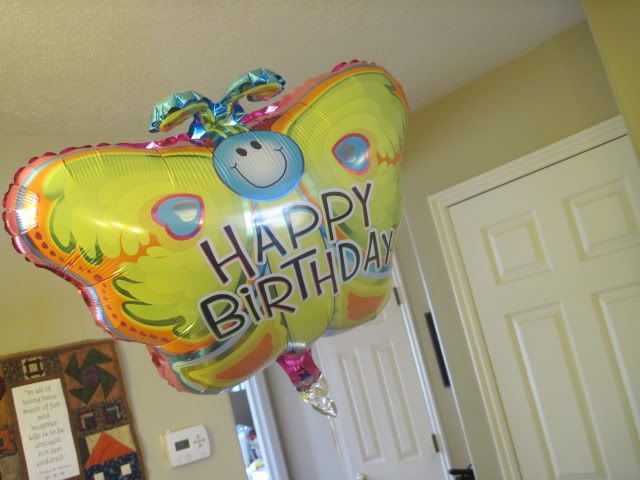 and even making original birthday card art.
As Eden explained to me that this was a portrait of her, me, and Heather, she was quick to point out that she (Eden) had blonde hair, while I had brown hair (can I just say that I am thrilled that she's decided that my hair is, in fact brown?), and that Heather had a mixture of the two.
The next day I went out to the mail, where there was a package waiting for me from a fellow USoSL member. (I'm not entirely certain the member wishes to be "outed", so if he/she wishes to identify him/herself, I will leave that up to him/her.)
(Really though, it's not that big of a deal, and I could totally tell you. But, the fact is, I feel like inserting a little intrigue now. You're all wondering now who it was, aren't you?)
Anyway, the package contained a stone lion Christmas ornament, and a card that told a fun little tale. Apparently, the USoSL member determined that I needed a stone lion ornament, hunted around on the internet, found this one (which looked much more impressive online than it did in person), and ordered it. Once it arrived, the USoSL member was underwhelmed, but eventually determined to send it to me for my birthday.
I love it.
It's a little silly or tacky I suppose, but I get such a kick out of it. If you'll all remember, the whole reason I even started on the stone lion thing is because I saw some stone lions in front of a very ordinary house, and it made me really curious about it all. In light of that, I hung the ornament from my rear view mirror. I get a kick out of the thought that random people see the lion star, and are really curious about it all.
Full circle baby, FULL CIRCLE!
Finally, Eric bought me this: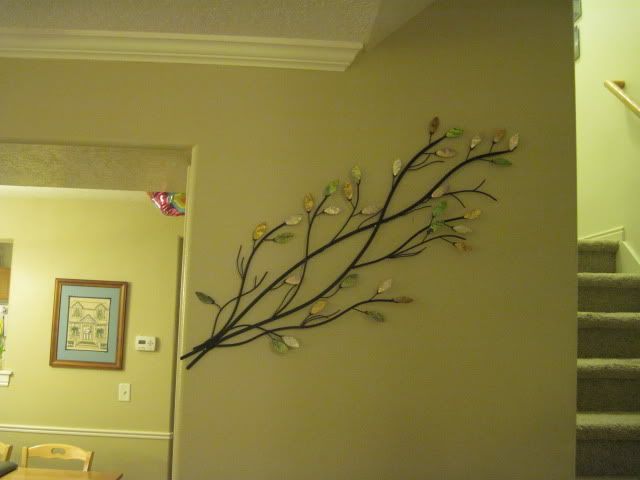 (Apparently he did so against the advice of the nice salesperson at Bed, Bath, and Beyond, who was certain I'd be happier with something else.)
I think she was wrong. I love it.
And with that, I think I've rambled long enough. Tune in next year for what will surely be another thrilling adventure, "Fabulous Forty-Two".
I know you can hardly wait.