FIRST: A huge THANK YOU for your encouraging words and advice as I embark on this Primary President adventure! You give me hope and courage, and I just so appreciate you taking the time to help me out.
Now, back to our regularly scheduled post . . .
* * *
This year, due to a happy chain events that ended up with us in Cedar City the Monday before Easter, with all my Cedar City family having plans to be out of town for a good part (if not all) of Easter Saturday, I was able to participate in the Corry Eggstravaganza for the first time in many many years.
Loved, loved, loved it.
For those of you who don't know what the Corry Eggstravaganza is, here is a brief explanation, lifted directly from a post my sister-in-law (Melissa) wrote a few weeks ago:
The Extravaganza is an egg spinning contest. We break into the kids group and the adult group. The kids started this year and we began with the Royal Rumble. Everyone spins at the same time to be assigned seeds for the official Double Elimination tournament. With the seeding assigned we move onto the tournament with head to head battles. In the end, one emerges victorious!
So, with that explanation, I present to you my own personal one-million photos/documentation of:
Corry Eggstravaganza 2012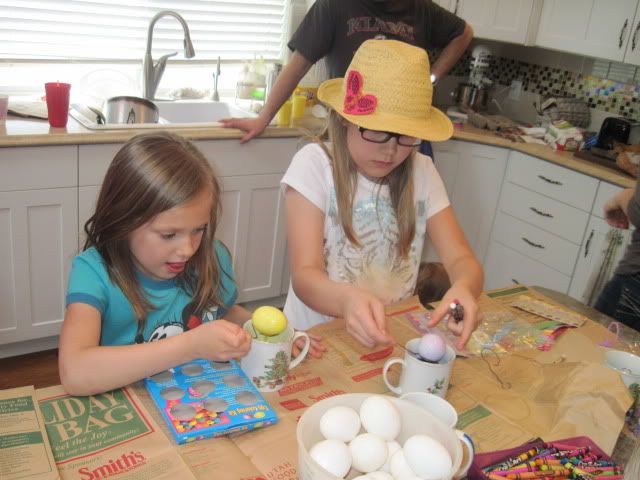 I'm always on the look-out for more evidences of the "Corry Tongue", particularly in the younger generation. Kirstin here is doing me proud.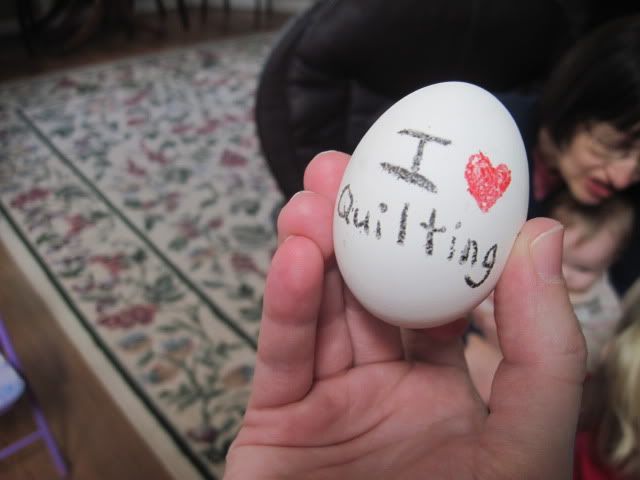 Betcha can't guess who this egg belongs to now, can you?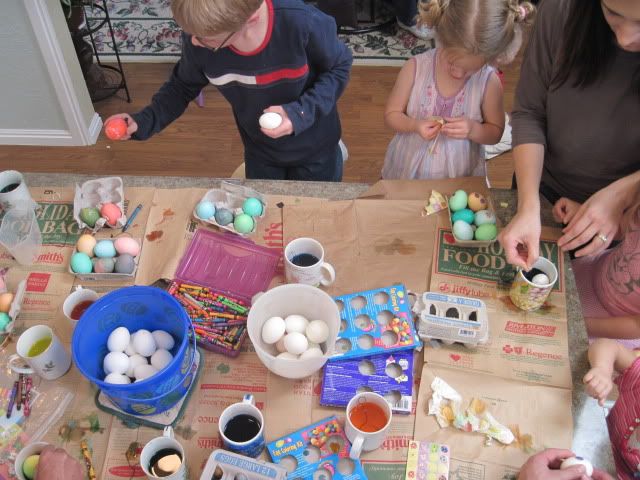 Obviously, we take our egg dying pretty seriously around these parts.
Mark sets up the brackets in preparation for the Double Elimination Tournament.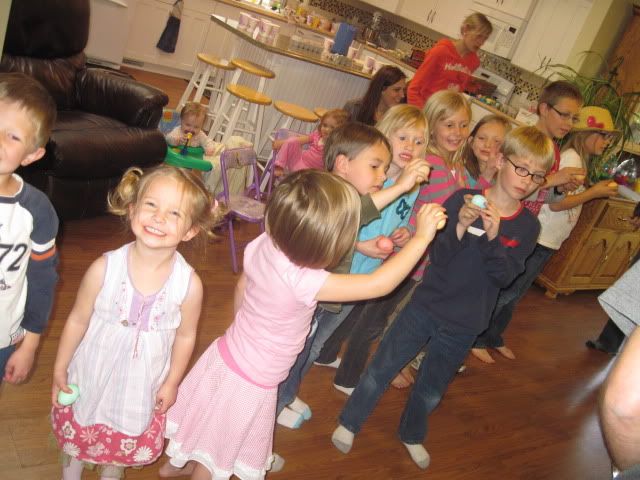 The rankings according to the kid division "Royal Rumble" (I didn't get a picture of the actual Rumble--I was too busy watching the joy of it all.) You'll notice that Heather is in second-to-last (Kamree with the yellow hat on the right was the winner of the rumble). She (Heather) obviously isn't all that concerned with her low seed in the tournament.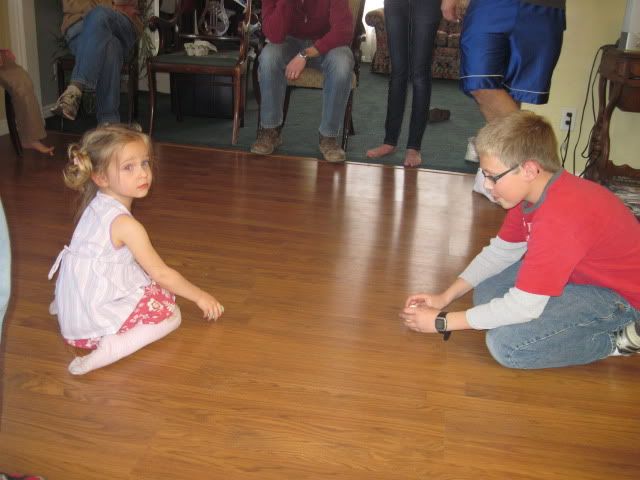 Heather and Dallen get ready to face off. You can tell just by looking that Dallen has this match already won.
Intensity and focus people, intensity and focus.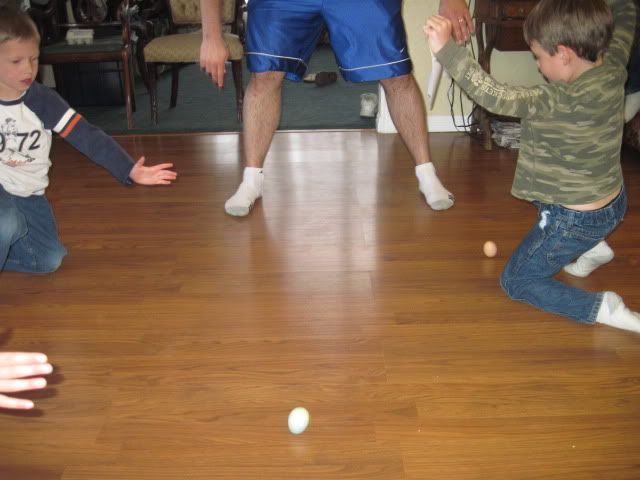 Ty and Nader face off as well, while Mark (in the blue shorts) provides commentary.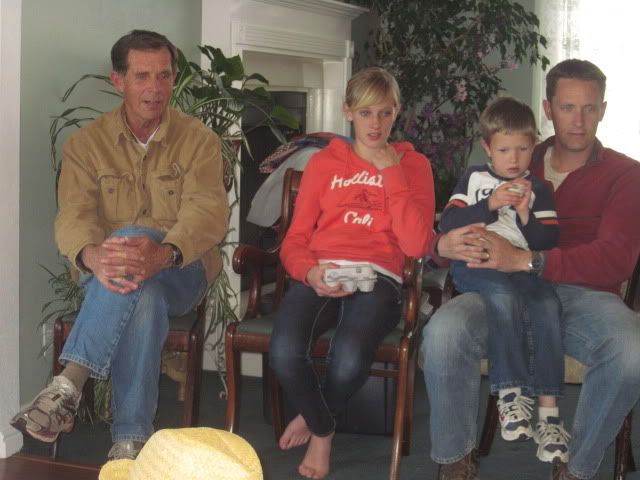 The crowd is spellbound by the suspense and excitement of this amazing competition.



Here's a sample of a face-off from the kid division:
(We make them hug afterwards. It seems to help with the hurt/sad feelings that tend to occur when you have a game where there is a definite winner and a definite loser.)
eggstravaganza--nader vs. makell
from
Charlotte
on
Vimeo
.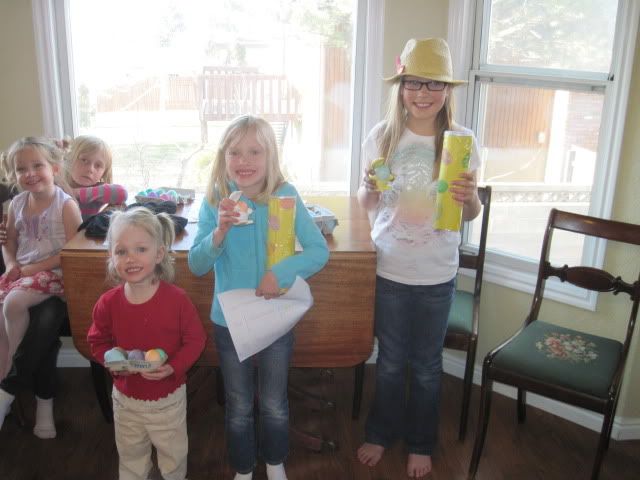 Winner Jessi (in the blue shirt) and runner up Kamree (in the yellow hat). MaKell looks on. Heather and Kami seem to think that they won as well, which is just fine.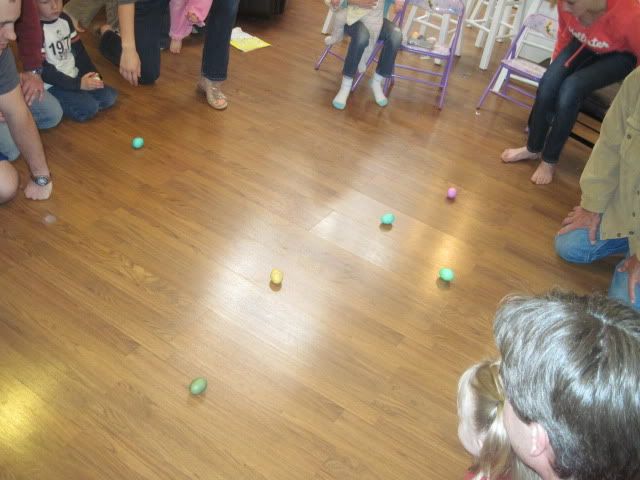 The Grown-up Royal Rumble. Not all eggs are pictured here. Obviously I was in the Royal Rumble, and couldn't be bothered to snap photos while my egg was still in the running. So, this is after probably 6 or 7 eggs had been eliminated (including my own).
Jacob and Krista face-off in a head-to-head competition
My mom and dad face-off in a head-to-head competition.
And here is the final match-up, the one that determined the winner and runner-up.
eggstravaganza--the final
from
Charlotte
on
Vimeo
.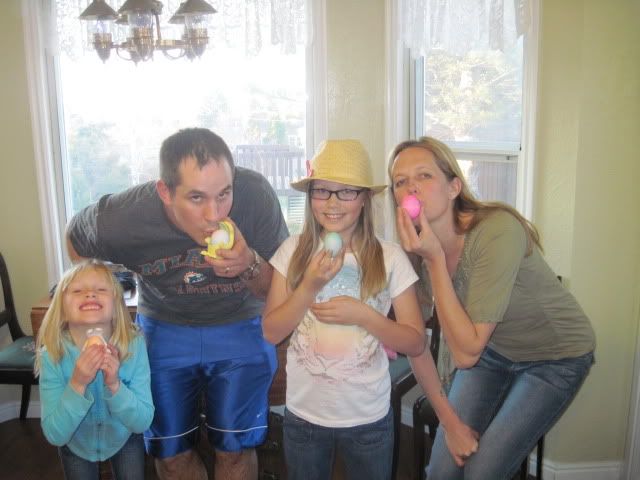 Our four winners: Jessi & Mark (winners of the kids and adults divisions respectively), and Kamree and ShaLiece (runners-up in the kids and adults divisions respectively).
And there you have it. In all likelihood, we will be in Logan again next Easter. It's times like this that I wonder if I could persuade the Cantwell clan to gather together on Easter Saturday for an Eggstravaganza. Or, if not that, a neighborhood eggstravaganza? Maybe?