On Saturday, Eric and I will complete five years of wedded bliss (or something semi-close to wedded bliss).
This picture cracks me up. Could we possibly be ANY MORE CHEESY???
A cautionary tale of the things that new love (and a bossy wedding photographer) can create.
(Engaged couples beware! Don't let this happen to you!)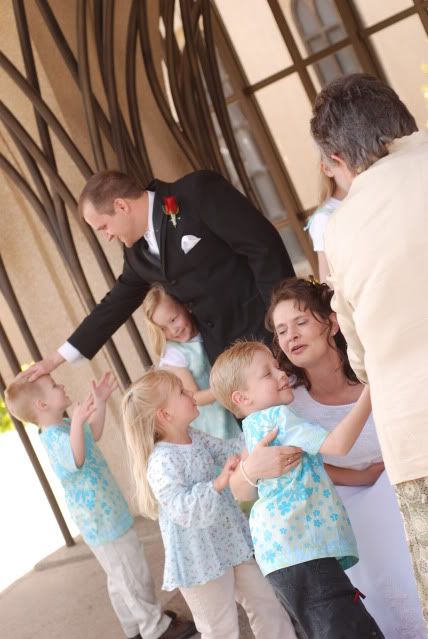 This one gives a representation of the day (and of our lives since that day) that's a little more accurate.


And this is one of my favorites.
Okay. No more wedding pictures.
Getting back to our story . . .
To celebrate, we're dropping Heather off with grandma & grandpa, and then heading to Salt Lake City, where we will live it up by going to a movie, eating dinner, hanging out in a hotel room, sleeping in 'till whenever we decide to get up, (rather than whenever Heather decides to get up)(I can hardly wait for that part), roaming around Salt Lake (probably taking in the new City Creek Center), and heading back home.
Lately, Heather has been going through (what I hope is) a phase where she's been particularly clingy to us, and especially to me (which is very flattering, but also somewhat inconvenient). In light of that, I've been trying to prepare her for the grandma overnighter for several days now, telling her that she is going to get to have a sleepover with grandma and grandpa, how fun that will be, how they might be able to have popcorn and play games, how she can take Pluto (more on Pluto later--when I give the full Disneyland report), how it's going to be more fun than she could possibly imagine.
She's not buying it.
So, this morning, as we were folding clothes, I tried again. Here's what happened:

Me: So Heather, tomorrow, after you've played with dad and Eden, do you remember what you get to do?
Heather: What mom?
Me: You get to go to grandma's for a sleepover!!!!!! Isn't that going to be fun???
Heather (thoughtfully): Well, I don't really think so.
Me: Oh, I think it will be really fun! I bet you can play games there, or maybe even have a movie night! I wish I could have a sleepover at grandma's!
Heather: Well, you can come if you want to.
Me (a bit stymied): Well, actually, I can't. See, daddy and I are going to Salt Lake on Friday, so we can't stay at grandma's house.
Heather: How come you are going to Salt Lake?
Me: Well, it's our anniversary.
Heather (looking confused): ???
Me: It's kind of like the birthday of our family.
Heather (with a sorrowful expression): But I'm part of our family too, aren't I?
She's right of course. If it's the birthday of our family, Heather should surely be part of the celebration. She is a big, important, critical part of the family, after all.
And that friends, is why our home is currently filled with the smell of
peanut butter cupcakes
baking away in the oven. We're going all out and having a family birthday party on Saturday night. Kraft Mac 'n Cheese, PB Cupcakes, Go Fish, and Candyland are pretty much all foregone conclusions. It's gonna be great.
(Pretty sure the highlight for me though is still going to be the Saturday morning sleep-in.)