A few of you (mainly sisters-in-law)(and yes, Robert, there was more than one person thank you very much) were impressed by my two week meal plan that I mentioned in the previous post.
So, as much as I'd like to have you all believe that I am an amazing dinner-maker
as well
as a pretty good mom, I thought we might need a little dose of reality around these parts.
Hence: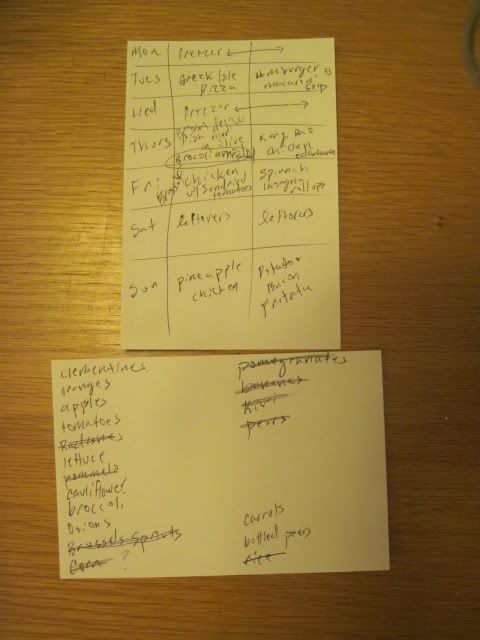 The top note (a 4x6 card) is the 2 week meal plan. It includes the following:
Freezer meals every Monday and Wednesday (two of the three days per week that I work at the office instead of from home)
New recipes I've never tried (usually) on Tuesdays
Recipes that have earned their place in the recipe binder of joy (usually) on Thursdays & Fridays
Leftovers on Saturdays
Random recipes (usually new ones, unless we are having company over, which only happens about three or four times a year) on Sundays
The bottom note is a listing of all the perishable items that we have. I keep it in the kitchen as a reminder to myself that we have lots of good food that I don't want to spoil. As we eat it up (or it spoils), I cross it off the list.
Extra Info #1: This list will probably last me three or four weeks. That's because we will inevitably have other options for dinner, and those options will push these options down the list. For example, Monday, instead of having a freezer meal, we had dinner and FHE at Heidi and Eden's. Then, yesterday, instead of having Hamburger Macaroni Soup, we had a "fend-for-yourself night", primarily because we met Eric and Grandpa Cantwell for lunch earlier in the day, and ate so much that we were too full for a real meal that night. (Heather had Mac & Cheese, I had a spinach/peach/strawberry smoothie. Eric had steamed spinach.)
Extra Info #2: For those of you who can't read my writing (which includes me, at times), here's a little translation:
Monday #1 & 2= freezer
Tuesday #1-Greek Isle Pizza

(This was a new recipe. I made it and gave it thumbs up, especially on day two. Eric's vote was a tepid sideways thumb, and Heather was a definite thumbs down. This recipe did not make it into the binder of recipe joy.)

Tuesday #2--Hamburger Macaroni Soup.

(Haven't had this yet)

Wednesday #1&2-freezer
Thursday #1--Brussels Sprout Delight, Fish Marinated in Olive Oil

(These are two old favorites. We had them and loved them.)

Thursday #2--Kung Pao Chicken, Edamame

(I'll probably switch out the edamame, which is frozen, for roasted broccoli, which is fresh and needs to be eaten.)

Friday #1--Broccoli Apple Salad

(a new recipe, and a bust. Didn't make it into the binder of joy)

, Chicken with Sun-dried Tomatoes

(a new recipe--didn't end up trying it yet. We'll see.)

Friday #2--Spinach Lasagna Roll-ups--

(an old favorite)

Saturday #1 &2 --leftovers
Sunday #1--Pineapple Chicken

(new recipe-haven't made it yet)(Last Sunday we had leftover Indian Food that I had purchased at a birthday party the previous night.)

Sunday #2--Potato & Bacon Fritata

(new recipe--haven't made it yet--I often like to have breakfast foods for Sunday dinner)
And there you have it. Feeling better about yourself now? I thought so.