As
you might remember
, sometimes, particularly when I'm feeling that magical intersection between cash-strapped and restless, I play a game called "pretend I don't live here."
A bit ago, just such an opportunity presented itself.
It was the weekend. We had planned to travel to the Salt Lake area, spend the day playing there (Ikea? The Gateway Fountain? The Children's Museum? the Treehouse Museum in Ogden? The possibilities were endless), spend the night with cousin Cecily and co., get up the next morning and attend church in Centerville, where we would listen to the mission report of one of my favorite cousins, spend the afternoon chatting with other favorite cousins and their parents, and then hit the road, arriving back in Cache Valley Sunday evening. I was looking forward to it. I had arranged for one of my neighbors to cover my primary singing duties and everything.
And then, the weather forecast started looking iffy. And more iffy. And even a bit ominous.
And, Friday afternoon, I determined that we wouldn't be going on our little trip. I called my primary substitute and told her I'd be around after all, I called cousin Cecily's mom and told her we wouldn't be staying. I e-mailed my aunt (the missionary cousin's mom, and one of Heather's namesakes) and told her not to expect us.
I spent about 30 minutes being disappointed and bummed out.
And then, I decided that since we already had the day cleared, there was no sense in filling it up with stuff like laundry and bathroom cleaning, and that Heather and I were going to have a little Cache Valley tourist day. I did a little bit of internet searching, and within 30 more minutes, we had a plan set up that had me excited about sticking around close to home.
The next day, we enjoyed a slow morning, and then we hopped into the car and drove to the bus station, because that's what tourists do--taking public transit, I mean.
It was raining, so we took our umbrellas.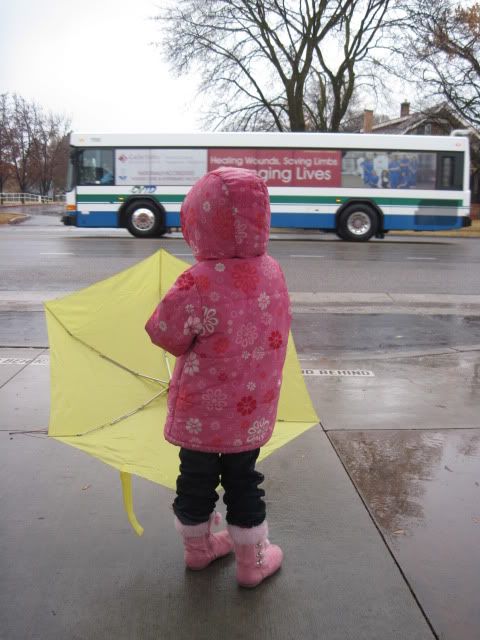 After about 20 minutes, our bus came, and we boarded the Cache Valley Transit Bus for the first time in either of our lives! (The bus is free, so I have not excuse for not having tried it before. Oh well.)
We both really liked the bus experience. There were plenty of people to talk to, and Heather was by far the youngest person on the bus, so she got a little bit of special treatment. For my part, I really enjoyed being able to just sit and ride for a bit, without having to worry about traffic signals and stuff. Sometimes, it's just really nice to be able to devote my attention to Heather's never ending stream of "whys" and "howcomes" and "what is thats", without having to juggle those questions along with my own thoughts of "what's the speed limit here", and "is this where I want to turn", and "did you
really
just pull out in front of me,
jerk
sir?" And of course, there was the joy of
NO CAR SEAT SNAPS TO ATTACH AND DETACH ALL THE TIME
.
That
is a vacation in and of itself!
Almost too soon, we were at our stop, which happened to be Utah State University.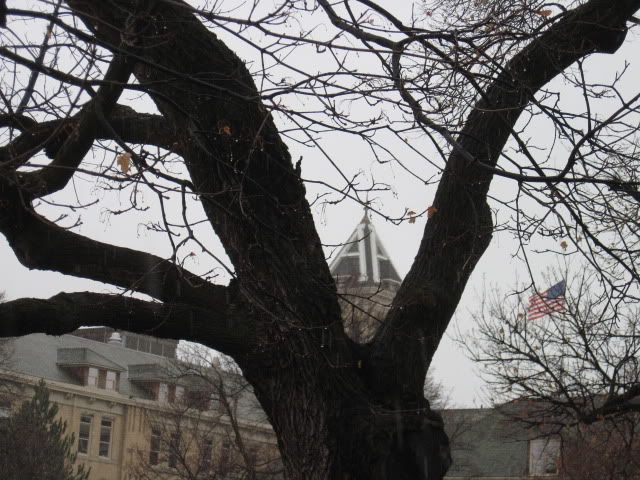 We were headed to the Museum of Anthropology, where we were going to learn all about pirates as part of the (free)
Saturdays at the Museum
program.
Heather, lover of all things precipitation, took her own sweet time getting from the bus drop off to the museum. Since we were on vacation, and had no pressing engagements ('cuz that's what vacation is all about), I indulged her in her wanderings. It took us nearly 30 minutes to walk from the Field House to Old Main, a distance I used to cover in 5 minutes in my student days.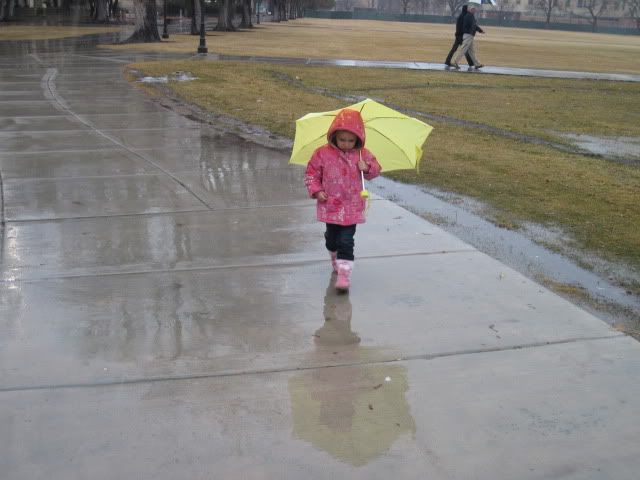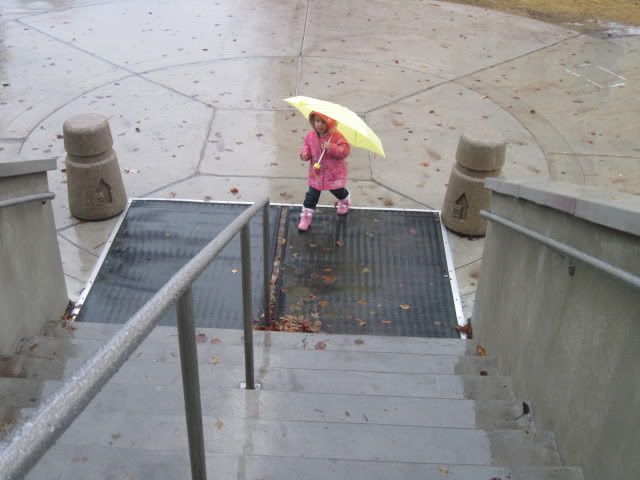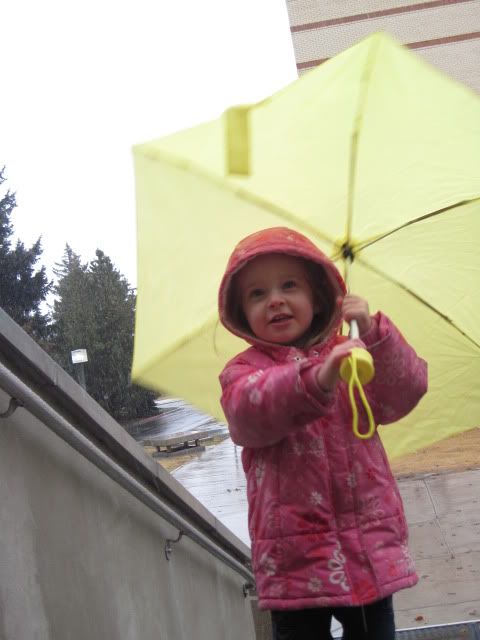 The museum did not disappoint. The crowd was manageable (which was good, because the museum is smallish), the activities were interesting, and we both had a great time. Heather made her own pirate ship and eye patch, and the nice museum lady even made her a pirate dagger, AND one for her to take home for dad. To top off the experience, we were even able to see real live pirates! (Well, to me they looked more like random college students wearing eye patches, but Heather was thrilled to her toes to see them, so I kept my suspicions to myself.)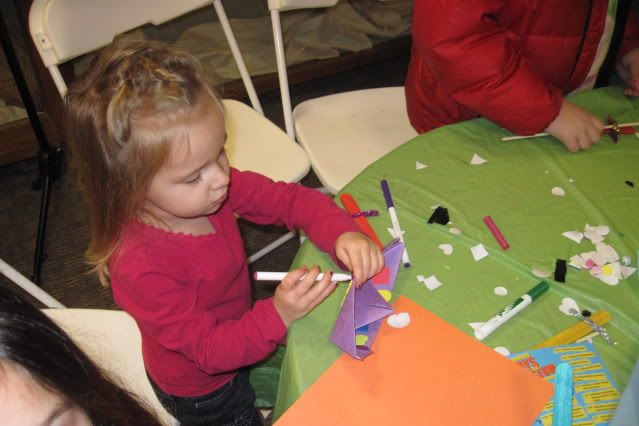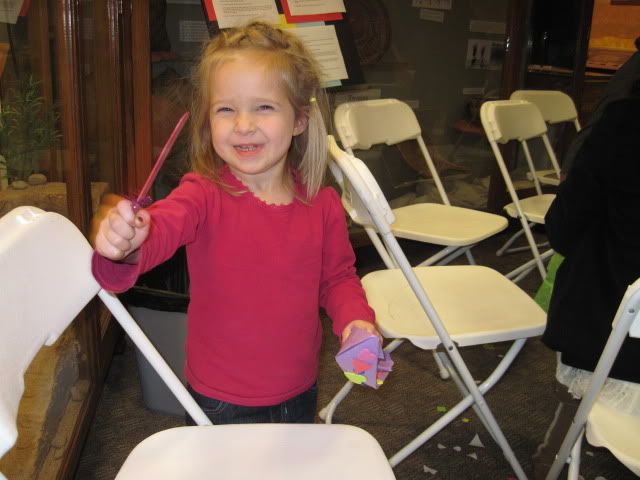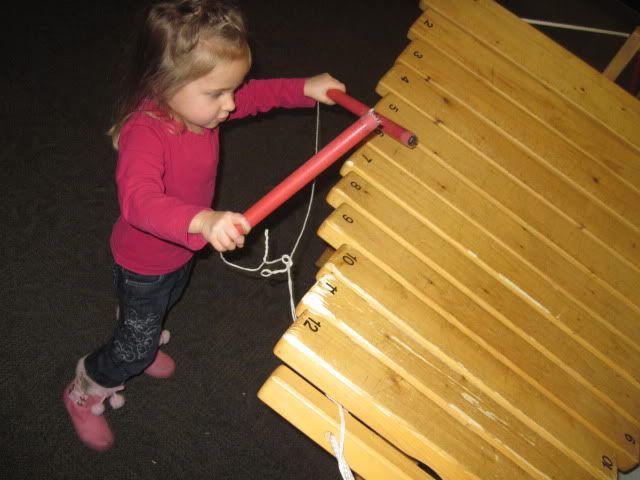 After we had enjoyed all the fun we could stand, we went outside to find that our rain had turned to snow. Once again, Heather wanted to spend an inordinate amount of time tromping around in the weather, and once again I indulged her.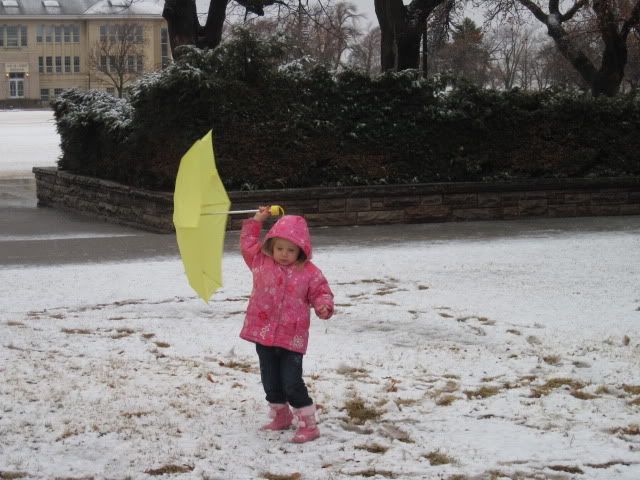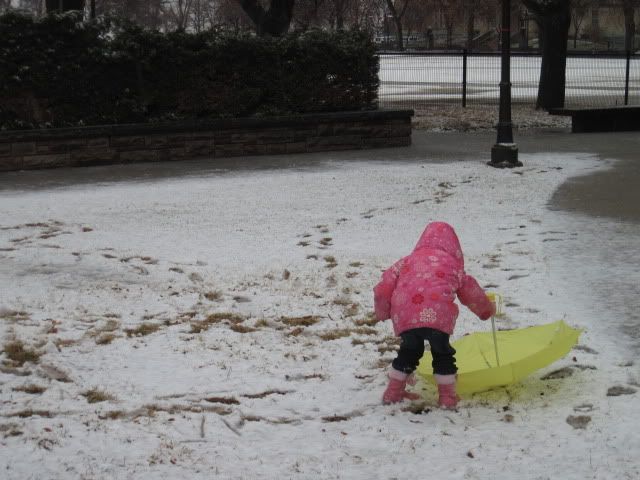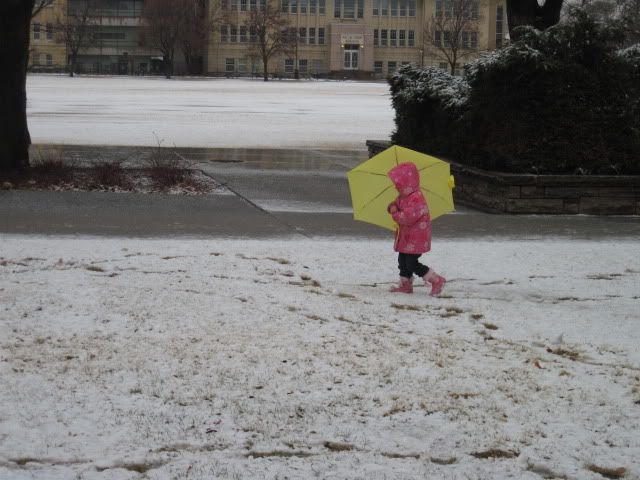 Then, as happens to the best of us sometimes, Heather went from happy and content to freezing and whiney in a matter of about thirty seconds. We bee-lined it to the bus stop, and hopped back on the bus, where the people watching and sight-seeing got Heather's mind off her cold wet feet, thankfully.
We finished our trip with a stop at Angies for hot chocolate.
(Home of Melissa's favorite bacon, of which we ordered none. Sorry Melissa)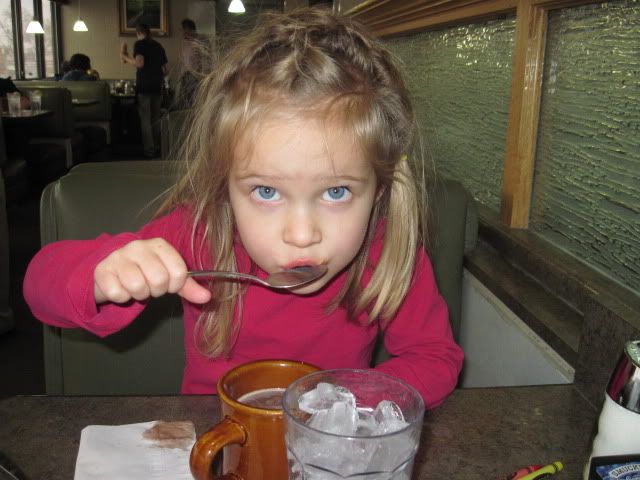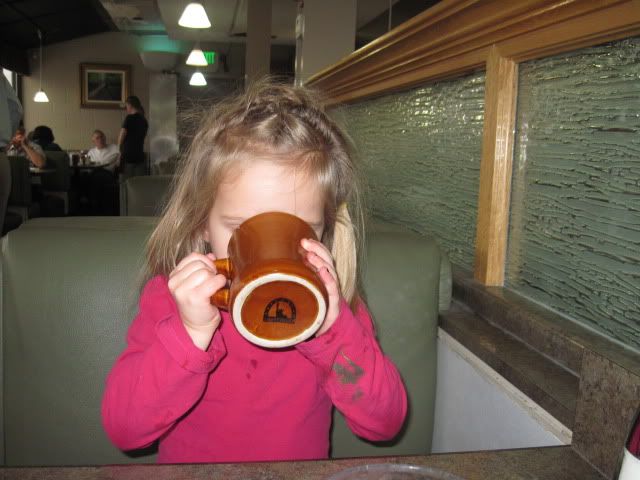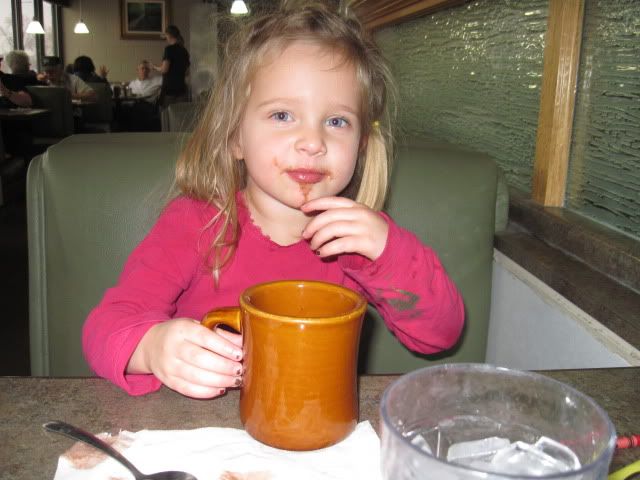 A perfect end to a fabulous day.
Seriously, who needs to travel? Sometimes, there is just no place like home.
(But, we're planning a trip to Disneyland in the spring. So, obviously not all the time.)