So, in addition to a ring and a kitchen, Heather received a snow saucer for Christmas.
And then, we endured three weeks of unseasonably warm winter weather. Not a snowflake in sight!
So, when we awoke one Saturday morning to find that there was snow all over the ground, I determined that this would be the day that we would go sledding.
--
After
we picked up our vegetables (from Bountiful Baskets).
--
After
we put away all those vegetables and put together a quick meal plan for the next two weeks.
--
After
we straightened up the house.
We determined that we would go up Logan Canyon for our sledding extravaganza.
Then, I got a little less energetic, and determined that we would go to First Dam (a Logan City park at the mouth of the canyon with several hills) for our sledding activity.
Then, I got even less energetic, and I determined that our backyard common area had plenty of snow, was accessible without a car ride, and had hills that might be steep enough for our Heather.
As it turned out, I was partially right. There was plenty of snow, it was accessible without a car ride, and as long as I gave Heather a push that had enough "umph" behind it that I ended up planting myself in the snow front-first (which I did
on purpose
numerous times), Heather was able to sled to her hearts delight.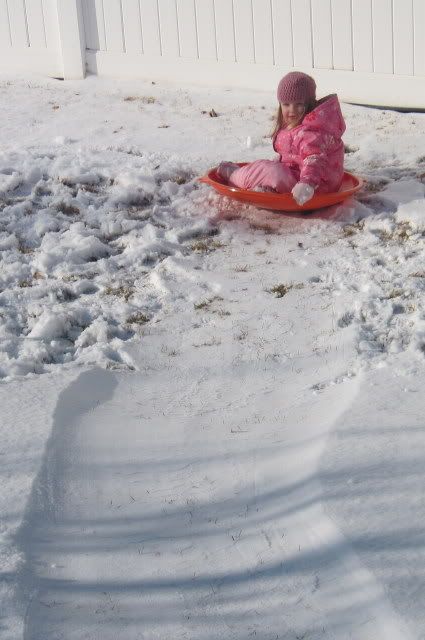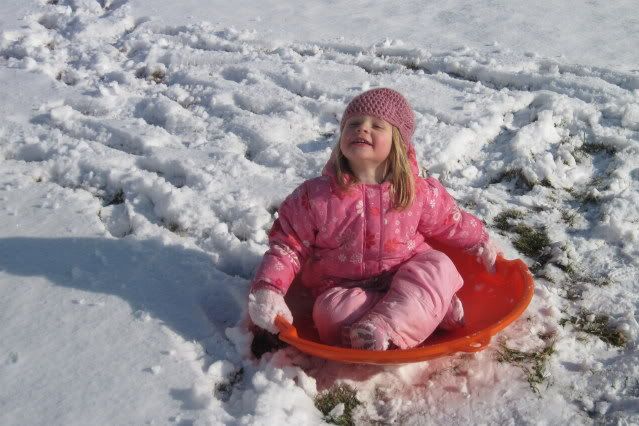 In all humililty (or let's be honest, in no humility whatsoever), I've gotta say, I'm a pretty good mom.
(Well, as long as you don't count that bit about settling for the back yard in the first place, that is.)