As you may have noticed, every year either for Christmas or between Christmas and New Years, we travel to Cedar City. Here are some of my favorites from this year's adventure.
Favorite Event #1--The sleepover of the year:
My mom (crazy lady and stellar grandmother that she is) agreed to host a sleepover for pretty much all the grandkids. My dad (stellar man that
he
is) endured it all without complaint (as far as I know). The girls slept downstairs (and are pictured here) and the boys slept upstairs. Unsurprisingly, all the kids had a hard time settling down for the night. So, to help with that, Uncle Robert sat with the girls and told them a story about an elf community, where each of the elves was uncannily similar to one of the girls. Meanwhile, Aunt ShaLiece (Uncle Robert's wife) was upstairs with the boys, telling them a story about a bunch of Smurfs, where each of the Smurfs was uncannily similar to one of the boys. What are the chances?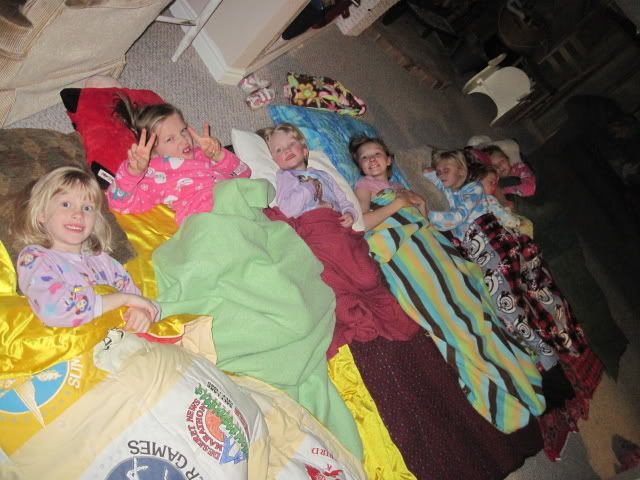 Now THAT is what I call a Princess Pack!
The best part of a slumber party is a morning television pajama party the next day.
Favorite Thing #2-The knives:
My mom & dad gave us all two Cutco knives each for Christmas (as well as some cold hard cash). I have been coveting my mom's Cutco knives for about fifteen years now. So, having my own little collection is a pretty big deal.
This isn't necessarily a favorite thing as much as it is a paparazzi moment. On the right is my brother Mark, the man whose phone alarm goes off every night every five minutes between midnight and twelve-thirty, driving his wife crazy. You would think he would just reset the alarm and save his marriage, but here's the thing:
He doesn't know how.
And yet, there he is, a man with a self-proclaimed technology disability, using his own Ipad to access files on a network miles away.
But wait! Who is that on the left of Master Mark? The girl exhibiting the Corry/Willis tongue, (proving that it is a nurture trait, rather than a genetic nature trait). Could it possibly be? Why yes, it's the quilting blogger sensation, Melissa Corry of happyquiltingmelissa.blogspot.com! Well folks, this is
quite
an honor for us all to see Melissa there. Word on the street is that she rarely comes out of her sewing room for anyone but her kids these days, and yet there she is. What a rare treat. I just might be able to sell this picture for big bucks.
(Lest you think this is just me, doing a little in-blog advertising at your expense, the fact is, Melissa went from zero to over 1,700 followers on her blog in a matter of 18 months. She gets around 40,000 hits a month, and has quilt pinners madly pinning her pictures and links all over pinterest.com. Sometimes I like to tease her about being such big stuff. Like now, for example.)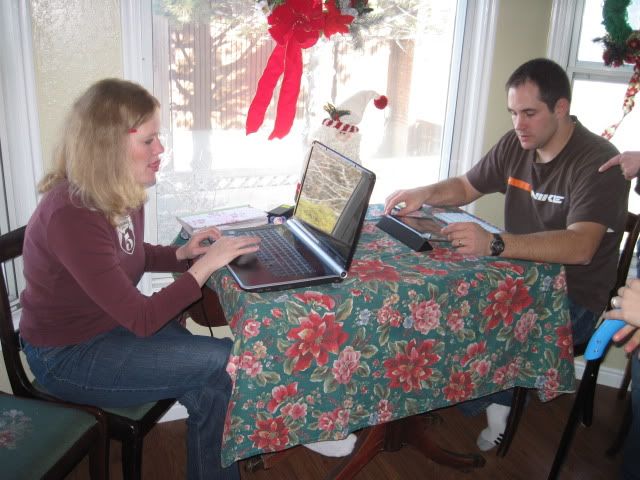 Speaking of Master Mark, Favorite Thing #3:
The first night that we got there, once the kids were in bed (being lulled to sleep by stories of elves and smurfs), we grown-ups sat around the living room for several hours for the traditional laughing and chatting fest. Mark kept trying to tangle the yarn I was using, taking it to a new level of stealth by initiating a complete floor contact army crawl from the room behind me. You definitely had to be there, but I laughed until my sides ached.
Kami loves to have her picture taken.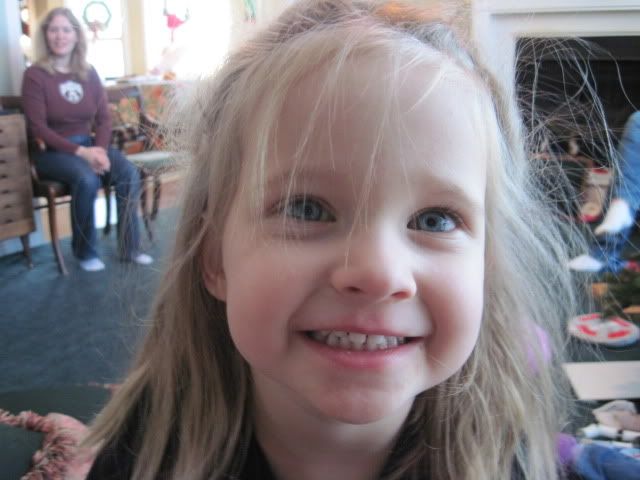 Heather, generally not so much. Kami is a obviously a good influence.
Favorite Thing #5-The skit:
My sister dropped off her children for a few days while she and Ryan moved their possessions to their new home in Arizona. Once I realized that Marian (leader of all things theatrical) would be around, I specifically requested a cousin-produced skit.
That might have been a mistake.
Having all the cousins together, while lots of fun, meant that there were far more opinions and feelings to meld in the production than has ever been the case before, and it resulted in a four-hour planning session that netted two different skit ideas, several hurt feelings, and no final decision. Eventually, the kids were given a deadline (one family had to go visit the in-laws), and within 15 minutes decisions were made, and a skit was performed that had us all in stitches. Isn't it nice to have a happy ending?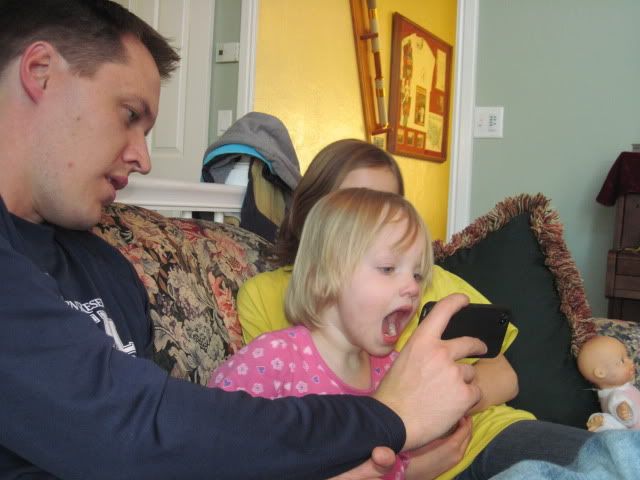 Kami is astonished at Doug's video recording of the infamous skit.
Favorite Thing #6--Eric:
I always love watching the nieces and nephews interact with Eric. You know he's a great husband and father, but honestly, he's a pretty awesome uncle as well. It's probably not the case, but I like to think that his "coolness" gives me a little "aunt capital" as well.
Love this shot. What is better than ice cream and drooling over Uncle Eric's computer creations? Nothing I tell you! Nothing!
Favorite Thing #7-Success!
I defied Mark and his yarn-tangling attempts and finished this beauty.
(Okay, so that wasn't exactly a favorite thing. It's more an excuse to put this picture up. I'm obviously quite pleased with how it turned out.)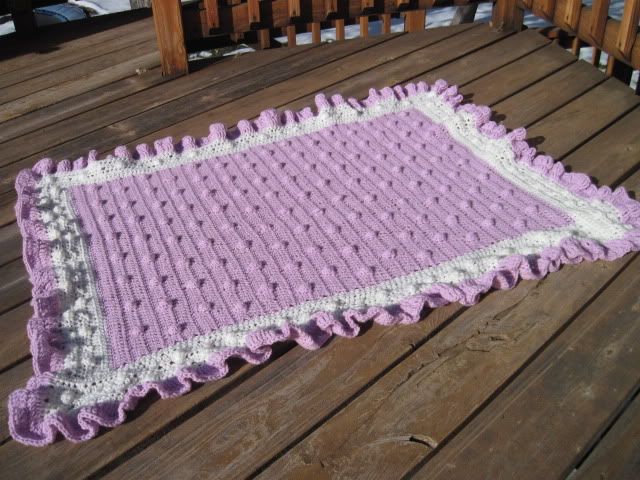 Favorite Thing #8--Kami:
As the fourth of five children, and being recently unseated by baby Josie, Kami is always on the lookout for grown-up interaction and attention. At nearly three years old, she's also in
prime Charlotte-friendly age
. It's a perfect combination. Add all that to the fact that Kami was born within hours of my own birthday, and perhaps you can see why this girl holds a special place in my heart.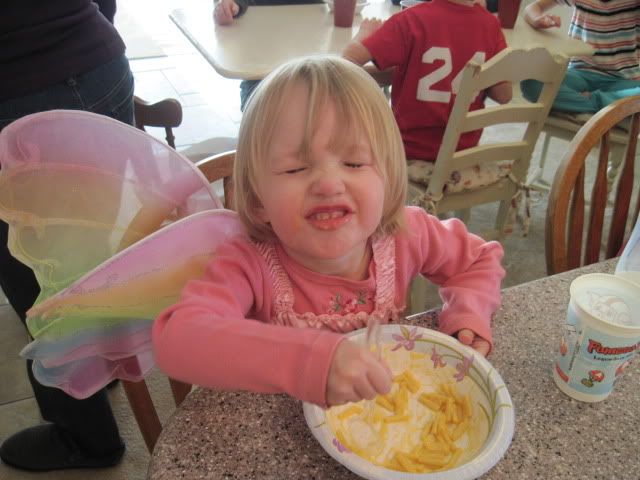 Mac & Cheese: It's a documented fact that this is the preferred lunch of fairies throughout the land.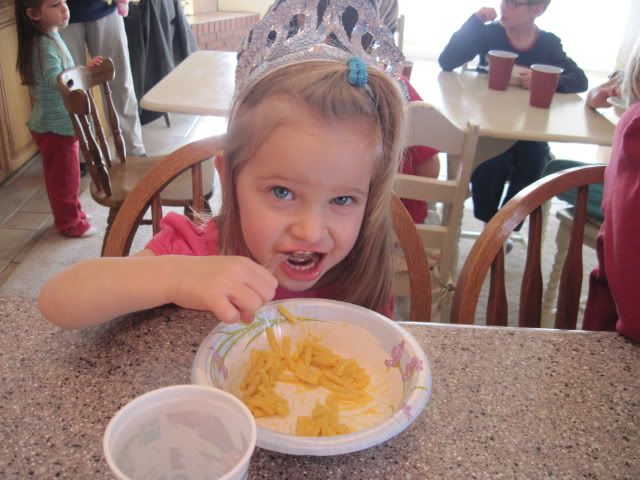 Princesses too.
Favorite Thing #9--Shopping with ShaLiece.
We ditched the kids and braved Wal-Mart on the 27th, looking for good Christmas deals. (and we found some too--extra large totes for $4! Can you say yarn storage??) For the life of us, we couldn't find my car in the parking lot when we were done. What a sight we were, pushing these extra full carts from one side of the lot to the other, giggling at the insanity of it all. Have you ever noticed how many white Camry/Sonata/Accord shaped cars there are these days? It took awhile. We swore we'd never tell anyone, but obviously I can't be trusted with that good of a story.
Favorite Thing #10-The chaos.
As you know, life with all of us in the same house gets
loud
. And crazy. And overstimulating.
And so, so, fun
. Between games and activities, and eating and jokes, and chats, and storytelling, and just all the living that goes on, it absolutely combines to be a highlight of life.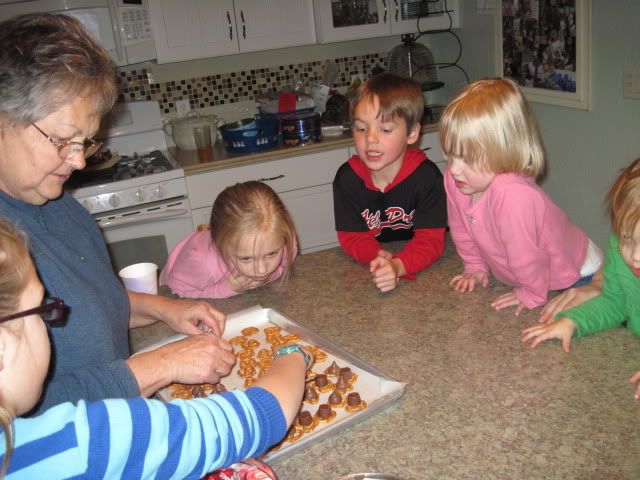 Lucky, that's us.