As you know, we spent the morning of Christmas Eve playing
(freezing)
in the canyon. After a lunch of Mexican food, Aunt Donna and Uncle Steve came over for some pre-Christmas clothes opening. They also left two other gifts, with instructions that they should be opened after Santa came.
Then, after a quick nap and some time to change and gussy up a little bit, it was time to meet the rest of the Cantwell family for our Christmas Eve Extravaganza!
We had a delicious dinner, some great conversation, and lots and lots of playing by Heather (next to mom and grandma, and maybe grandpa and dad, cousins are Heather's absolute favorite thing in life). Then it was time to gather for the traditional nativity scene enactment. With two infants, we had actresses who could have been ideal for the Baby Jesus role, but all things considered, their mothers were understandably concerned about leaving their precious babes in the hands of children who might have been more concerned with whether or not their bathrobe-esque clothing was on tight enough than whether or not said baby would be hitting the floor at any point in the production. (Can you say run-on sentence?) So, we used a baby doll instead.
Before Grandpa started reading the scriptural narration, I took the opportunity to get some individual portraits of all our participants.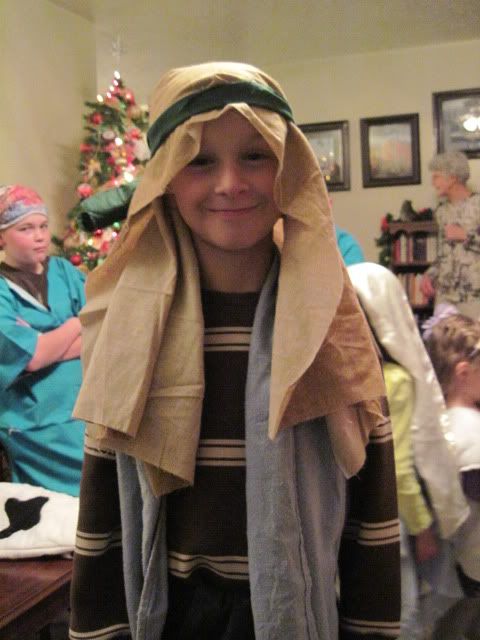 Shepherd Nate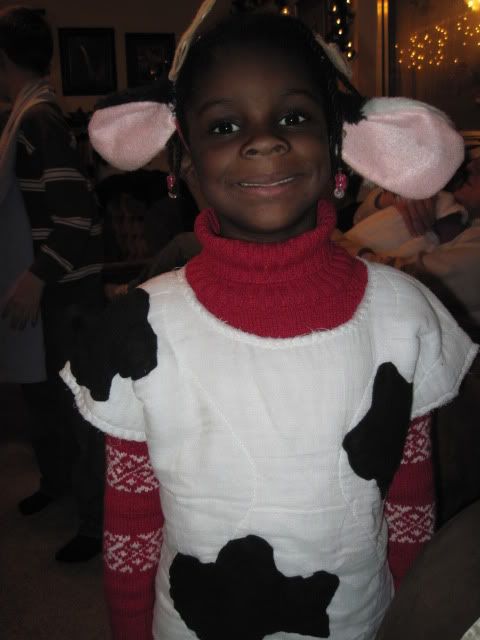 Cecily as the Coy Cow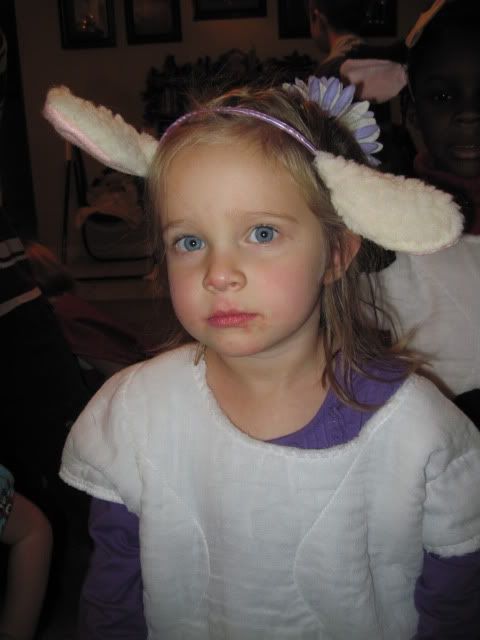 Sheep Heather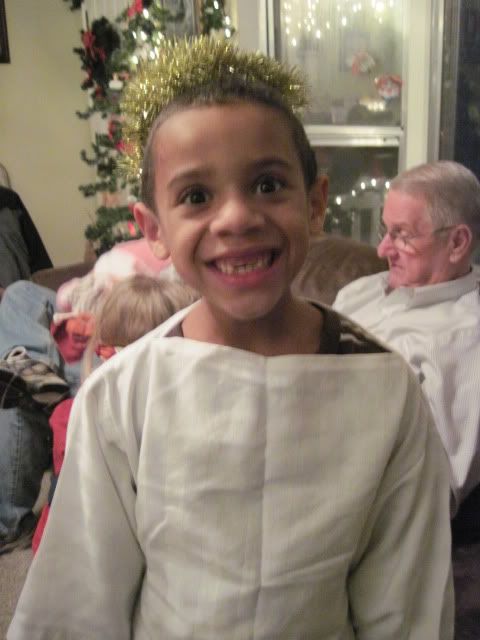 Exuberant Angelic Eli
There were other participants as well (Joseph and Mary, for example), but they aren't pictured here, due to some possible privacy concerns.
After the scene, costumes were put away for another year, and we spent some time singing and listening to Christmas Carols together. Some of our nephews are becoming quite accomplished pianists, and we were treated to renditions of "Frosty the Snowman" and "Oh Holy Night" which were particularly impressive.
And then, it was time to head home, where we put Heather to bed, and where Eric eventually ended up staying up until 2:00 a.m., putting together the kitchen for Santa Claus.
But you already know all about that story . . .