This one is more for my own personal historical record than anything else. Please don't feel obligated to read through to the end.
My Christmas tree is not a home decor item. It's more of a big ole structure of memories and sentiments. You might remember that during my single years, I did a lot of traveling. I would often purchase Christmas ornaments on these travels, so my Christmas tree is a hodge-podge of travel treasures, as well as gifts from people that have been important to me.
So, for example:
I got this lovely mini disco ball at the Liberace Museum in Las Vegas. It cracks me up every time I hang it, remembering how we (a previous boyfriend and I) nearly died laughing two or three distinct times while going through that museum.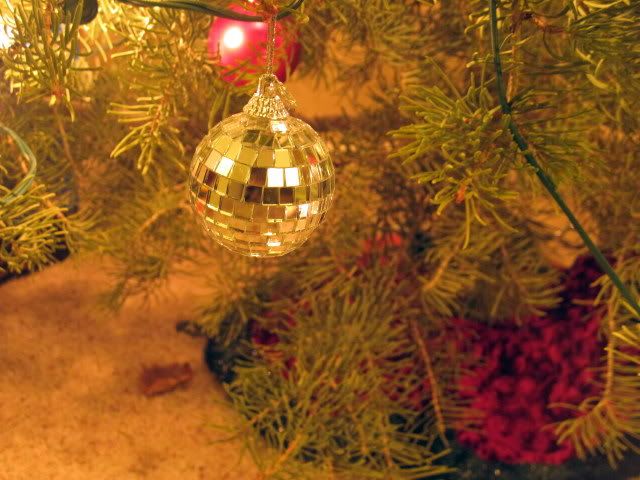 This trio of sweaters was handmade and given to us a few years ago by Eric's sister. They are one of my very favorite ornaments. This year they've been particularly helpful, as they've filled in a previously-un-noticed gap in the front of our tree.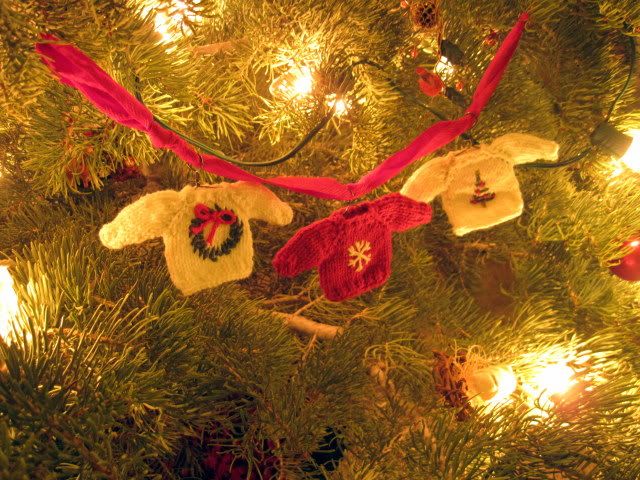 (Heather apparently determined that this angel and this Matryoshka doll needed to share the same space). I have six of these little Russian Matroyshka Dolls. The paintings on the front of them show some of the tourist attractions in St. Petersburg, Russia. I got them on a trip to St. Petersburg (obviously).
This ornament was purchased when I went to Disneyland with my sister and her family (and my parents) about a month and a half before Eric and I got engaged. Sometimes when I unpack it, I remember stealing away from the rest of the family to talk with him on my cell phone between the two parks there. Ah, young love. What a fun memory.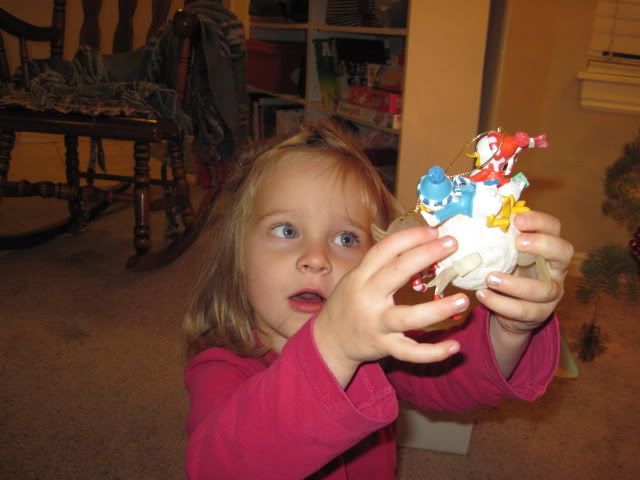 Here's a better shot of the ornament.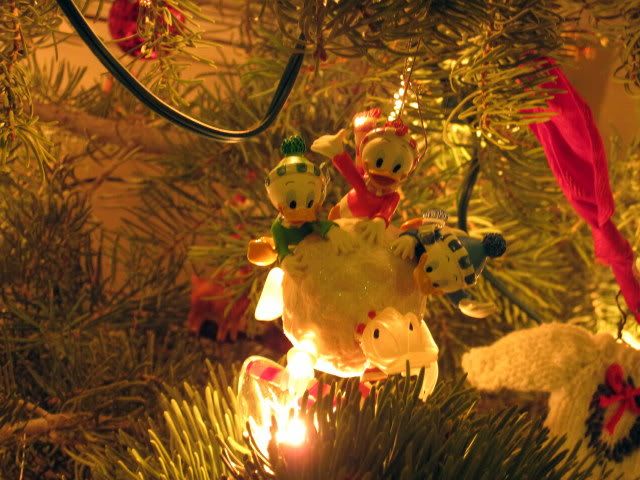 This gingerbread house was given to me by my then-roommate, Lyn. Lyn would often give us ornaments that had symbolic value for the year. During the year that I bought a
Dodge--oh man, I am so funny I am killing myself here!*
truck (me? A truck owner? It was a bit of a mismatch.) she got me a red truck ornament. This ornament was in homage to my gingerbread house fiasco that year. (I haven't attempted a gingerbread house since.)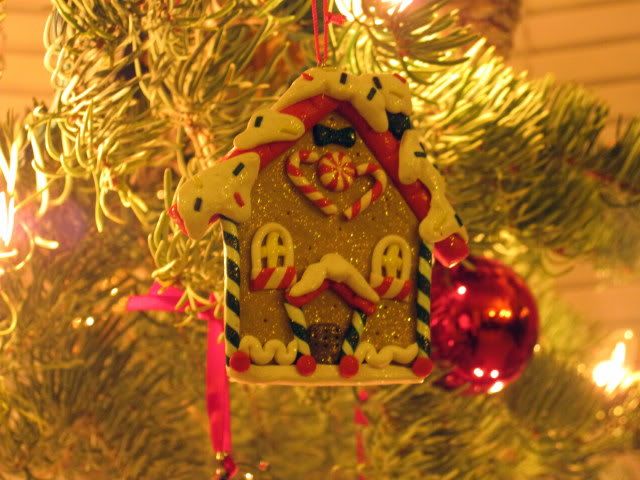 This was
an etsy trade last year
. I have two more just like it. I like them because they are made of clay, and to me, they look like they have come out of a Dr. Seuss book, maybe even
The Grinch Who Stole Christmas
. Heather says that this is her favorite ornament for some reason, but think she secretly likes the Donald Duck ornament better.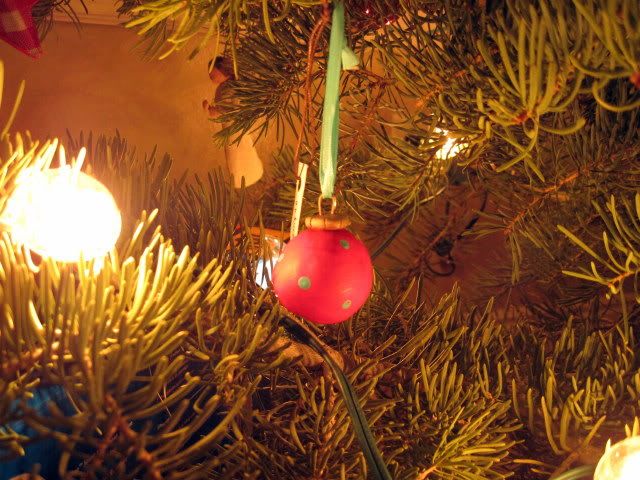 Eric and I picked this up in Chinatown on our Honeymoon. Every year I quiz him to see if he remembers where it came from. So far, he's gotten it right 100% of the time. I think that's a good sign.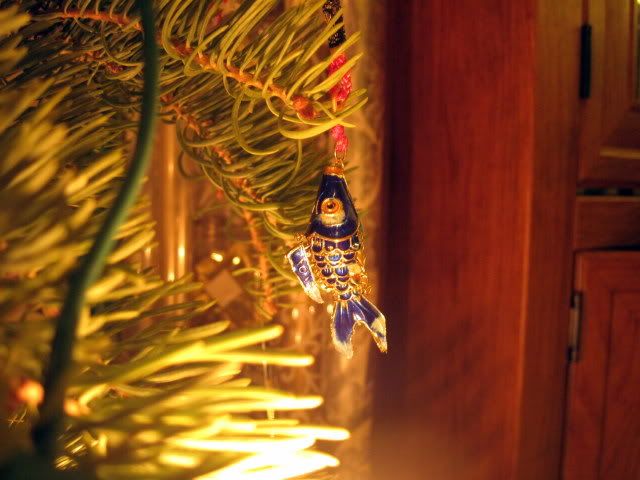 These next two I picked up on a trip to Rome that my mom and I took. I bought the first one, not realizing that I would find, and fall in love with the second. I love them both.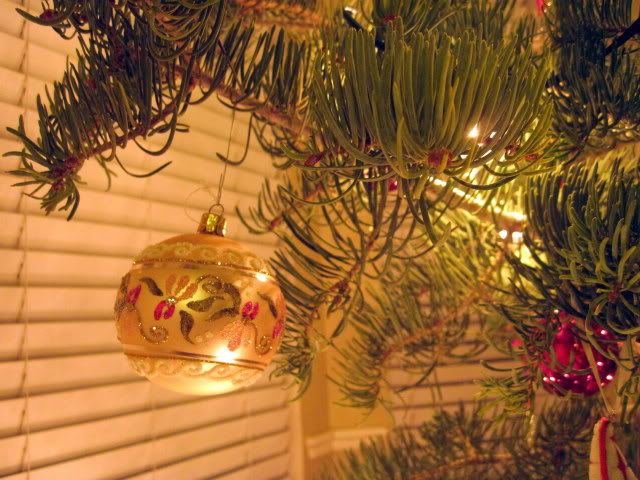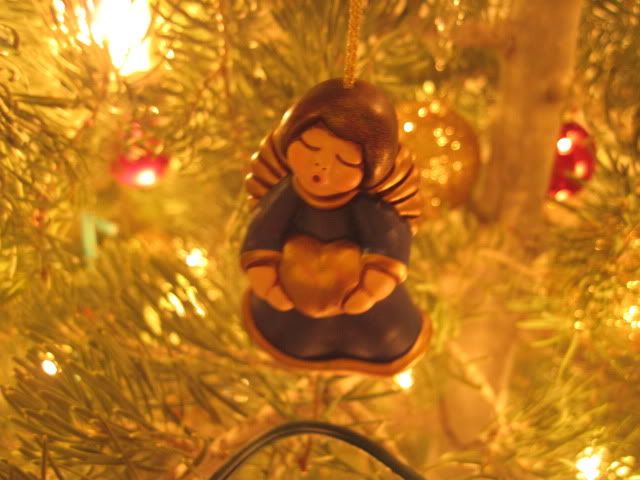 This angel was given to me by one of our summer conductors at the opera festival. She came back to Logan the summer after I got married (as she had for the previous 10+ years), and as she was leaving town at the end of the summer, she presented this to me, saying that I seemed so much happier that year than ever before that this angel had reminded her of me. It's a happy memory. (I warned you that this would be sentimental) Ironically, Eric
can't stand
Willow Tree figurines. He things they're cheesy and tacky and everything that is wrong with the world. However, Eric doesn't get a say in our Christmas tree, so there she is, year after year.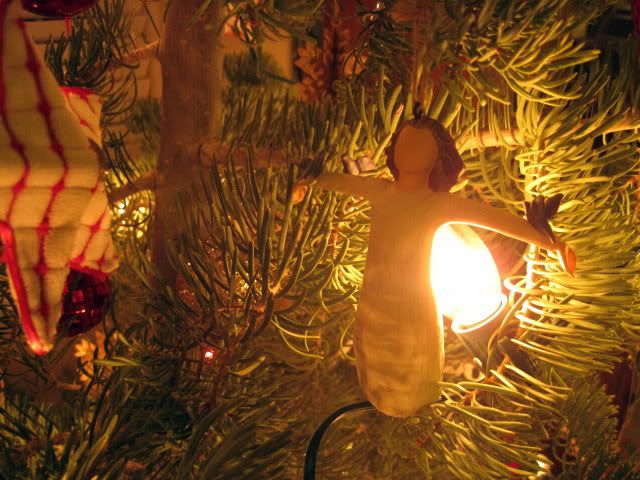 I collect angels (can you tell?) I got this one at Epcot Center on a trip I took with some (awesome) girls several years back.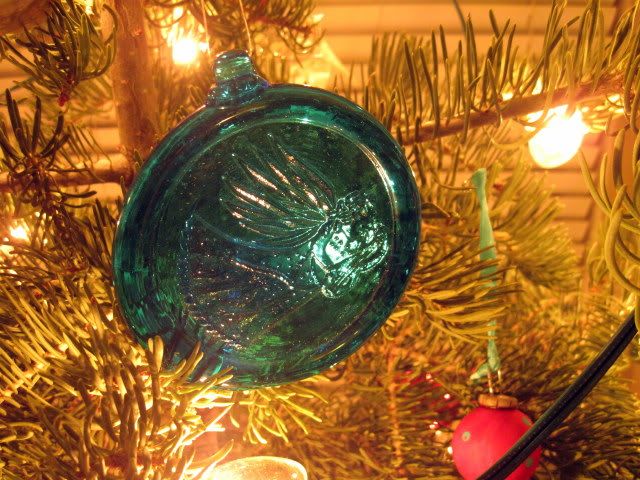 Heidi (who knows and indulges my angel-collecting) gave me this ornament the first Christmas after she got married. I still remember her presenting them to me, Tayneshia, and Brandy, as we sat in Tayneshia's living room, eating take-out food and watching (critiquing) American Idol. Good memories.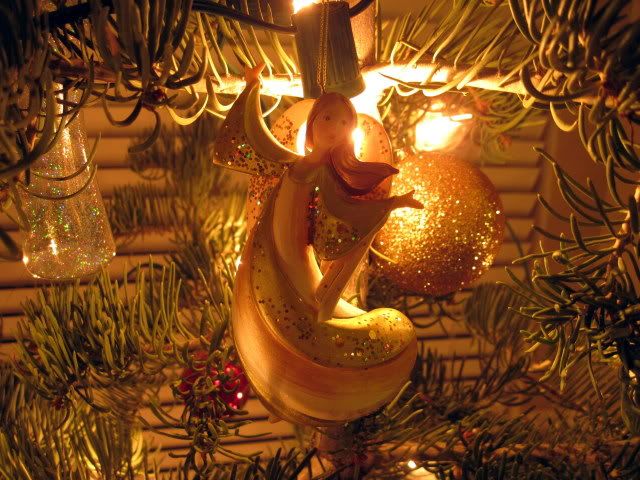 I have about 20 of these. Only four or five made them on the tree this year, but I like them. My mom gave them too me years ago. I think they add a homey-ness and color to the tree.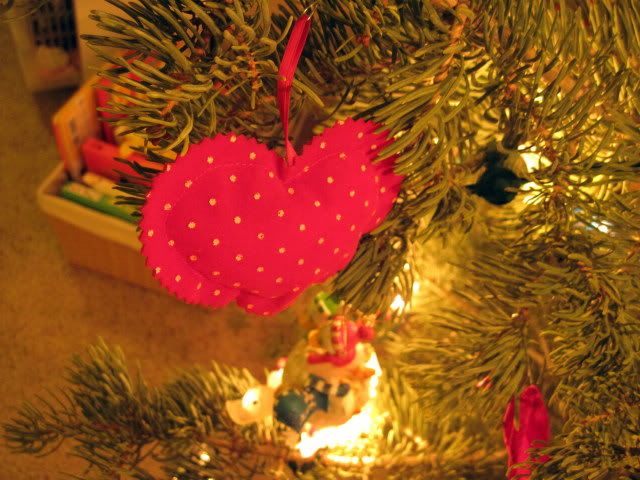 This is one of my favorites. This was also given me by a co-worker from the opera. For many years now, Chris has been coming twice a week to help keep our building clean and trash-free. He's a sweetheart, and I adore him. The back of this tag gives a reminder to think of the sands of Galilee. The other side of the tag though, with the loving message is by far my favorite part of the ornament.
For some reason this one posted sideways. Oh well. I picked this up in the Bahamas, when I was on a cruise with my friend Tayneshia.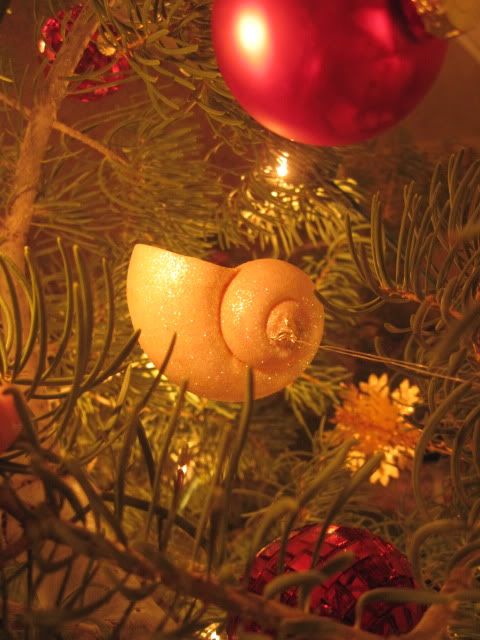 My dear friend Kami gave me this Santa sculpture ornament one year.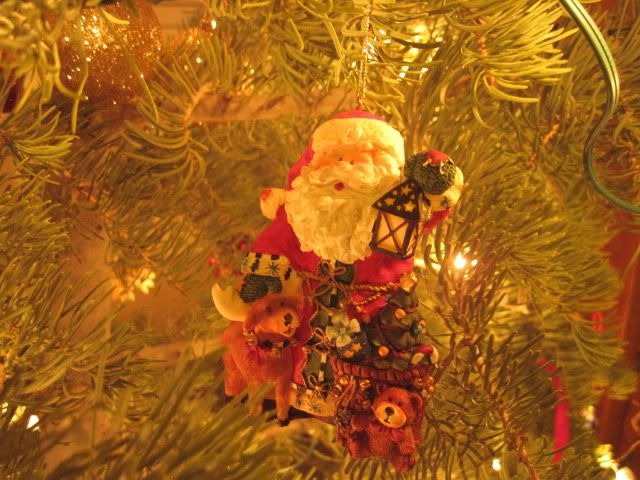 I picked this up on a trip to New York that Heidi let me take with her. She had a conference there for work, and had a nice hotel in a safe area of town all to herself. I would have been an idiot not to jump on that opportunity. This was the same trip where I was pick-pocketed of my drivers license, my ATM card, and one of my credit cards
and then got them all back
, making me (in the words of the N.Y.P.D. officer who helped me) the luckiest tourist in all of New York. (There was about $100 in Subway passes charged to the credit card, but still--pretty darn lucky.)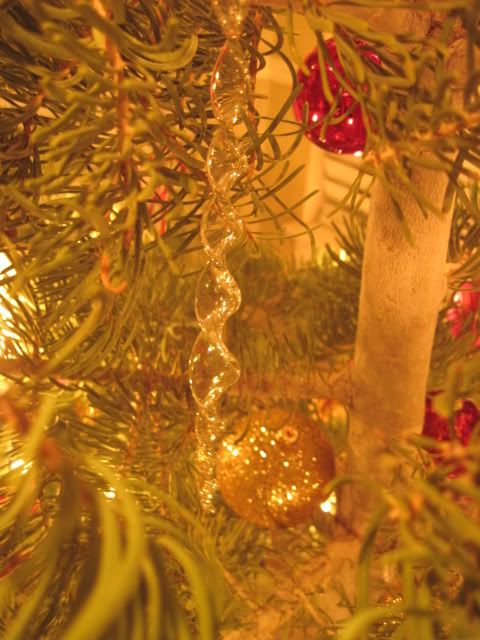 Picked this one up in Flagstaff, Arizona on a trip to Grand Canyon with my parents, two of my brothers, one sister-in-law, and one niece. Since that trip was made, that niece has been joined by three sisters, and the single brother has gained a wife and two kids.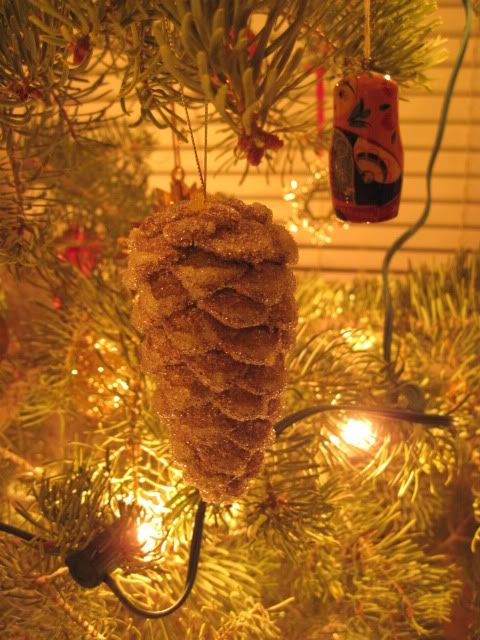 I picked this up at Hobby Lobby at the after Christmas sale two years ago. I also have one that says "Love" and another that says "Noel".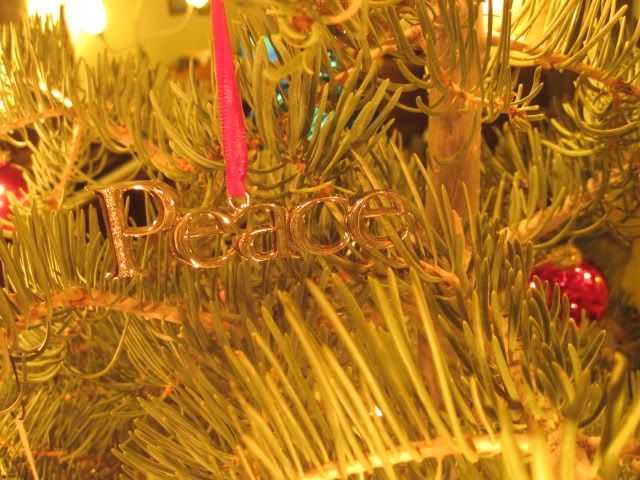 This one is also a favorite. It was given to me years and years ago by an opera volunteer/patron. She didn't really have any family to speak of, and one year she went to the Holy Land and brought back these olive wood ornaments for all of us in the staff. (At the time, the staff consisted of five full-time people, about half of what it is now.)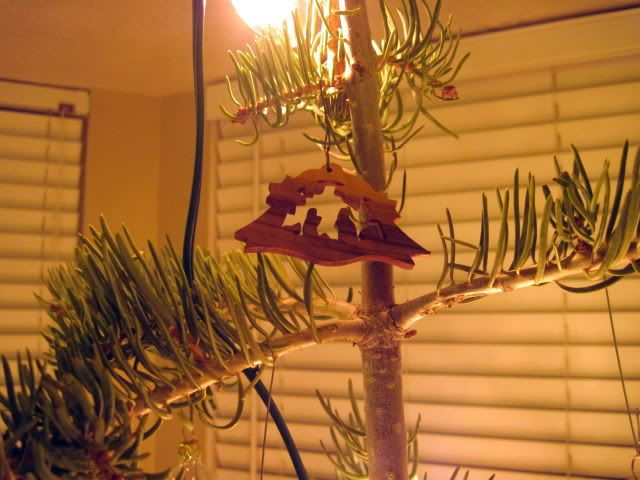 And here we have the finished product, our 2011 Christmas tree in all of its glory.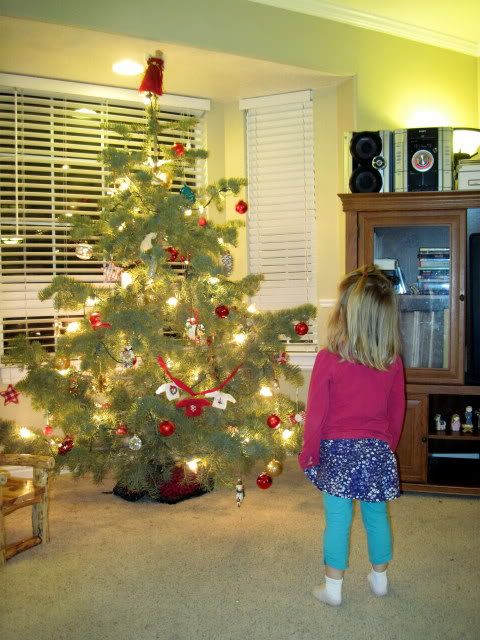 I like how Heather seems in awe of it. Really, this photo was totally posed. On the day we decorated, after we were all done, I asked her to go over and look at the tree for me, and she did. It took me a few tries to get her in just the right place, where she didn't block the tree, but was still clearly visible.
*To truly appreciate what a comedic genius I am, you'll have to read the first three comments on this post. BTW, it was a Ranger. A Ford Ranger, thank you very much.