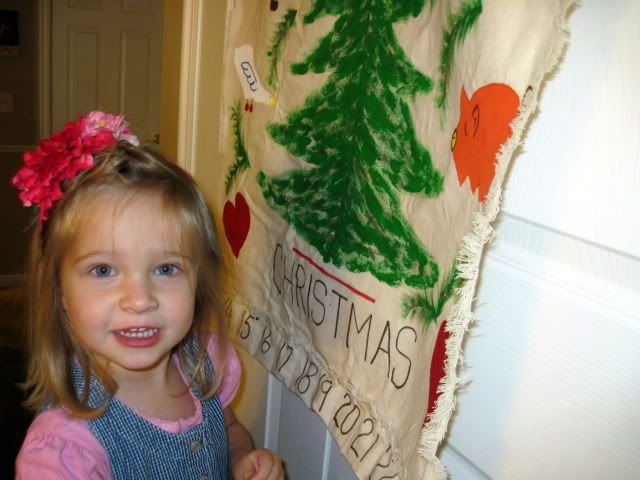 My mom made this advent calendar for me years ago, long before I had a child for whom counting down to Christmas was a big deal. I grew up with one in our home, and taking the ornaments out of the pouches is one of my favorite childhood memories.
Random thoughts on the season:
Every year around the first of December, I think to myself, "Oh good! It's Christmas music time!" And then, by December 5 or 6, I've had it with Christmas music for the year. Weird.
Setting up the Christmas tree
without fail
(so far) puts me in a good mood.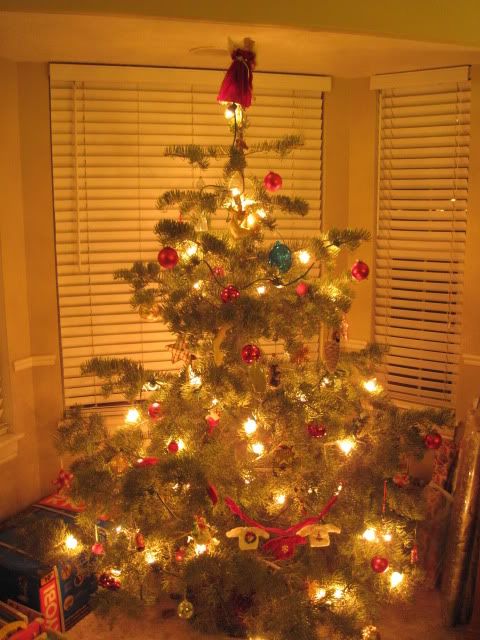 Heather and I made gingerbread men on Sunday afternoon. I didn't take any pictures, so you'll just have to trust me. I think it was the first time I've made gingerbread men in my whole life. We used the recipe on the back of the molasses bottle. It worked out marvelously.
Not that this has anything to do with Christmas, but I've found that those recipes on the back of the box/jar/can/bag are generally winners. It shouldn't be surprising really, but sometimes it surely is.
Eric bought the bulk of his Christmas last week. (A drill press. I don't even know what a drill press is or does. We have the box unwrapped, sitting under our tree, and looking at it, I
still
don't know what a drill press is or does.) He likes to buy his own presents, because he doesn't want to take the chance that I will buy him something he doesn't really want and "waste" the chance to get something he does want. I'm okay with that, because I don't love trying to figure out what he wants. I on the other hand, like to be surprised. Eric's okay with that though, because he likes trying to figure out what I'd like, and (let's be honest), as long as it's wrapped up and isn't clearly something he's buying for himself and giving to me, I'm super easy to please.
(I don't know if Eric realizes this, but the fact that he makes the bed every morning probably means as much to me as any gift he could give me.)
(Eric is not a bed-maker. He doesn't like it, he doesn't see the point of it. He does it for me. That's love.)
(I still want Christmas gifts though. It's not like you can unwrap a made bed.)
This is the first year that Heather has been old enough to care about the advent calendar. I am loving the whole process of taking the new ornament out of the pouch every day with her.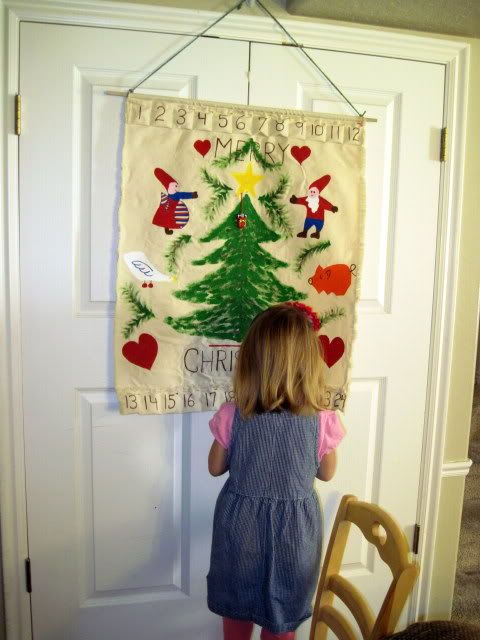 I haven't decided if I'm going to make tamales this year or not. Part of me wants to, and part of me just doesn't want to go through the work and make the mess. Also, when I was in Smith's last, I looked for the Maseca for Tamales package, and it looks like they don't even carry it anymore. I didn't have it in me to go to the Latino market. (I was still suffering from the after-effects of the flu/cold that hit our house.) Is that a sign?
Luckily, I made a whole bunch of plum jam a bit ago, and can give those jars out, if need be. Truly, wouldn't you rather have a jar of plum jam than a tamale? (Please say yes.)