Cedar City-Summer 1992. I'm on the far right, Jeri is in the back, at the top of the psuedo-pyramid. The guy in the shorts is my friend Tony. The other two people may or may not want to be named before the whole world, so I'll leave their names off this little caption. We look a little rough-around-the-edges because we had just returned from a weekend of mountain-time. (Also--this has nothing to do with anything, but man, I LOVED those boots.)
Last week I attended the funeral of a friend. We ran around in the same group for about two years in college, and had a lot (and I DO mean
a lot)
of fun times full of laughter and smiles and giggles and just general mirth. In fact, many of my best memories of that time feature him rather prominently. I still have a note that he left on my car one day. It's a whole piece of lined paper, with four words. I remember I had been really busy for about two months at the time he left it, wrapping up school, preparing to serve a mission, being involved in performing groups and with my job in the college of business. I hadn't had as much free-socializing time, and apparently he missed me.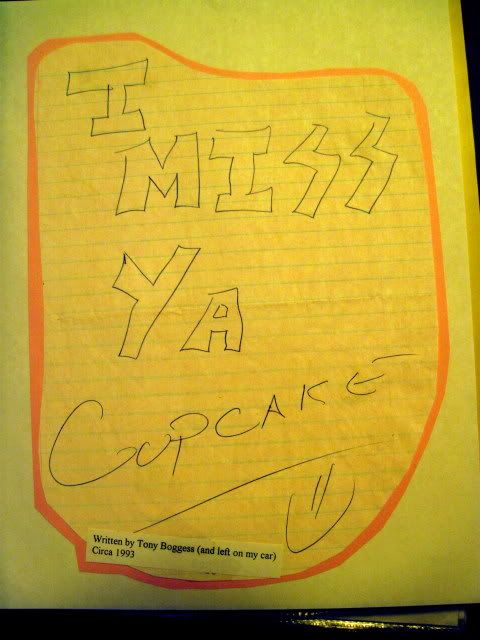 (He alternated between calling me "cupcake", and "pumpkin". This was to tease me--because I had mentioned at one point that it drove me crazy when people used food items as terms of endearment for people in their lives. I find that ironic now, given that Eric's pet name for our Heather is "pumpkin" or "pumpkin-eater", and mine is "muffin-muffin".)
Anyway, this friend, his name was Tony, developed colon cancer awhile ago, and one thing led to another, until finally, after a very valiant battle, he passed shortly before Halloween. The funeral was beautiful, a fitting tribute to a man who obviously loved life.
The whole thing got me thinking. I don't feel ready or old enough to be having friends developing cancer, much less dying from it. My feeling is that death is something that should happen to older people--people who are 80+, people who have lived all the life they want to live (or pretty close), people who have spouses and/or parents and dear friends on the other side waiting for them. Tony was none of these. (Neither was
Phil
). So, losing him (them) is hard.
Several years ago, I spent some time seeing a therapist, in hopes that by doing so, I would be able to get out of a pit of sadness and depression that was threatening to become my own personal home. It (along with a little miracle called Lexapro) worked really well, but that's not the point I'm trying to make right now. The reason I bring it up now is because one of the topics we talked about in those sessions was the impermanence of life, how everybody dies sooner or later, and the necessity of being able to accept that, and live with joy in spite of it all.
Sometimes I wonder how I'll manage when the inevitable day comes that I lose someone really close to me.
. . . And then, I decide that there's no sense trying to "prepare" for that day. Really, is there any way to prepare for a loss like that? I don't think so. I think perhaps the best way to deal with it all is to get all the happy, peaceful, laugh-y, thoughtful, meaningful, joy-erific living done that you can, while you can, and with the people that you can.
And to trust in the Lord to fill in the gaps when the time comes that there are gaps to be filled.