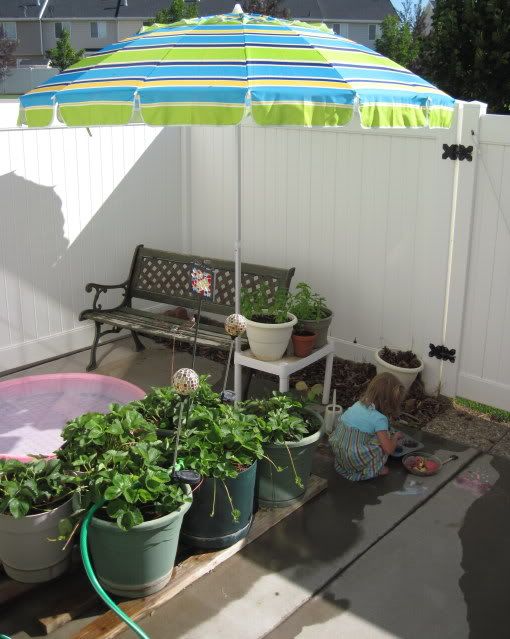 our backyard paradise--August 2011
A few days ago, Heather and I took two hours and winterized our little garden.
We stripped all the tomato plants of all the green tomatoes, probably thirty or forty of them. (Note to 2012 Charlotte--next year, skip the Best Boy, Jet Star and DX-whatever-was-developed-at-USU and just plant Early Girls, Jelly Bean Mix, and Grape Tomatoes. Actually, you can skip the Grape Tomatoes too, and just plant two plants of the Jelly Bean Mix. When you read this again and you wondering why, I'll tell you.
The Early Girl plant was the only one that actually produced red ripe full-size tomatoes before the frost came!
)
We detached the beading wire from the tomato cages (which I had placed earlier in the summer to tie them all together, making it so one semi-unsecured plant didn't meet an utimely demise on the hot-as-a-frying-pan cement pad.), and with a lot of grunting, freed the cages from the tendrils of the plants.
We took six trips to the dumpster, one for each plant.
We clipped all the basil.
We moved the (potted) strawberry plants over by the house and covered them up with visqueen, with high hopes that they will survive the winter and give us another year or two or ten of berry deliciousness. (Eric's mom said that putting them near the house might help the roots make it thought the hard freezes. Gary from work
(a/k/a "Farmer Gary" according to Heather)
said that once it snows, I should pile a bunch of snow on top of them, which will provide them insulation from the freezes. I'm planning to follow both sets of instructions. Hedging my bets you know.)
We sprayed off the cement pad, making it look cleaner, and clearer, and more empty.
I (sans Heather) moved the green tomatoes down into the crawl space, where I'm told they should ripen over time. (At that point, you
know
I'll be making more roasted tomatoes.)
We separated the basil leaves from the stems, cut them up (Heather used safety scissors), put them into ice cube trays and covered the trays with water.
We sprayed off our muddy shoes.
We went to Wal-Mart to return the jelly jars I bought last week in a fit of delusion (somehow I thought I'd make 24 half-pints of pomegranate jelly and give them as Christmas gifts. Have you ever made pomegranate jelly? It is
absolutely delicious
. It is also quite possibly the most labor-intensive edible I've ever made.)(and keep in mind,
I make tamales at least once a year
), and came home with 6 cubic feet of mulch, which we put in the shed for next year.
It was hard work. Heather actually handled it all pretty well, with lots of questions, and observations, and talking and talking and talking.
I handled it pretty well too, but by the end of it all, I was exhausted.
The next morning, as I was eating my toast smothered with
gold
pomegranate jelly, I looked out the window at our bare, clean cement pad, and felt a little sad. We had a great summer out there, painting rocks, painting the cement, (painting spiderman), harvesting, playing in the kiddie pool, sitting under the sun umbrella reading or crocheting, laughing, and laughing some more.
Looking out the window, it reminded me of that song from the
Forgotten Carols
, the one (that I don't especially care for) that says, "
I cry the day that I take the tree down.
" As much as I enjoy Christmas, I'm not one who generally cries the day that I take the tree down,
although I am often tempted to curse as I try to fit all the decorations back into the boxes that they came from
. But, I guess maybe I am one who almost cries the day that I take the garden down now, aren't I?
And yet, if the summer didn't end and I didn't have to take the garden down, then winter wouldn't begin, and I wouldn't be able to put the tree up. And then if Christmas didn't end and I didn't have to take the tree down, then spring wouldn't come, and I wouldn't be able to plant the garden again.
So, I guess I don't mind taking the garden down all that much after all. Fact is, it was a lovely spring, a great summer, and an even better fall. Who knows? Maybe winter will be the very best of all.
Here's hoping.