Awhile back, I decided that it was time Heather and I ventured into the wonderful world of play dough.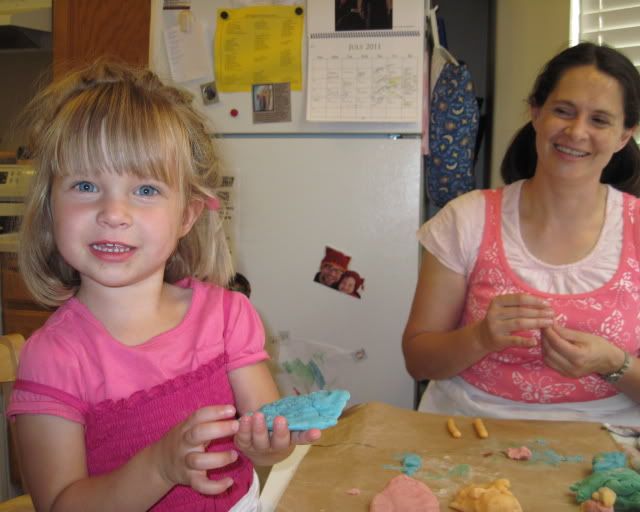 So we did.
The Recipe We Use
1 1/2 cups flour
3/4 cups salt
3 tsp cream of tartar
1 1/2 Tbs oil
1 1/2 cups water
Stir in saucepan over medium heat until a ball forms. Knead 1-2 minutes, separate into balls and add food coloring, kneading to spread through.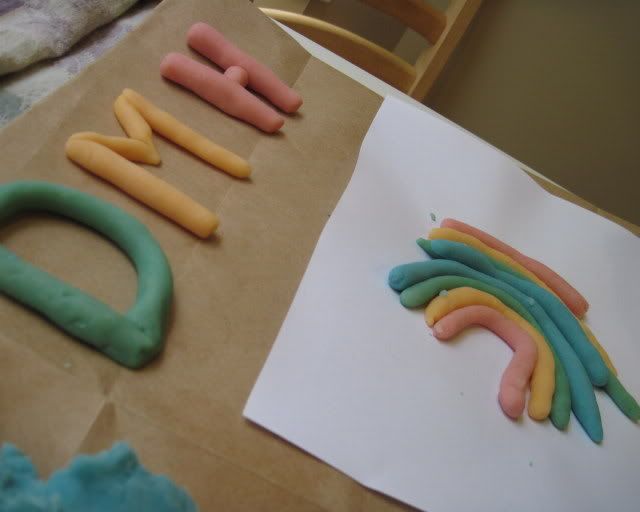 "D" for Dad (or Donna), "M" for Mom (or Marian), and "H" for Heather (or Hannah)
She loved it.

I don't know why I didn't make playdough months ago. Talk about an attention span lengthener! A few days ago, Eric and I went to the temple, and Heather played with playdough for over two hours, happy to her hearts content. (and, as anyone knows, in preschooler time, two hours is like a day and a half!) Shauna (who was kind enough to babysit) told me that Heather wanted her (Shauna) to sit with her (Heather), but was perfectly content to have Shauna do her own thing while Heather made cats and dogs and hamburgers and what-have-you, with a little request for a specialized figure from time to time.

Actually, maybe it's a good thing that we didn't do playdough before now. I mean, now that fall is around the corner putting winter around the bend, maybe it's good that we still may have hours and hours of molding entertainment ahead, rather than frittering it away when there were fun outside activities to be had.

It's like the ant and the grasshopper, you know? Except instead of storing up food, we're storing up options for fun.

Just call us a little ant family.

(Which is just as well, because since I recently pesticided five grasshoppers into oblivion

(the pesky buggers thought they could take up residence in our tomato garden! The nerve)

, I doubt we'd be all that welcome in the grasshopper family.)