This was our hotel:
It was a little out of our price range, and I doubt that we'll ever fork over the money to stay there again*, but it was
absolutely wonderful
to be situated in San Francisco,
not at the top of a hill
. Seriously, being able to get off the bus or trolley and have a level walk home after a long day of sight-seeing each night was a new luxury for me. Heaven.
(The concierge service was nice as well. Seriously, for a girl who gets lost as often as I do, having my own personal guide to streets and bus routes and everything else was a lifesaver.)
Our first night there, mom wanted to stay in and get some conference material reading done. So, Eric and I decided to take in a movie. (We saw
Source Code--remember?
) While we were killing time before the show started, we walked around the Yerba Buena Gardens, where I made Eric do weird poses while I took pictures of him.
(He took some pictures of me too, but they are not blog-worthy. Contrary to what you might think based on what you see here, I do have some pride.)
The funny thing is, while he was striking this pose, and I was trying to get my camera into position,
another tourist snapped him as well
. So, somewhere, some salt-and-pepper-haired lady has a picture of my Eric among the memories of her own San Francisco trip. Fun, and a little weird to think about.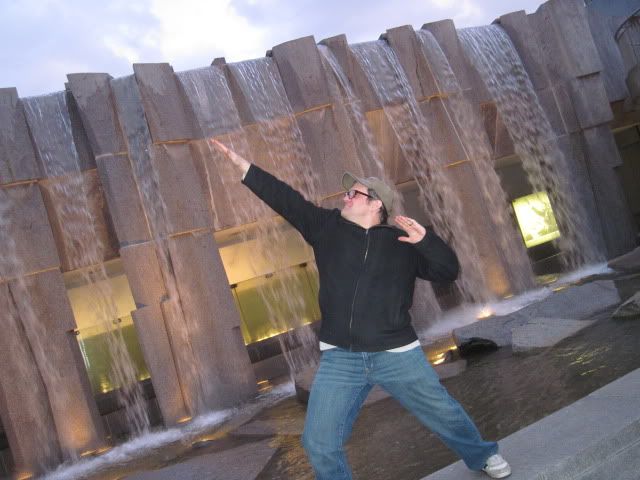 Someday I think I'll take the time to actually count how many pictures like this I have.
The old "pose of powerful awesomeness" is vintage Eric.
Oh--and I reached
my goal
of seeing the Pier 39 Sea Lions.
See?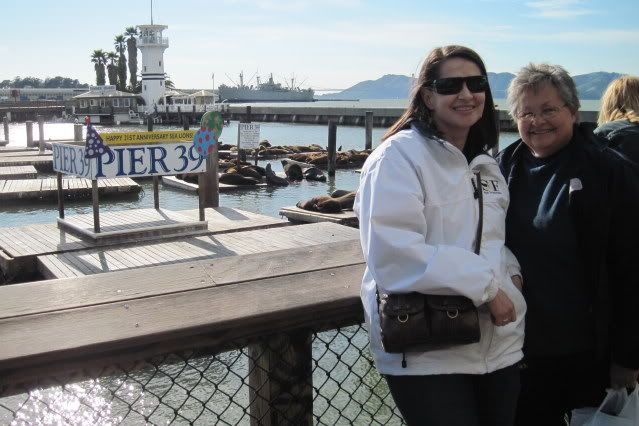 And that wraps up all but one post I think. Coming up: My very first limo ride**. Stay tuned.
*We didn't fork over the money this time. It was the conference hotel, and since my mom was a member of the Utah School Boards Association presidency, she was pretty much obligated to stay there, and so we were pretty much obligated to mooch there.
**Yes, I went to prom. No, I didn't go in a limo. Is there even a limo in Cedar City? Was there in 1988? How about 1989? The old classic car from the Town and Country Inn doesn't count as a limo, does it? Probably not. Pretty cool though. Definitely as cool as any spanking new limo, that's for sure.